Committed to Diversity, Equity and Inclusion, Iona College Hires Inaugural Chief Diversity Officer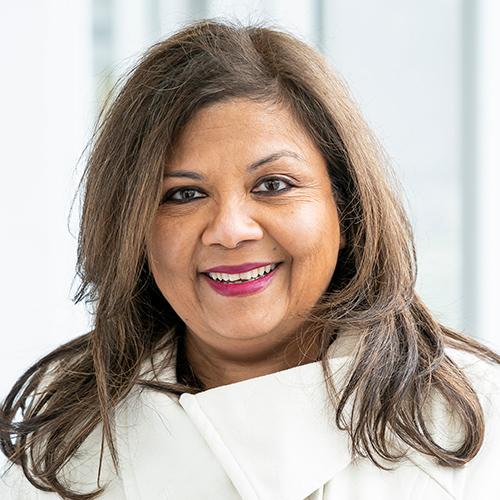 Guided by a commitment to diversity, racial equity and inclusion, and by its founding mission of providing educational opportunity for all, Iona College announced the hiring of Sumita Furlong, Ph.D., as its first Chief Diversity Officer.
Dr. Furlong brings twenty years of higher education experience in the field of Diversity, Equity and Inclusion (DEI) to Iona. Most recently, she served as the Special Assistant to the Vice Chancellor for Student Affairs for Diversity Equity & Inclusion, Strategic Planning and Initiatives and Organizational Relations at the University of California, Irvine.
The Chief Diversity Officer will have overall responsibility for the administration of services, policies, trainings and programs that advance diversity, equity, inclusion, anti-racism and anti-discrimination at Iona College. These initiatives promote the engagement of students and faculty in developing and sustaining a strong sense of belonging and inclusion. As a member of the senior leadership team, Dr. Furlong will report directly to President Carey.
"Diversity creates a culture of inclusion," said Dr. Furlong. "And inclusion is what creates harmony and unleashes creativity, imagination and academic excellence. I expect inclusive behavior to be a norm, not an exception. And that is what we will sustain and expand together here at beautiful Iona College."
"I am very pleased to have Dr. Furlong join the Iona community and report to me at this time," said President Seamus Carey, Ph.D. "Iona has always been committed to making education available to all, especially to first-generation college students who may not otherwise have that opportunity. Still, there is always more work to be done to address the challenges of racism, and Dr. Furlong will help us chart a course as we strive to become a model campus for racial justice."
Dr. Furlong's vast experience includes: leading the National Conference on Race & Ethnicity (NCORE) in American Higher Education, a highly respected national diversity, equity & inclusion and social justice conference; serving as the National Diversity Advisor for NAFSA: Association for International Educators, a global organization with 12,000+ members worldwide; and acting as Chief Diversity & Global Pluralism Officer for the Great Lakes Colleges Association in Ann Arbor, Michigan, a consortium of 30 U.S. and international liberal arts colleges and universities. Furlong also served as executive director, Diversity, Equity and Inclusion at College of Charleston; assistant to the Provost at the University of Wisconsin-Madison; and Senior Diversity and Grant Officer at the University of Wisconsin System Administration.
As an advocate for DEI, Dr. Furlong has contributed to strategic planning; shaping campus DEI agendas; recruiting, onboarding, mentoring, retaining and providing leadership and other critical programs for the advancement of underrepresented minority and historically marginalized student, faculty and staff populations. She has also supervised numerous federal programs such as McNair, Upward Bound, Gear Up.
Darrell P. Wheeler, Ph.D., MPH, Provost & Senior Vice President for Academic Affairs said, "Given the many issues of social injustice, and dis-equity facing our students, faculty, staff and the nation, we are very fortunate to have the opportunity to engage with a distinguished DEI leader such as Dr. Furlong. I look forward to working with and learning from Dr. Furlong as she guides the Iona community towards new ways of advancing our DEI initiatives."
Dr. Furlong expressed her enthusiasm saying, "Iona, with its creative DNA and immense diversity, is an exciting place for a lifelong diversity professional like myself. I am honored and humbled to be selected as its first Chief Diversity Officer. And, I am proud to call Iona my new professional home! I look forward to serving President Carey and working closely with campus faculty, staff, administrators and external partners. Most importantly, I am excited to meet and work with Iona's students and student leaders to continue the amazing work they have already been doing on campus."
ABOUT IONA
Founded in 1940, Iona College is a master's-granting private, Catholic, coeducational institution of learning in the tradition of the Edmund Rice Christian Brothers. Iona's 45-acre campus is just 20 miles north of Midtown Manhattan. With a total enrollment of nearly 4,000 students and an alumni base of over 50,000 around the world, Iona is a diverse community of learners and scholars dedicated to academic excellence and the values of justice, peace and service. Iona is highly accredited, offering undergraduate degrees in liberal arts, science, and business administration, as well as Master of Arts, Master of Science and Master of Business Administration degrees and numerous advanced certificate programs. Iona's LaPenta School of Business is accredited by AACSB International, a prestigious recognition awarded to just five percent of business schools worldwide. The Princeton Review recognized Iona's on-campus MBA program as a "Best Business School for 2021." Iona College also recently launched a new, fully online MBA program for even greater flexibility.