Dr. Jeanne Zaino Addresses How Supreme Court Changes to the Voting Rights Act are Impacting the American Voting System Today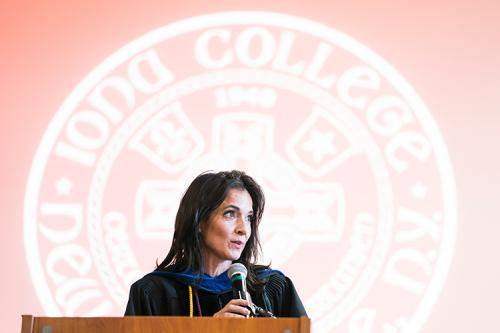 "Seeds of Failure: Courts, Congress, the Constitution and Voting Rights"
Tuesday, September 17, 7 p.m. - Romita Auditorium, Ryan Library
NEW ROCHELLE, NY - Jeanne Zaino, Ph.D., professor of Political Science and International Studies at Iona College, author and television commentator, will give the first Edith Corbin Memorial Lecture, "Seeds of Failure: Courts, Congress, the Constitution and Voting Rights" on Tuesday, September 17, at 7 p.m., at Romita Auditorium, Ryan Library at Iona College. It is presented as part of the Constitution Day program at the College. The public is invited.
The Corbin Memorial Lecture is sponsored by the League of Women Voters of New Rochelle as part of a bequest to the League. Mrs. Corbin was president of the LWVNR in the early 1960's. Press clippings from that time described her as organizing workshops on court reform and urging news media support for judicial changes. For these efforts, the LWVNR won an award from the NYS Bar Association. The lecture is being presented as part of the Constitution Day program at the College.
Dr. Zaino's talk will address voting rights in the United States following the Supreme Court's 2013 decision in Shelby vs. Holder, which rendered unconstitutional a key aspect of the historic Voting Rights Act. This resulted in changes to some state and local voting laws and procedures, which, in turn, impacted the midterm elections of 2014 and 2018 and the presidential election of 2016 and continues to reverberate.
In addition to publishing in scholarly journals, Dr. Zaino is a frequent commentator on major television networks, has been quoted in major newspapers, and is a widely sought-after speaker. She is the bestselling author of Adventures in Social Research: Data Analysis Using SPSS and of Core Concepts in American Government. Recently, she gave the keynote address on "The Disintegration of Politics," at the Campaigning and Social Media Conference sponsored by the University of Oslo, Norway. She was also a recipient of the Campus Teaching Award by the American Political Science Association.
At Iona College, Dr. Zaino has served as Chair of the Political Science Department, Director of the Honors Program, and Dean of the School of Arts and Sciences. She was awarded a M.A. degree and Ph.D from the University of Massachusetts at Amherst.
ABOUT IONA
Founded in 1940, Iona College is a master's-granting private, Catholic, coeducational institution of learning in the tradition of the Edmund Rice Christian Brothers. Iona's 45-acre campus is just 20 miles north of Midtown Manhattan. With a total enrollment of nearly 4,000 students and an alumni base of over 45,000 around the world, Iona is a diverse community of learners and scholars dedicated to academic excellence and the values of justice, peace and service. Iona is highly accredited, offering undergraduate degrees in liberal arts, science, and business administration, as well as Master of Arts, Master of Science and Master of Business Administration degrees and numerous advanced certificate programs. Iona's LaPenta School of Business is accredited by AACSB International, a prestigious recognition awarded to just five percent of business schools worldwide. The Princeton Review recognized Iona's on-campus MBA program as a "Best Business School for 2020." Iona College also recently launched a new, fully online MBA program for even greater flexibility.