Gabrielle Gambrell '08, '10MA Named to Iona College Board of Trustees
Gabrielle Gambrell '08, '10MA will serve as the appointed representative of the Iona College Alumni Board of Directors, where she has served since 2017.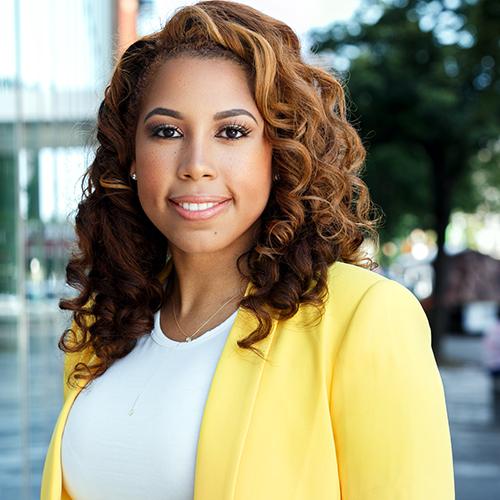 NEW ROCHELLE, N.Y. (July 2020) — Gabrielle Gambrell '08, '10MA, a communications, branding and media expert who is widely recognized for her dedication to diversity and inclusion, has been named to the Iona College Board of Trustees. She will serve as the appointed representative of the Iona College Alumni Board of Directors, where she has served since 2017.   
"I am honored to be appointed to the Board of Trustees and am eager to make a great impact at such a pivotal time in the world," said Gambrell, who earned her bachelor's degree from Iona in Mass Communication with honors, as well as a master's degree in Public Relations with a concentration in Entertainment and Sports. "I look forward to bringing my diverse perspective in shaping the future of Iona, as the College continues to be an institution of choice for students committed to service and an inclusive and rewarding future." 
Gambrell, a marketing and communications consultant, also teaches as a graduate adjunct professor at New York University (NYU). She most recently served as the vice president and head of Marketing & Communications at Barnard College of Columbia University. Reporting to the president, Gambrell made history in her role as both the first Black woman to hold her title, as well as the youngest since the College's founding in 1889. Gambrell spearheaded the creation and implementation of integrated marketing communications campaigns attracting the brightest applicants, recruiting the best faculty and staff, motivating alumnae and donors, and furthering the college's mission.
Iona College Board Chair Patrick C. Dunican Jr., Esq., '88 welcomed Gambrell to the Board, saying: "Gabrielle will be a tremendous addition to the Iona College Board of Trustees. With her impressive career in marketing and communications and experiences in industry and higher education in particular, she will bring a wealth of ideas and perspectives."
Gambrell's baseline strengths include the execution of sophisticated, robust and ambitious marketing communications tactics to promote and increase visibility and support strategic goals. She has been widely celebrated as a champion for diversity, equity and inclusion, and looks forward to furthering that mission at Iona. 
Prior to Barnard, she was worldwide director of communications and public relations at FCB Global, an advertising agency network with offices in more than 80 countries. Prior to FCB, Gambrell served as director of communications for NBCUniversal, where she led the development of internal and external communications plans in support of the corporation's diversity and inclusion initiatives.
Among other successful campaigns, Gambrell directed special projects such as the launch of #NBCBLK28, using the 28 days in the month of February to honor 28 of the nation's most talented Black innovators and game changers — all ages 28 years and younger. She also served as an advisor to NBCUniversal's Young Professionals Network, which cultivates early-in-career employees. In 2018, Forbes recognized Gambrell for her industry-wide accomplishments and unwavering commitment to diversity and inclusion.
As manager of communications for CBS Corporation, Gambrell implemented publicity campaigns for the network and all accompanying corporate divisions and brands. She was also a charter member of CBS' first corporate-wide diversity council.  
While at Iona, Gambrell not only met her husband, Jeffrey Gambrell '11, and some of her closest friends, but she also gained the kind of real-world experience that gave her an edge in the workplace. "From your very first broadcasting class, you're in the TV studio, control room – everything is very hands-on," she said. 
In fact, an internship with ABC on the set of "Live with Regis and Kelly" paved the way for her first professional job as a production assistant for the show in 2007. Then, in typical "Gaels Helping Gaels" fashion, she connected at a campus career mentoring event with Iona alumnus and CBS senior executive Martin "Marty" Daly, who helped her get a foot in the door at the network. 
Gambrell now continues the Gaels Helping Gaels tradition herself, serving as a career mentor, an Alumni Board member, and an advisory board member of the Sports, Entertainment and Media Innovation Department. At NYU, Gambrell teaches graduate-level courses in integrated marketing, digital and social media, advanced public relations, media relations, corporate communications, and event planning courses while introducing and testing new processes.
A goal-setter, Gambrell attributes her success to being a woman of God who is committed to lifelong learning and growth. "My personal relationship with God became stronger while attending Iona," she said. "Being a part of a community where a relationship with God is celebrated is superb." She is also a fourth-generation college graduate, which, she said, she does not take lightly, adding that "education will determine your success." 
Gambrell received Iona's Rising Star Award in 2018 for her early-career achievements. She has been named to PRNEWS' 2020 list of Top Women in PR and PRWeek's 2019 Hall of Femme, as one of 28 trailblazing women who are shaping the future of the communications industry. Originally from Los Angeles, Gambrell currently resides with her husband and son in Westchester County. You can learn more about her at www.giftofgabrielle.com and connect via Twitter and Instagram @_GiftofGab_.
ABOUT IONA
Founded in 1940, Iona College is a master's-granting private, Catholic, coeducational institution of learning in the tradition of the Edmund Rice Christian Brothers. Iona's 45-acre campus is just 20 miles north of Midtown Manhattan. With a total enrollment of nearly 4,000 students and an alumni base of over 50,000 around the world, Iona is a diverse community of learners and scholars dedicated to academic excellence and the values of justice, peace and service. Iona is highly accredited, offering undergraduate degrees in liberal arts, science, and business administration, as well as Master of Arts, Master of Science and Master of Business Administration degrees and numerous advanced certificate programs. Iona's LaPenta School of Business is accredited by AACSB International, a prestigious recognition awarded to just five percent of business schools worldwide. The Princeton Review recognized Iona's on-campus MBA program as a "Best Business School for 2020." Iona College also recently launched a new, fully online MBA program for even greater flexibility.