Hynes Institute Celebrates 5 Years of Innovation at Iona University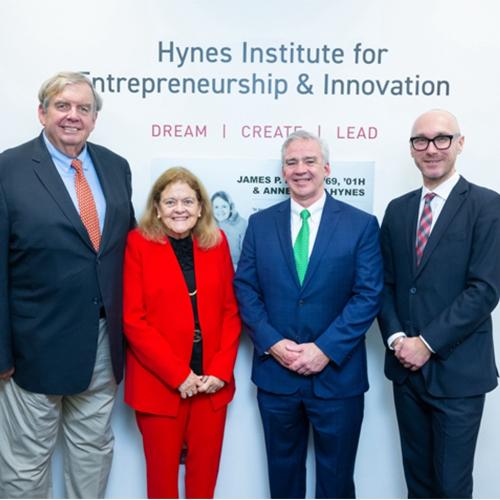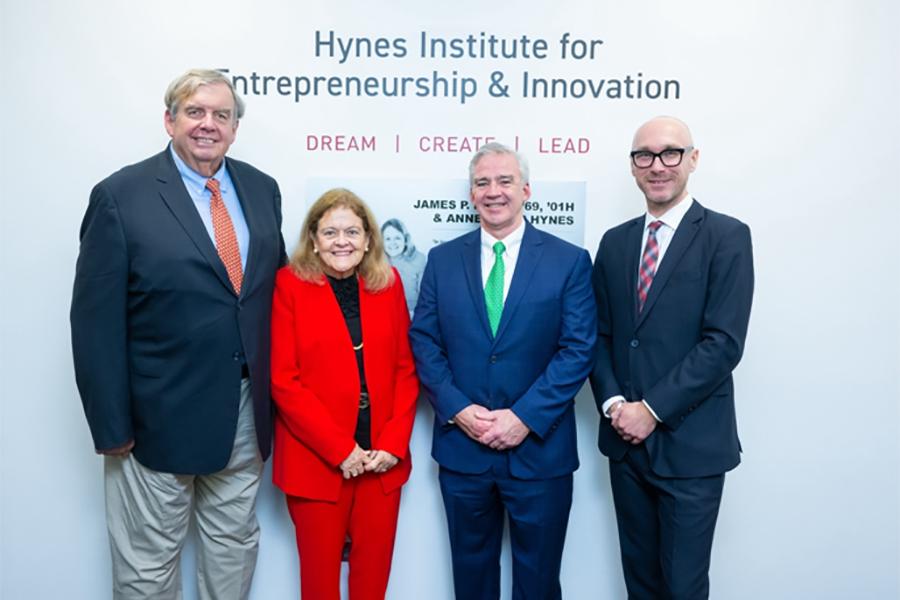 New Rochelle, N.Y. – Members of the Iona University community celebrated five years of the Hynes Institute for Entrepreneurship & Innovation with a reception on December 6, 2022. Gathered in the Hynes Institute overlooking the heart of campus, the evening included formal remarks, a plaque unveiling and a surprise video presentation to thank the Hynes family for their vision and generosity.
Founded in 2017 with a $15 million gift from James '69, '01H and Anne Marie Hynes, the Hynes Institute empowers students to sharpen their entrepreneurial leadership and creative problem-solving skills through curricular, co-curricular and community-engaged programs. It is housed in a modern, 3,800-square-foot, co-working space above Spellman Hall.
"It is wonderful to see what our team has built over the past five years," said James P. Hynes '69, '01H. "We are excited to see many of our students applying themselves to discover their passions as they start to create successful careers for themselves. They are growing into innovators and critical thinkers who are well prepared for their future careers, which will bring about many different economic opportunities. Anne Marie and I look forward to seeing the Hynes Institute evolve into the next phase of this important work in support of our students."
"When I toured the country with the design team to explore best practices in entrepreneurship education, I quickly saw the potential of entrepreneurial learning for all Iona students," said Anne Marie Hynes, Esq. "It is very rewarding to see our students from across the University learn and grow in our state-of- the-art learning spaces across a myriad of academic offerings. We are proud to see our vision come to life through the work and accomplishments of our students."
AT A GLANCE
Over the past five years, the Hynes Institute has had a tremendous impact on entrepreneurship at Iona and beyond. Highlights include:
1,801 registered students in undergraduate and graduate entrepreneurship courses.
3,439 student participations in Hynes Institute programming.
200+ events for students, faculty, staff and the Iona community.
$153,000+ in support funds toward student engagement initiatives such as student conferences, club aid, scholarships, competition prizes and much more.
$42,000 awarded to 32 Hynes Faculty Fellows across 12 academic departments.
500+ faculty participations in 45 Lunch & Learn seminars.
50+ professional mentors engaged.
$358,000 secured to support veteran-owned businesses with over 200 hours of business counseling provided to date through the SBA Community Navigator Pilot Program.
Community partnership with the Business Council of Westchester's WIN (Westchester Innovation Network) initiative in collaboration with Mount Vernon and Yonkers.
"One of the many strengths of an Iona University education is a curriculum that combines the theoretical and the practical, the historical and the contemporary, the academic and the worldly," said Iona President Seamus Carey, Ph.D. "Over the past five years, the Hynes Institute for Entrepreneurship & Innovation has been a leading example of what it means to learn outside the lines. Congratulations to all involved in pioneering this success over the past five years. I look forward to the work that we will accomplish in the years ahead."
Hear from current students and alumni about the impact the Hynes Institute has had on them
The Hynes Institute offers two undergraduate majors – a Bachelor of Arts in Entrepreneurial Leadership and a Bachelor of Business Administration in Entrepreneurship. It also offers an advanced certificate in Entrepreneurship & Innovation. Co-curricular programs include entrepreneurship clubs and fellowship opportunities; over 75 entrepreneur talks (E-Talks); and over 50 workshops, distinguished speakers and more, all open to the Iona community at large.
Notably, the Hynes Institute has also engaged over 180 students and awarded $40,250 in prize money through the Iona Innovation Challenge. Launched in 2018, the Iona Innovation Challenge (IIC) is an annual student competition that gives Iona students the ability to present a solution that addresses a real-world problem. The Hynes Institute also operates the GaelVentures Business Incubator on North Avenue to help support and launch new businesses.
"The entrepreneurship program and the Hynes Institute provided an invaluable experience for me at Iona University," said Joey Lopez '22. "I was challenged to think differently, problem solve, and was supported to start my own business venture. As I look back at my time in college, the Hynes Institute and the people I met there are what I miss most."
In 2021, the Hynes Institute won the "Outstanding Emerging Entrepreneurship Program" award for schools with less than 5,000 students at the Global Consortium of Entrepreneurship Centers (GCEC) Conference. The GCEC recognizes top entrepreneurship programs each year in several categories, chosen by a committee of judges led by past winners.
"Entrepreneurship is a universal skill set that gives Iona students the ability to take ownership of their learning by identifying and solving the big challenges of our world through innovation," said Dr. Christoph Winkler, endowed professor and founding program director. "Five years ago, we embarked on a journey to develop an interdisciplinary entrepreneurship and innovation program thanks to the vision and generosity of Jim and Anne Marie Hynes. Five years later, we look back with a sense of pride and accomplishment at all the work that went into turning this vision into a reality."
ABOUT IONA
Founded in 1940, Iona University is a master's-granting private, Catholic, coeducational institution of learning in the tradition of the Edmund Rice Christian Brothers. Iona's 45-acre New Rochelle campus and 28-acre Bronxville campus are just 20 miles north of Midtown Manhattan. With a total enrollment of nearly 4,000 students and an alumni base of over 50,000 around the world, Iona is a diverse community of learners and scholars dedicated to academic excellence and the values of justice, peace and service. Iona is highly accredited, offering undergraduate degrees in liberal arts, science, and business administration, as well as Master of Arts, Master of Science and Master of Business Administration degrees and numerous advanced certificate programs. Iona's LaPenta School of Business is accredited by AACSB International, a prestigious recognition awarded to just five percent of business schools worldwide. The Princeton Review recognized Iona's on-campus MBA program as a "Best Business School for 2023." Iona University also recently launched a new, fully online MBA program for even greater flexibility. In July 2021, Iona University and NewYork-Presbyterian announced the establishment of the NewYork-Presbyterian Iona School of Health Sciences, to be principally located on the University's new campus in Bronxville, N.Y. Supported by a $20 million gift from NewYork-Presbyterian, the NewYork-Presbyterian Iona School of Health Sciences offers a new vision for collaborative health care education, modern workforce development, and community care. On July 1, 2022, Iona officially changed its status from College to University, reflecting the growth of its academic programs and the prestige of an Iona education.