Innovative Approach Wins Iona College a Mother Cabrini Health Foundation Grant to Improve Health Services for New York's Most Vulnerable
$500,000 grant supports Iona's training of tomorrow's health care heroes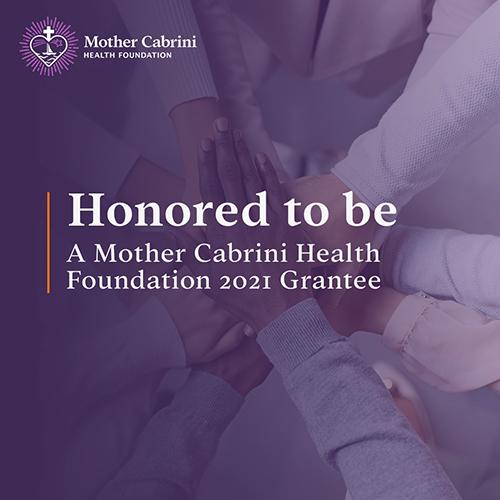 NEW ROCHELLE, N.Y. — Iona College is proud to announce it has been awarded a Mother Cabrini Health Foundation grant for an innovative new training model that will help to improve and expand access to high-quality health services in New York's most vulnerable communities.
In developing the Iona Interprofessional Education (IPE) pilot program, Iona has applied its ethos of innovation to preparing the next generation of nurses, educators, speech pathologists, mental health counselors, school psychologists, marriage and family therapists, social workers and occupational therapists – all of whom will have a direct impact on the individuals and communities they are trained to serve.   
"COVID-19 has only expedited the need for more collaborative and effective training of our healthcare professionals. The Iona Interprofessional Education pilot will be a catalyst for innovation, while also responding to a shortage of trained professionals with the skills needed to be effective in today's workforce," said Darrell P. Wheeler, Ph.D., MPH, ACSW, Iona provost and senior vice president for Academic Affairs. "We are deeply grateful for the support of the Mother Cabrini Health Foundation. This critical funding will go a long way toward improving outcomes not only for our students, but for the individuals and communities they are trained to serve."
The Mother Cabrini Health Foundation is a private, nonprofit organization with the mission to improve the health and well-being of the most vulnerable New Yorkers, bolster the health outcomes of targeted communities, eliminate barriers to care, and bridge gaps in health services. The Foundation – which is named in memory of a tireless advocate for immigrants, children, and the poor – provides flexible support for new and innovative approaches that enhance health and wellness across New York.
Msgr. Gregory Mustaciuolo, chief executive officer of the Mother Cabrini Health Foundation, said: "As we set our sights on 2021, we must address the healthcare disparities related to race and income that have only been heightened since the onset of the pandemic. We honor the legacy of Mother Cabrini by funding activities, programs, and initiatives that help bridge gaps in health services, bolster the health outcomes of diverse communities, and eliminate barriers to care."
With service, equity and entrepreneurship embedded throughout the curriculum, Iona has a proud legacy of preparing professionals with extensive training in innovative thinking, problem solving and empathy. The IPE pilot will strengthen and expand upon these experiences for students, and in turn, will have a direct impact on improving health services for those most in need thanks to the $500,000 grant.
The grant comes as Iona continues to build upon its presence in the field. Iona recently announced plans to acquire the Concordia College campus in Bronxville, N.Y., utilizing the additional space to develop a leading school of health sciences.
In addition, in the fall of 2020, Iona launched a new Bachelor of Science degree program in nursing, which includes a traditional four-year undergraduate program and an accelerated second-degree program that can be completed in 15 months.
Iona's robust offerings also include master's degree programs in Occupational Therapy, Communication Sciences and Disorders, Marriage & Family Therapy, Mental Health Counseling, Psychology, and School Psychology. Bachelor's degree programs are offered in Speech Communication and Speech-Language Pathology & Audiology.
All programs include collaboration with the Hynes Institute for Entrepreneurship & Innovation, as well as community engagement, full-time fieldwork, and service-learning opportunities with partner sites across the New York-metropolitan area – giving students valuable hands-on experience under the guidance of expertly trained faculty.
Iona's IPE curriculum is designed to prepare students for real-world problems by training them across various disciplines. For instance, nursing students will work and train with students and faculty from other academic programs to offer broader perspectives and experiences. The IPE approach empowers students to be team-oriented, have a comprehensive view of healthcare practices and most importantly, deliver better outcomes for patients.
Visit iona.edu to explore all they ways Iona College encourages and supports students as they "Learn Outside the Lines."
ABOUT IONA
Founded in 1940, Iona University is a master's-granting private, Catholic, coeducational institution of learning in the tradition of the Edmund Rice Christian Brothers. Iona's 45-acre New Rochelle campus and 28-acre Bronxville campus are just 20 miles north of Midtown Manhattan. With a total enrollment of nearly 4,000 students and an alumni base of over 50,000 around the world, Iona is a diverse community of learners and scholars dedicated to academic excellence and the values of justice, peace and service. Iona is highly accredited, offering undergraduate degrees in liberal arts, science, and business administration, as well as Master of Arts, Master of Science and Master of Business Administration degrees and numerous advanced certificate programs. Iona's LaPenta School of Business is accredited by AACSB International, a prestigious recognition awarded to just five percent of business schools worldwide. The Princeton Review recognized Iona's on-campus MBA program as a "Best Business School for 2023." Iona University also recently launched a new, fully online MBA program for even greater flexibility. In July 2021, Iona University and NewYork-Presbyterian announced the establishment of the NewYork-Presbyterian Iona School of Health Sciences, to be principally located on the University's new campus in Bronxville, N.Y. Supported by a $20 million gift from NewYork-Presbyterian, the NewYork-Presbyterian Iona School of Health Sciences offers a new vision for collaborative health care education, modern workforce development, and community care. On July 1, 2022, Iona officially changed its status from College to University, reflecting the growth of its academic programs and the prestige of an Iona education.