Institute for Thomas Paine Studies at Iona College Welcomes Scholar-in-Residence
Lindsay M. Chervinsky, Ph.D., joins Iona from White House Historical Association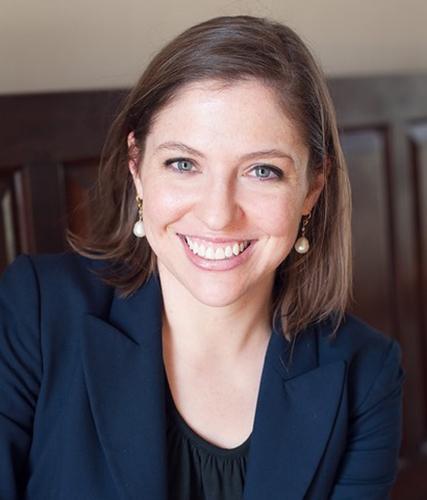 NEW ROCHELLE, N.Y.  — The Institute for Thomas Paine Studies (ITPS) at Iona College proudly welcomes its first scholar-in-residence, Lindsay M. Chervinsky, Ph.D., an expert in the cabinet, presidential history, and United States government institutions.
Prior to joining the ITPS, Chervinsky worked as a historian at the White House Historical Association. Her recent book, The Cabinet: George Washington and the Creation of an American Institution, published in April, was just awarded the Thomas J. Wilson Prize for best first book from Harvard University Press.
"The ITPS is beyond thrilled to have a historian as brilliant and generous as Dr. Chervinsky as our scholar-in-residence. Lindsay's deep commitment to engaged historical communication, not only with Iona's wonderful students and college community but around the nation, is invaluable to our work in public and digital humanities," said ITPS director and Gardiner assistant professor of history, Nora Slonimsky.
A prolific writer, Chervinsky recently penned articles in some of the nation's leading journals and newspapers, including The Washington Post, Smithsonian Magazine and USA Today.
Chervinsky also launched a new Iona podcast, the Institute for Thomas Paine Studies Podcast (ITPS Pod). The podcast will start with a three-part miniseries, exploring the unprecedented events of 2020. The dual pandemics of COVID-19 and international racism, combined with economic depression and political unrest, are forcing new conversations, with places of history and education at the center. Chervinsky has been interviewing experts on public health, disease, education, slavery and race, discussing how education and cultural institutions can interpret the history of disease, medicine, and racism as interrelated issues that continue to challenge the nation today.
"I'm so excited to be working with the Institute for Thomas Paine Studies and Iona College," Chervinsky said. "ITPS is leading the field in innovation and redefining how we share Early American history, so it's a real honor to be a part of that mission. I can't wait to share our work and I'm grateful for Iona's support as we pursue these public history projects."
Chervinsky received her BA in history and political science from George Washington University, completed her masters and Ph.D. from the University of California, Davis, and was awarded a postdoctoral fellowship at the Center for Presidential History at Southern Methodist University.
When she's not writing, researching, or speaking about history, Chervinsky loves to hike with her husband and her dog, John Quincy Dog Adams. More information about her work can be found on her website and she can be contacted on Twitter at @lmchervinsky.
ABOUT THE INSTITUTE FOR THOMAS PAINE STUDIES
Established in 2011, the Institute for Thomas Paine Studies (ITPS) was founded to facilitate the study of Thomas Paine's writing, life, and legacy. As a prolific author of multiple genres and mediums, Paine's influence on the intersection of media, communication, and political economy. Inspired by this model, the ITPS has since expanded its mission to support the wider interdisciplinary research of early American history – especially in the revolutionary and early national periods—along with public history, archival studies, and the digital humanities. This support includes research and education initiatives, from fellowship programs to ground breaking digital projects, collaborative conferences, workshops, and exhibits, as well as the ongoing curatorial development of the Thomas Paine National Historical Association archive collection, a central component of the ITPS. Housed by Iona College, and with the generous support of the school, the ITPS is also deeply committed to the importance of undergraduate research and scholarly involvement. We encourage the active involvement of Iona's students with the ITPS as it continues to expand and engage with the wider historical community.
ABOUT IONA
Founded in 1940, Iona College is a master's-granting private, Catholic, coeducational institution of learning in the tradition of the Edmund Rice Christian Brothers. Iona's 45-acre campus is just 20 miles north of Midtown Manhattan. With a total enrollment of nearly 4,000 students and an alumni base of over 50,000 around the world, Iona is a diverse community of learners and scholars dedicated to academic excellence and the values of justice, peace and service. Iona is highly accredited, offering undergraduate degrees in liberal arts, science, and business administration, as well as Master of Arts, Master of Science and Master of Business Administration degrees and numerous advanced certificate programs. Iona's LaPenta School of Business is accredited by AACSB International, a prestigious recognition awarded to just five percent of business schools worldwide. The Princeton Review recognized Iona's on-campus MBA program as a "Best Business School for 2020." Iona College also recently launched a new, fully online MBA program for even greater flexibility.