Iona College Announces Founding Dean of the NewYork-Presbyterian Iona School of Health Sciences
Kavita R. Dhanwada, Ph.D., brings over 25 years of experience as an educator and administrator to develop Iona's new premier school of health sciences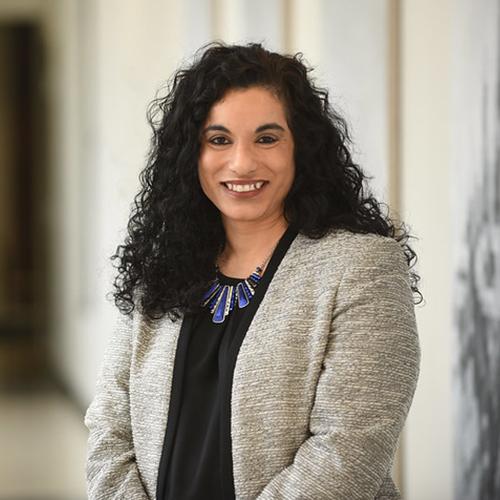 NEW ROCHELLE, N.Y. — Iona College today announced that Kavita R. Dhanwada, Ph.D., has been named founding dean of the NewYork-Presbyterian Iona School of Health Sciences. Serving since 2017 as founding dean of the Borra College of Health Sciences at Dominican University in River Forest, Ill., Dhanwada is ideally positioned to develop Iona's new premier school in collaboration with New York's #1 hospital, as ranked by U.S. News & World Report. She joins Iona effective July 1, 2022.
"Following an extensive national search, Iona College is proud to welcome a forward-thinking, determined and committed leader to help develop the NewYork-Presbyterian Iona School of Health Sciences," said Iona College President Seamus Carey, Ph.D. "Dean Dhanwada's strong reputation for collaborative innovation and proven track record of thoughtful leadership will continue to elevate the Iona experience for our students, faculty and the communities we serve."
Established in July 2021 and supported by a $20 million gift, the NewYork-Presbyterian Iona School of Health Sciences will be primarily located on Iona's new 28-acre campus in Bronxville, N.Y. It is expected to be a model for mission-based collaboration between higher education and health care in service of the public good, offering unparalleled access to clinical placements and full-time career opportunities.
"Iona College is at a pivotal time in its distinguished history. The collaboration with NewYork-Presbyterian to expand its programs represents its potential to be a leader for health sciences education," Dhanwada said. "I am honored and excited to be joining at such an important moment. My background and experience have not only prepared me for the challenge, but called me in service to accomplish the critical work ahead."
As founding dean of the Borra College of Health Sciences, Dhanwada was responsible for the college's strategic vision, new program development and faculty recruitment and training while also enhancing visibility, funding and support for the school. She oversaw the college's accreditation approvals for Physician Assistant Studies (ARC-PA), Nutrition and Dietetics (ACEND) and Nursing (CCNE), in addition to serving in many leadership and service roles.
Aligning with Iona's interdisciplinary approach, Dhanwada's experience has focused on promoting interprofessional education to build practical knowledge through experiential learning. Dhanwada also collaborated with faculty to sustain, develop and grow numerous academic programs. Notably, she introduced a new degree to Dominican University, a Bachelor of Applied Science, and developed a new undergraduate major, a Bachelor of Science in Health and Wellness. Other collaborative innovations include working with nursing faculty to develop an online RN to BSN degree completion program.
"The appointment of Dean Dhanwada is an important and exciting step forward in the process of establishing the NewYork-Presbyterian Iona School of Health Sciences as a new center of educational excellence," said Steven J. Corwin, president and CEO of NewYork-Presbyterian. "We look forward to working together to train generations of highly qualified, truly passionate health care professionals who are equipped to rise and adapt to new challenges."
During her tenure at Dominican University, which embodies a Catholic, Dominican tradition, Dhanwada's clear articulation of programs and objectives also helped to support funding for the naming of both the Borra College of Health Sciences as well as the Elizabeth T. MacNeil School of Nursing. Most recently, she became project director for a $5 million Department of Education Title III-F HSI STEM grant that aims to recruit and retain more Hispanic, low-income and first-generation students into STEM by providing academic support services in a culturally responsive and inclusive manner.
"Iona College's mission embodies opportunity, justice and the liberating power of education," she said. "I believe a new School of Health Sciences, and the programs within, can exemplify this mission and foster intellectual inquiry, community engagement and an appreciation for diversity."
Previously, Dhanwada served as associate provost for Academic Affairs and dean of the Graduate College at the University of Northern Iowa. She also served there as associate dean for the College of Humanities, Arts and Sciences, department head, faculty fellow and a long-standing Department of Biology faculty member.
In addition to being widely published for her research work, Dhanwada is also a member of the Council of Independent Colleges, the American Association of Colleges and Universities, and the American Conference of Academic Deans. She received a Bachelor of Science in Microbiology from the University of Illinois at Urbana-Champaign and a Ph.D. in Microbiology/Immunology from Loyola University of Chicago. Dhanwada currently resides outside of Chicago with her family, but looks forward to relocating to Westchester County as she joins the Iona community.
ABOUT IONA
Founded in 1940, Iona College is a master's-granting private, Catholic, coeducational institution of learning in the tradition of the Edmund Rice Christian Brothers. Iona's 45-acre New Rochelle campus and 28-acre Bronxville campus are just 20 miles north of Midtown Manhattan. With a total enrollment of nearly 4,000 students and an alumni base of over 50,000 around the world, Iona is a diverse community of learners and scholars dedicated to academic excellence and the values of justice, peace and service. Iona is highly accredited, offering undergraduate degrees in liberal arts, science, and business administration, as well as Master of Arts, Master of Science and Master of Business Administration degrees and numerous advanced certificate programs. Iona's LaPenta School of Business is accredited by AACSB International, a prestigious recognition awarded to just five percent of business schools worldwide. The Princeton Review recognized Iona's on-campus MBA program as a "Best Business School for 2021." Iona College also recently launched a new, fully online MBA program for even greater flexibility. In July 2021, Iona College and NewYork-Presbyterian announced the establishment of the NewYork-Presbyterian Iona School of Health Sciences, to be principally located on the College's new campus at 171 White Plains Road, Bronxville, N.Y. Supported by a $20 million gift from NewYork-Presbyterian, the NewYork-Presbyterian Iona School of Health Sciences is expected to offer a new vision for collaborative health care education, modern workforce development, and community care.