Iona College Announces New Dean of LaPenta School of Business
Dr. Lynne Richardson appointed after extensive national search, highlighting her wide range of business, finance and leadership experience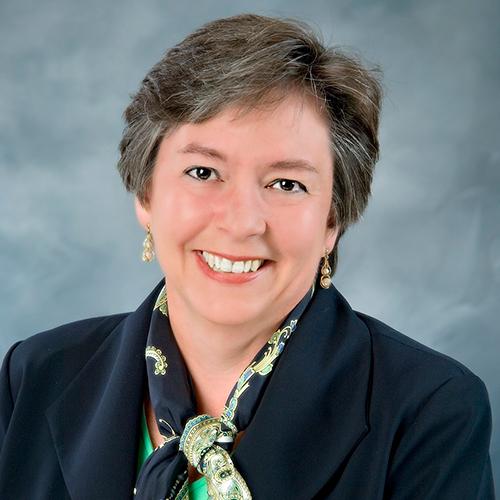 NEW ROCHELLE, N.Y. — Iona College is proud to announce the appointment of Dr. Lynne Richardson to serve as dean of the LaPenta School of Business effective July 19, 2021. Richardson joins Iona from the University of Mary Washington in Fredericksburg, Va., where she has served as dean of the College of Business since 2011. In addition, Richardson also served as chief financial officer from 2017-18 at the request of the university's president. Previously, she had been dean of the business schools at Mississippi State University and Ball State University.
Richardson replaces Dr. Richard Highfield, who has served as interim dean since July 2019. Her appointment follows an extensive national search that yielded many strong and talented candidates. Iona's search committee, chaired by Dr. Eric Hamerman, associate professor of marketing, was assisted by Maya Kirkhope and Kate Nolde of Academic Search.
"It is an honor and a privilege to welcome Dr. Richardson to Iona College," said Darrell P. Wheeler, Ph.D., MPH, ACSW, provost and senior vice president for Academic Affairs. "I am confident her experience, coupled with her pioneering vision of academic excellence and distinctiveness, will help our students reach new heights in business, life and leadership. I also extend my deepest gratitude to Interim Dean Highfield, whose keen management helped Iona thrive despite the challenges of the pandemic."
The announcement comes as Iona continues to forge ahead on its path of innovation, seeking to build upon the legacy of the newly redesigned LaPenta School of Business. Among its many accolades, the LaPenta School of Business is recognized by the Princeton Review as a "Best Business School for 2021." It is also accredited by the Association to Advance Collegiate Schools of Business (AACSB International), a prestigious recognition awarded to just five percent of business schools worldwide.
"I am honored to be selected as dean of the LaPenta School of Business," Richardson said. "Everyone I interacted with during the interview process was passionate about helping Iona students reach their full potential, which is why I am in higher education. Together, we will continue to develop and nurture meaningful relationships with the business community and Iona alumni, connecting students to vital pathways for both academic and career success."
Richardson, who has been praised for her wide range of business, finance and leadership experience, spent most of the past two decades as a business-school administrator. Her focus is on leadership development as well as effective and innovative organizational management.
Throughout most of her professional career, Richardson has been active in AACSB International, which accredits and provides professional development services to business schools in about 100 countries. She has served two terms on the AACSB Board of Directors (including on the Finance and Investment Committee), served on over 25 peer review teams, and founded the organization's seminar "Lessons for Aspiring Deans." The latter, which has been offered for over 17 years under Richardson's tutelage, is a critical resource and inspiration for future business school leaders across the globe. She also served as a member of the Beta Gamma Sigma Board of Governors.
While dean at Ball State, Richardson was a member of the MutualFirst Financial Board of Directors from 2005 to 2007. She has been on Rotary Club boards of directors in three states. She served as president of the American Marketing Association's Birmingham chapter, and president of the Riverside Foundation for the Performing Arts. Her service on nonprofit boards also includes the United Way in two communities; the American Heart Association, including as board chair at a local affiliate; Spotsylvania Regional Medical Center, a Healthcare Assistants hospital; the Boys and Girls Club; and the Fairy Godmother Project, an organization dedicated to helping support families of children with cancer.
Richardson has a Ph.D. in marketing from the University of Alabama. Her MBA is from the University of Alabama at Birmingham and her undergraduate degree in marketing is from the University of Montevallo, Alabama. She has completed two Harvard University certificate programs: Management and Leadership in Education (2003) and Institute for Educational Management (2018).
"I am delighted that Dr. Richardson has agreed to become the new dean of Iona's LaPenta School of Business," said Iona alumnus and trustee Robert V. LaPenta '67, '00H, who laid the foundation for the new business school with a transformational gift of $17.5 million, the largest in Iona's history. "Her impressive background and prior achievements will enable her to bring our highly regarded business school to an even greater level."
ABOUT IONA
Founded in 1940, Iona University is a master's-granting private, Catholic, coeducational institution of learning in the tradition of the Edmund Rice Christian Brothers. Iona's 45-acre New Rochelle campus and 28-acre Bronxville campus are just 20 miles north of Midtown Manhattan. With a total enrollment of nearly 4,000 students and an alumni base of over 50,000 around the world, Iona is a diverse community of learners and scholars dedicated to academic excellence and the values of justice, peace and service. Iona is highly accredited, offering undergraduate degrees in liberal arts, science, and business administration, as well as Master of Arts, Master of Science and Master of Business Administration degrees and numerous advanced certificate programs. Iona's LaPenta School of Business is accredited by AACSB International, a prestigious recognition awarded to just five percent of business schools worldwide. The Princeton Review recognized Iona's on-campus MBA program as a "Best Business School for 2023." Iona University also recently launched a new, fully online MBA program for even greater flexibility. In July 2021, Iona University and NewYork-Presbyterian announced the establishment of the NewYork-Presbyterian Iona School of Health Sciences, to be principally located on the University's new campus in Bronxville, N.Y. Supported by a $20 million gift from NewYork-Presbyterian, the NewYork-Presbyterian Iona School of Health Sciences offers a new vision for collaborative health care education, modern workforce development, and community care. On July 1, 2022, Iona officially changed its status from College to University, reflecting the growth of its academic programs and the prestige of an Iona education.