Iona College Announces Tentative Return to Campus with In-Person Classes to Begin August 10
Iona College President Seamus Carey, Ph.D., today announced a tentative return to campus for the fall semester with in-person classes scheduled to begin three weeks early on August 10.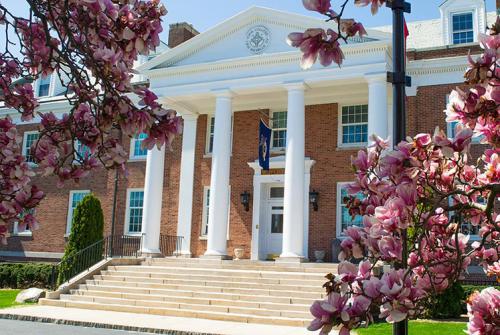 Iona College President Seamus Carey, Ph.D., today announced a tentative return to campus for the fall semester with in-person classes scheduled to begin three weeks early on August 10.
Please see the following letter sent to the Iona community:
With the Memorial Day weekend behind us and better news about the trajectory of COVID-19 in our region, we can turn our attention to the summer and fall. In addition to managing the work required to complete the spring semester, our task force has been building plans for how we might return to campus for the upcoming academic year. All of our plans have been developed with the health and safety of our community as the highest priority. We have consulted with public health experts and colleague institutions while attending to CDC and New York State guidelines every step along the way. The plans outlined below are contingent upon New York State approval of in-person classes for the fall semester.
Returning to campus will require significant changes in how we operate, but I am confident the qualities that make Iona a special learning community will be magnified under our new circumstances. We are not simply reacting to the crisis; we are envisioning a new future. Our plans not only incorporate best practices for health and safety, they accelerate our initiatives for innovative pedagogy, student support and community engagement, each of which deepens the Iona mission. We are not merely replacing one mode of course delivery with another; we are integrating the best of both to create dynamic courses to address the issues of our time. We are not just countering each emerging fact with a new policy; we are integrating our response into the curriculum and student learning. We are not simply shoring up institutional operations; we are engaging with the community to provide support to businesses, school children, health care workers and families.
While we are managing expenses carefully to find savings, we are not retrenching. We recently launched a new nursing program and new degrees in entrepreneurship. We formed a campus-wide strategic innovation committee to tap into the creativity residing across campus. Students, faculty and staff are at the forefront of strategic thinking and tactical planning as we reimagine our future.
We know that new facts about the pandemic will continue to surface. We are closely monitoring all information as we work toward a comprehensive operational plan to guide us through the upcoming academic year. As we continue to finalize our course of action, there are time-sensitive highlights we want to share with you now so that you can plan appropriately for the fall semester. Further information to flesh out these highlights will be shared in the coming weeks, and we appreciate your patience as we define specific details.
For scheduling purposes, it is important to note that Iona College will begin its fall semester on August 10, 2020, and end the semester on November 23. Students will not return to campus after the Thanksgiving break. This schedule advances the semester by three weeks to minimize student travel and exposure during the fall semester. If in-person classes are delayed or cancelled by New York State, we will re-evaluate the start date of the academic calendar.
With the exception of courses that are designated as distance learning (DL), all courses will be offered in a hybrid format so that students can take any course, or portions thereof, online or in person. Students or faculty with underlying health conditions should consider using the online option. By preparing courses to be both online and in person, we can accommodate students and faculty who might need to be away from campus during the semester. Moreover, such flexibility will make us ready to transition to full online delivery if circumstances require.
Prior to starting classes, students, faculty and staff will be required to have a test for the COVID-19 virus. We are proud to partner with our neighbors at Montefiore Hospital in New Rochelle to administer tests for members of the Iona community. Antibody tests will also be available for those who want one. We will work with Montefiore throughout the academic year to provide health care related to the COVID-19 virus for our students, faculty and staff. We will follow up shortly with additional information and options regarding testing.
In addition to getting tested prior to starting classes, we will work with all members of the Iona community to monitor symptoms related to COVID-19. Daily temperature checks will be available before entering classes or the workplace. Iona will work with students, faculty and staff to make sure you have the tools required to track symptoms. Students and employees will be called upon to self-isolate and get tested upon manifesting symptoms. CDC guidelines will be followed for addressing symptoms and positive test cases.
Masks will be required in all classes and wherever adequate social distancing is not possible. We will increase spacing in all classrooms and dining halls by 50 percent. Sanitizer will be available and accessible across campus and rooms will be sanitized regularly throughout the day. Entry, egress and stairways in buildings on campus will be organized to maximize spacing and minimize face-to-face exposure. Elevators will be sanitized regularly, and social distancing will be required.
We will reduce occupancy in residence halls to a maximum of two students per room and require social distancing in common spaces. Community bathrooms will be sanitized regularly, and social distancing will be required.
Remote work will continue for staff who can perform their roles from home to increase social distancing in offices.
Once again, we are sharing these highlights so that you can plan accordingly. Many further details for each of these initiatives will be shared in due course. These details will describe protocols for responding to positive COVID-19 cases on campus, procedures for food preparation and distribution, event sizes, campus visitors, athletic competitions and spectators, contact tracing, human resource policies and more. All of these details will be included in the forthcoming comprehensive plan. We appreciate your patience as we collect the data we need to provide the most informative and actionable plan possible.
Let me conclude by sharing an observation of what has transpired over the past two months. The commitment and resilience of the Iona community is akin to what I would describe as a Gael Force. There is a strength building from within as we work our way through this crisis and this strength is the reason we will emerge a better institution. From faculty innovation to administrators working seven days a week, from students thriving in transition to staff who have intensified their focus on the work that needs to be done, a renewed sense of purpose is growing at Iona.
We know that the coming year will test us. There are challenges ahead we can see and others we cannot. As educators, our responsibility is to work for a better future. If we continue to be our best; if we work with each other and for our students; if we are guided by the ideals that infuse our endeavors and lives with meaning – the ideals of seeking truth, working for justice, caring with compassion – the challenges we face will only make us better.
Thank you for your support and dedication.
Sincerely,
Seamus Carey, Ph.D.
President, Iona College
ABOUT IONA
Founded in 1940, Iona College is a master's-granting private, Catholic, coeducational institution of learning in the tradition of the Edmund Rice Christian Brothers. Iona's 45-acre campus is just 20 miles north of Midtown Manhattan. With a total enrollment of nearly 4,000 students and an alumni base of over 50,000 around the world, Iona is a diverse community of learners and scholars dedicated to academic excellence and the values of justice, peace and service. Iona is highly accredited, offering undergraduate degrees in liberal arts, science, and business administration, as well as Master of Arts, Master of Science and Master of Business Administration degrees and numerous advanced certificate programs. Iona's LaPenta School of Business is accredited by AACSB International, a prestigious recognition awarded to just five percent of business schools worldwide. The Princeton Review recognized Iona's on-campus MBA program as a "Best Business School for 2020." Iona College also recently launched a new, fully online MBA program for even greater flexibility.