Iona College Builds Upon Success with Incoming Class Up 15%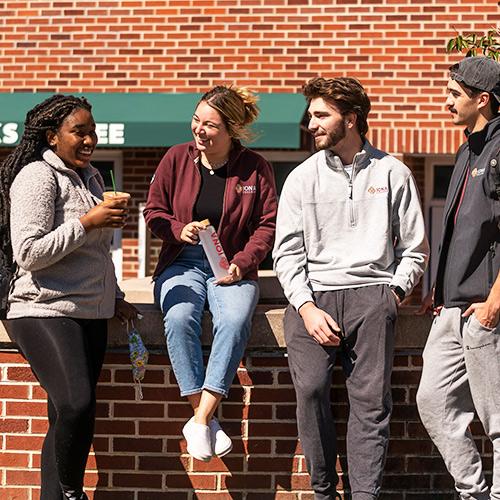 New Rochelle, N.Y. – Driven by a mission of service, opportunity and the transformative power of education, Iona College continues to build upon its success as a school on the rise, today announcing that freshman enrollment is once again up 15 percent year over year. Over the past three years, new freshman enrollment is up a staggering 35 percent despite the headwinds of the pandemic.
"The enthusiasm and desire to be a student at Iona College has never been greater, and we are clearly still a college on the rise," said Kevin O'Sullivan, senior vice president for Enrollment and Student Affairs. "To experience such success despite a hopefully once-in-a-lifetime pandemic, is a testament to the quality and outcomes of an Iona education, and the dedication of our faculty and staff to provide our students with a first-class, comprehensive college experience inside and outside of the classroom. We look forward to welcoming this extremely talented group of new students to the Iona community for the fall semester."
LEADERSHIP & SERVICE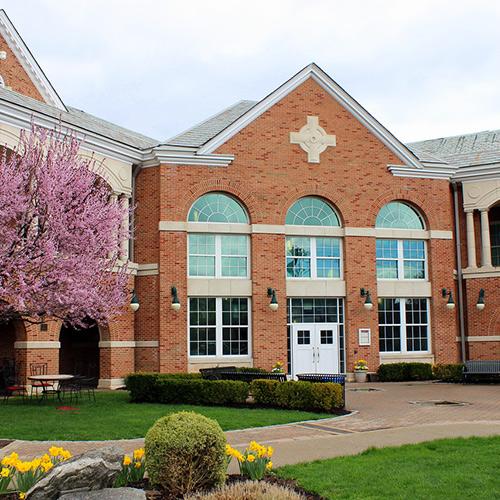 Representing 27 states and 11 countries, the Class of 2026 is impressive both inside and outside of the classroom.
The average GPA of our new incoming students is a 3.4 on a 4.0 scale, with an average SAT of 1160 for students who elected to submit standardized test scores. In addition, nearly 30 percent are members of the National Honor Society.
Student leaders and those interested in service and faith-based learning also continue to feel Iona has a lot to offer and is the best fit for them. For instance, the incoming freshman class has 32 high school student government presidents. In addition, over 250 students have indicated their interest to continue volunteering and serving the local, national, and international communities during their student experience at Iona. Nearly 40 percent of freshmen are coming to Iona from Catholic high schools across the country.
"Service to others continues to be a pillar of the Iona experience," said Ryan DePuy, senior director of Undergraduate Admissions. "That is true not only through the many mission trips and service opportunities available to Iona students, but also through our robust service-learning curriculum that enables students to put their classroom learning to work on behalf of others as well."
In addition to a strong desire to be involved in community service, the incoming freshman class will also be active outside of the classroom in many other ways, enjoying many of Iona's performing arts, varsity and club sports programs.
MISSION, VISION & VALUE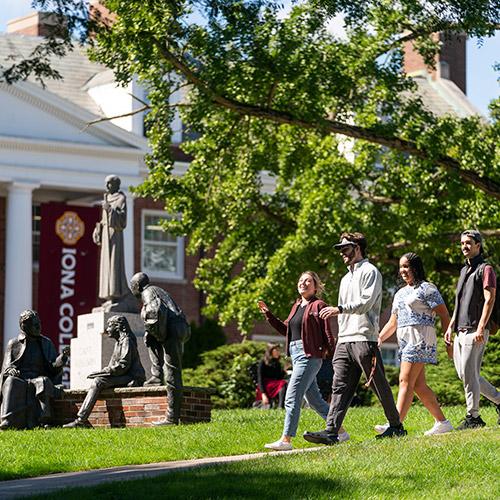 Founded in 1940 with the mission of educating New York's immigrant working class, Iona is proud to continue to provide a transformative experience, helping to elevate students and families through education. This year, 49 percent of incoming freshmen self-identified as first-generation college students. On the flip side, more than 50 families have chosen to keep the Iona legacy in their family – a testament to the College's value, character and community.
Widely known as a leader in preparing students to thrive in the workforce, Iona has also seen enrollment spike thanks in large part to the proven value of an Iona education as well as the innovative expansion of new degrees and programs being offered in state-of-the-art new facilities.
Among its many accolades and national rankings, Iona is ranked #1 for alumni salaries among schools with their main campuses in Westchester County, N.Y., and in the top six percent across the United States according to PayScale's College Salary Report. Similarly, Iona is also #1 in Westchester for the highest return on investment both 30 and 40 years after graduation, and jumped to the top four percent nationwide, according to Georgetown University's Center on Education and the Workforce. Iona is also ranked #19 nationwide in Money.com's list of Most Transformative Colleges.
One of Iona's most notable new developments is the launch of the NewYork-Presbyterian Iona School of Health Sciences, offering students unparalleled access to clinical placements and full-time career opportunities with New York's #1 hospital, according to U.S. News & World Report. Renovations are currently underway on state-of-the-art new facilities for this premier school on Iona's new second campus in Bronxville, N.Y., set to open January 2023.
Iona is also highly accredited, offering degrees in the liberal arts, sciences and business administration. Iona's recently renovated LaPenta School of Business is accredited by AACSB International, a prestigious recognition awarded to just five percent of business schools worldwide.
Meanwhile, the new Gaels Go Further Mentoring Program taps into Iona's network of over 50,000 alumni across the globe to provide students with career advice as well as guidance on how to maximize their college career and so much more. With alumni rising to the top of global business – Alfred F. Kelly Jr. '80, '81MBA, CEO of Visa, and Margaret (Maggie) Timoney '89, '92MBA, CEO of Heineken USA – it's clear there are no limits to what can be achieved with an Iona degree.
ABOUT IONA
Founded in 1940, Iona University is a master's-granting private, Catholic, coeducational institution of learning in the tradition of the Edmund Rice Christian Brothers. Iona's 45-acre New Rochelle campus and 28-acre Bronxville campus are just 20 miles north of Midtown Manhattan. With a total enrollment of nearly 4,000 students and an alumni base of over 50,000 around the world, Iona is a diverse community of learners and scholars dedicated to academic excellence and the values of justice, peace and service. Iona is highly accredited, offering undergraduate degrees in liberal arts, science, and business administration, as well as Master of Arts, Master of Science and Master of Business Administration degrees and numerous advanced certificate programs. Iona's LaPenta School of Business is accredited by AACSB International, a prestigious recognition awarded to just five percent of business schools worldwide. The Princeton Review recognized Iona's on-campus MBA program as a "Best Business School for 2021." Iona University also recently launched a new, fully online MBA program for even greater flexibility. In July 2021, Iona University and NewYork-Presbyterian announced the establishment of the NewYork-Presbyterian Iona School of Health Sciences, to be principally located on the University's new campus in Bronxville, N.Y. Supported by a $20 million gift from NewYork-Presbyterian, the NewYork-Presbyterian Iona School of Health Sciences offers a new vision for collaborative health care education, modern workforce development, and community care. On July 1, 2022, Iona officially changed its status from College to University, reflecting the growth of its academic programs and the prestige of an Iona education.