Iona College Business Course Culminates in Presentation at New Rochelle City Hall
A team of Iona students was invited to present their extensive analysis of park usage for the New Rochelle Parks & Recreation Department at a recent City Council meeting.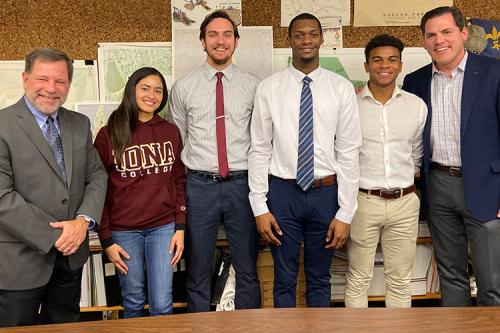 NEW ROCHELLE, N.Y. – At Iona College, learning takes place in the classroom, in the community and sometimes even at City Hall.
As part of a service-learning course unique to Iona, teams of students gain valuable career experience and skills by working with various businesses and non-profits in the community. For this course, The Role of Business in Contemporary American Society, one team, consisting of six LaPenta School of Business students, performed an extensive analysis of park usage for the New Rochelle Parks & Recreation Department.
Researching questions such as how many people visit the city parks, what age group visits most frequently, which parks are visited most often, and other important issues, the team prepared a comprehensive report of their findings. The findings were so valuable, in fact, that the team was invited to present their report at a recent City Council meeting.
"I am always glad to have Iona students here with us at City Hall," said Mayor Noam Bramson, who introduced the team.
Ana Caceres '20, Timothy Susko '20, Khody Wright '20, and Malcolm Moreno Beningo '20 took turns presenting to a packed room of City Council members and other dignitaries. Helina Getahun '20, also a team member, was unable to attend due to a final exam.
Iona College students presented their findings at New Rochelle City Hall on December 10, 2019. Pictured left to right: William V. Zimmermann, interim commissioner, New Rochelle Parks & Recreation; Iona College students Ana Caceres; Timothy Susko; Khody Wright; and Malcolm Moreno Beningo; and Vincent Parise, deputy commissioner, New Rochelle Parks & Recreation
Download video transcript.
After the presentation, the mayor stated that the City Council benefited from the time, intellect and energy of the team. He also suggested that the information they provided would be referred to by others and likely combined into future plans for the parks.
In all, 68 seniors in the LaPenta School of Business spent the semester building and applying their skills as they engaged in service-learning projects, such as the parks and recreation analysis. Bret Sanner, Ph.D., who teaches the class, sees significant benefit in taking the classroom to the community. "Students learn to solve complex problems, process diverse perspectives, bring meaning to abstract concepts and gain an understanding of how businesses interact with society," Sanner said.
In early 2020, Iona College looks forward to cutting the ribbon on the new state-of-the art LaPenta School of Business, which will more than double the existing space and provide a transformational experience for students.
ABOUT IONA
Founded in 1940, Iona College is a master's-granting private, Catholic, coeducational institution of learning in the tradition of the Edmund Rice Christian Brothers. Iona's 45-acre campus is just 20 miles north of Midtown Manhattan. With a total enrollment of nearly 4,000 students and an alumni base of over 50,000 around the world, Iona is a diverse community of learners and scholars dedicated to academic excellence and the values of justice, peace and service. Iona is highly accredited, offering undergraduate degrees in liberal arts, science, and business administration, as well as Master of Arts, Master of Science and Master of Business Administration degrees and numerous advanced certificate programs. Iona's LaPenta School of Business is accredited by AACSB International, a prestigious recognition awarded to just five percent of business schools worldwide. The Princeton Review recognized Iona's on-campus MBA program as a "Best Business School for 2021." Iona College also recently launched a new, fully online MBA program for even greater flexibility.