Iona College to Celebrate Outstanding Alumnae at Annual Trustees Scholarship Award Gala
April 3, 2020 at 7 p.m. Cipriani 42nd Street, 110 E. 42nd Street, New York, N.Y. Grammy Award Winner and Iona Alumna Eileen A. Ivers '89, '19H to Perform.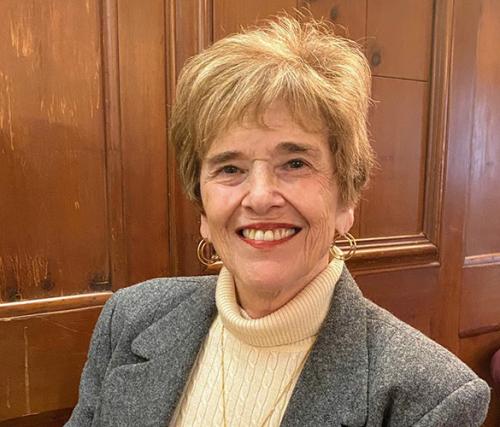 April 3, 2020 at 7 p.m. Cipriani 42nd Street, 110 E. 42nd Street, New York, N.Y. Grammy Award Winner and Iona Alumna Eileen A. Ivers '89, '19H to Perform.
NEW ROCHELLE, N.Y. - At the event, the 2020 Legacy Award will be presented to JoAnn Mazzella Murphy '98H, an Iona College trustee and co-chair of the Student Development and Mission Committee of the Board. In 1998, Mrs. Murphy received an Honorary Doctor of Humane Letters for her dedication and support of the arts and cultural events at Iona. She is chair of the Iona College Council on the Arts and a 2006 recipient of the Brother Driscoll Award for Heroic Humanitarian Service. Mrs. Murphy was vice chair of Country Bank, the broker-owner of Ellinghouse & Stacy, and a former art and antiques gallery owner.
Distinguished alumnae who will receive the 2020 Women of Achievement Award include:
Cathy L. Cogan-Kelly '81, Senior Director, Global HR Operations, PepsiCo
Theresa A. Gottlieb, Esq., '78, Senior Trial Attorney, Bronx District Attorney's Office
Flory Netsch Hiatrides '83, '86MBA, President, Treehouse Consulting
Jennifer L. Hohman '90, Global Chief Marketing Officer, FCB
Anna Filipkowski Houlihan, MD, '77, Pediatrician, Morris Heights Health Center
Eileen Ivers '87, '19H, Grammy Award Winning Fiddler
Rita C. Mabli '74, '76MBA, President and CEO, United Hebrew of New Rochelle
Catherine A. Vitali Mayus, Esq., P.C., '72, Comprehensive Coaching Specialist for ADNY, Catapult Learning, LLC
Catherine R. McCabe '85, Senior Managing Director (retired January 2020), TIAA
Amy Torigian Parise '03MST, on behalf of Butterflies from Jodie, Jeanne Morris (posthumously) and Jeanne Torigian '74 (posthumously)
Caress A. Penelton '87, Executive Director for Global Technology Infrastructure, JPMorgan Chase & Co.
Ingrid N. Thompson-Sellers, Ph.D., '95MS, President, South Georgia State College
Margaret C. Timoney '89, '92MBA, CEO, Heineken USA
The gala will feature a special performance by Grammy Award winner and alumna Eileen A. Ivers '87, '19H, and entertainment by Chris Brown '78 and The Bookends Band. For additional event information, please visit: www.ionaconnection.com/ScholarshipGala.
ABOUT IONA
Founded in 1940, Iona University is a master's-granting private, Catholic, coeducational institution of learning in the tradition of the Edmund Rice Christian Brothers. Iona's 45-acre New Rochelle campus and 28-acre Bronxville campus are just 20 miles north of Midtown Manhattan. With a total enrollment of nearly 4,000 students and an alumni base of more than 50,000 around the world, Iona is a diverse community of learners and scholars dedicated to academic excellence and the values of justice, peace and service. Iona is highly accredited, offering undergraduate degrees in liberal arts, science and business administration, as well as Master of Arts, Master of Science and Master of Business Administration degrees and numerous advanced certificate programs. Iona students enjoy small class sizes, engaged professors and a wide array of academic programs across the School of Arts & Science; LaPenta School of Business; NewYork-Presbyterian Iona School of Health Sciences; and Hynes Institute for Entrepreneurship & Innovation. Iona is widely recognized in prestigious rankings, including The Princeton Review's 2024 national list of "The Best 389 Colleges" and The Wall Street Journal/College Pulse's "2024 Best Colleges in America," which ranked Iona at #66 in the nation overall and #8 in the nation among Catholic schools. Iona's LaPenta School of Business is also accredited by AACSB International, a recognition awarded to just five percent of business schools worldwide. In addition, The Princeton Review recognized Iona's on-campus MBA program as a "Best Business School for 2023." Iona also offers a fully online MBA program for even greater flexibility. In July 2021, Iona announced the establishment of the NewYork-Presbyterian Iona School of Health Sciences, which is now principally located on Iona's Bronxville campus in collaboration with NewYork-Presbyterian. Connecting to its Irish heritage, the University also recently announced it is expanding abroad with a new campus in County Mayo, Ireland. A school on the rise, Iona officially changed its status from College to University on July 1, 2022, reflecting the growth of its academic programs and the prestige of an Iona education.