Iona College Celebrates the Class of 2022
78th Annual Iona College Commencement Held May 21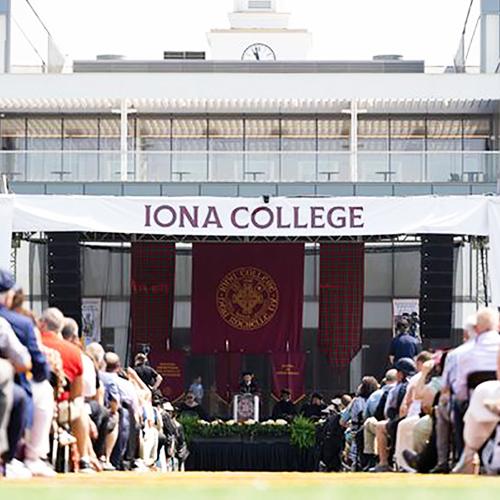 NEW ROCHELLE, N.Y. — Iona College celebrated the Class of 2022 with two Commencement ceremonies on May 21, welcoming students, faculty, family and friends to recognize both the undergraduate and graduate classes.
Iona College President Seamus Carey, Ph.D., shared his thoughts on the Class of 2022's perseverance and ability to rise above the challenges presented by the COVID-19 pandemic.
"You arrive at the end of your college career at a unique time in history. You have endured the most disruptive global event in a century. Rather than using the disruption as an excuse to retreat from your responsibilities, you rose above the challenges by deepening the values that bind the Iona College community together," he said. "Iona has prepared you to live a full life guided by the highest human virtues. As we emerge from the darkness of the past year, we look forward to the light you bring to the world by following your allurements and carrying forward the Iona legacy by Fighting the Good Fight."
Catherine Kinney '74, the first female president of the New York Stock Exchange (NYSE), gave keynote remarks for the morning undergraduate ceremony, which celebrated more than 520 members of the Class of 2022. Kinney also received an honorary doctorate degree.
In her remarks, she relayed five takeaways for the graduates: Do what you love; work hard and be prepared to take risks; be flexible; ask for help when you need it; and never underestimate the power of the individual.
"Your faith and your Iona education support you as you set out on your paths to becoming responsible and exemplary citizens and leaders," she said. "As you open the doors to your future, I wish you courage, confidence and perseverance. Dream big and rely on your intellect, your spiritual understanding and most importantly, your integrity to make those dreams come true."
Maeve Wydan '22 welcomed the undergraduate Class of 2022 with remarks on the College's motto, Fight the Good Fight, and how it was demonstrated during her years at Iona.
"What does it mean to Fight the Good Fight? When first reflecting on this question, we think it is something extravagant, but what if Fighting the Good Fight equals small, mundane actions that show up in big ways through spirit, compassion and justice? What if it is an attitude about life? We all have been challenged to Fight the Good Fight in various ways, whether it is through our academics and research; in service to others in the world; and especially in the Iona community – through student leadership positions and our competitions on the field and in the pool. But it has always been [about] showing up for those around us. If there is one overarching word to describe today, it is gratitude."
The undergraduate student speaker was Destinee Delgado '22, who delivered an inspiring message to her fellow Gaels, highlighting her experience as a first-generation college student.
"Many of us here were expected to be here, but for some of us – we are here doing what our parents didn't get to do. For me, this is one of my most treasured moments because four years ago I was working alongside my mom and dad learning how to apply to college, learning what an SAT was and how to fill out a FAFSA form," she said. "This accomplishment will be one you'll always remember because you've made it happen for yourself and no one can ever take that away from you. Continue to use your voice, step outside the box, adventure, take risks and always trust yourself because there is only one you and you know yourself best. We all have the power to do anything, all we have to do is trust. This graduating class is living proof that no matter who you are or whether you come from here or there, we all know struggles…but it's the way we tackle those struggles and turn them into the miracles we've made today that make the difference."
In the afternoon, Iona celebrated roughly 250 members of the graduate Class of 2022.
Frances Hoey '22MST welcomed the audience with a motivating speech that celebrated the class's accomplishments while looking ahead to a bright future.
"My Iona education inspired me to become an educator myself, so I spent the year as a high school teacher while finishing my degree… Our education has been way more than grades in the classroom, it has been a life experience that prepared us for the future to come… I spent my undergraduate career here at Iona, and it was in that time that I slowly began to realize all that Iona had given me in just four years – a world of opportunities, from gaining leadership to finding a sense of community and purpose. I can still remember the final words my mother said to me as my parents dropped me off four years ago: 'Go do great things.' Standing here today, it's clear we've all done exactly that. This is such an exciting time, and even though it's flown by, our story's not nearly over. This only the beginning. My fellow graduates, I can't wait to see all that you accomplish."
The graduate student speaker was Peter Tascio '22MBA, who noted the importance of being present, while reminding his fellow Gaels that the actions of today are reflected tomorrow.
"It's easy to look to the past and remember 'better times.' Simpler times, when neighborhoods were on a first-name basis, and strangers were more willing to lend a helping hand. The past always seems to be less complicated and even a little gentler. Today, we are not dwelling on the past, but rather looking with hope and excitement to the future. For we are the future – future educators, health care workers, accountants, writers, therapists and CEOs," he said. "We've all worked hard to achieve our graduate degrees in order to secure a better future for ourselves and our loved ones, and this is an admirable accomplishment. It is important to remember, though, that we are much more than our past accomplishments and future potentials. The greater truth is that we are the present. The actions we take in this moment, the words we use, the choices we make – these are the fabric which make up our shared reality."
Mary Evelyn Tucker, Ph.D., senior lecturer and senior research scholar at Yale University, was the graduate ceremony keynote speaker. She assured graduates they are not alone as they go on to meet the challenges ahead of them. Tucker also received an honorary doctorate degree.
"You are a remarkable generation. Indeed in the 50 years that I have been teaching, there has been no cohort like you. You are facing incredible problems on both the global and local scale, and yet you have a resilience that is noteworthy," Tucker said. "I suspect like others in your generation, you want to make a difference in our world. Fortunately, Iona has prepared you to make contributions to our shared future."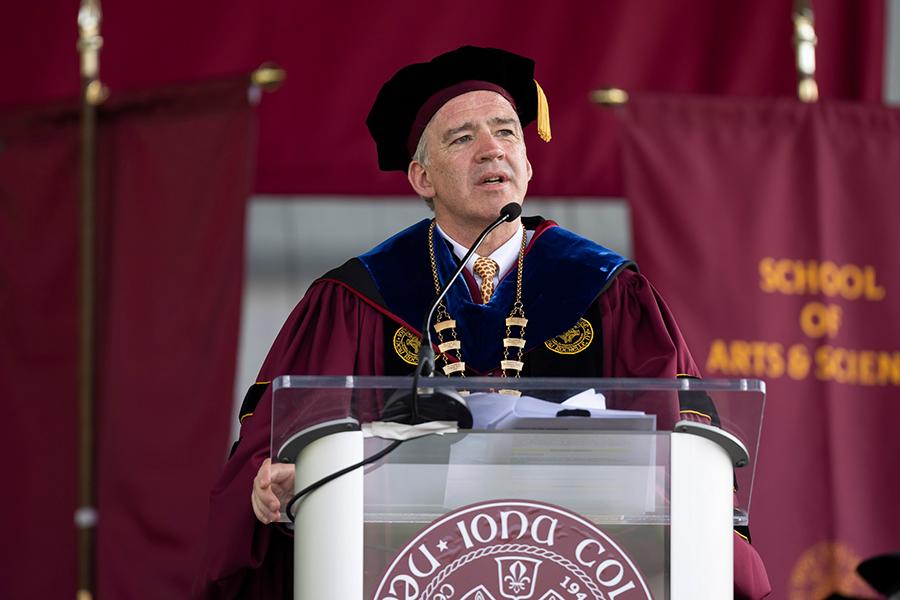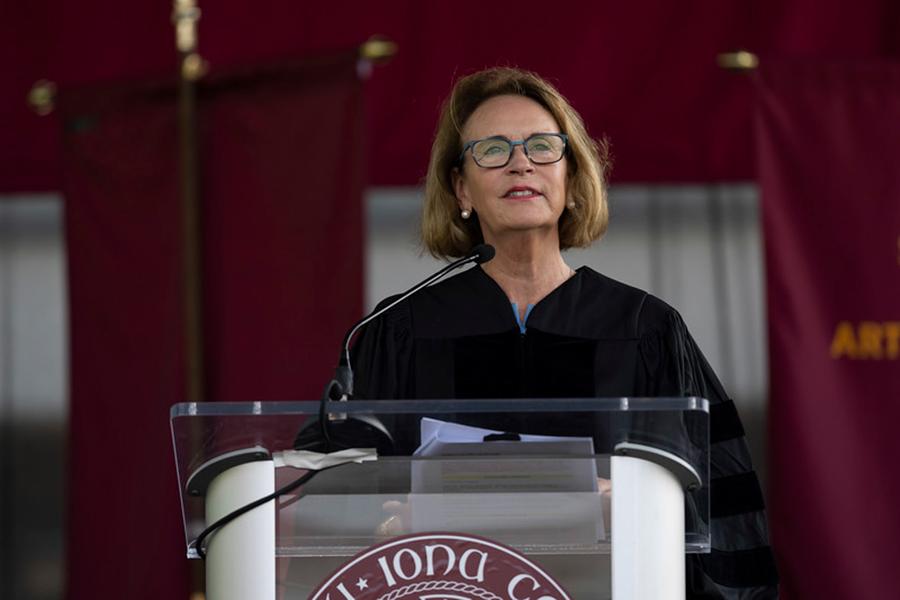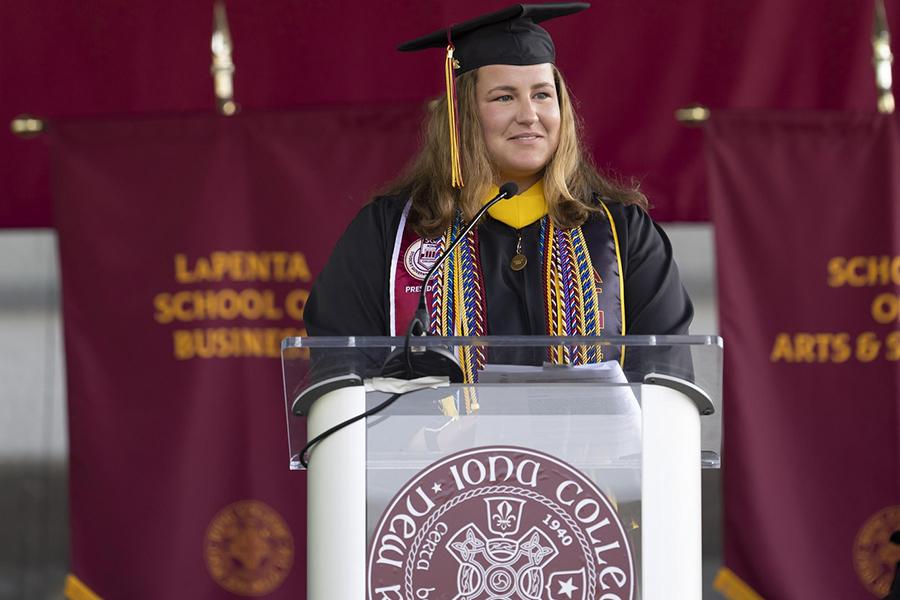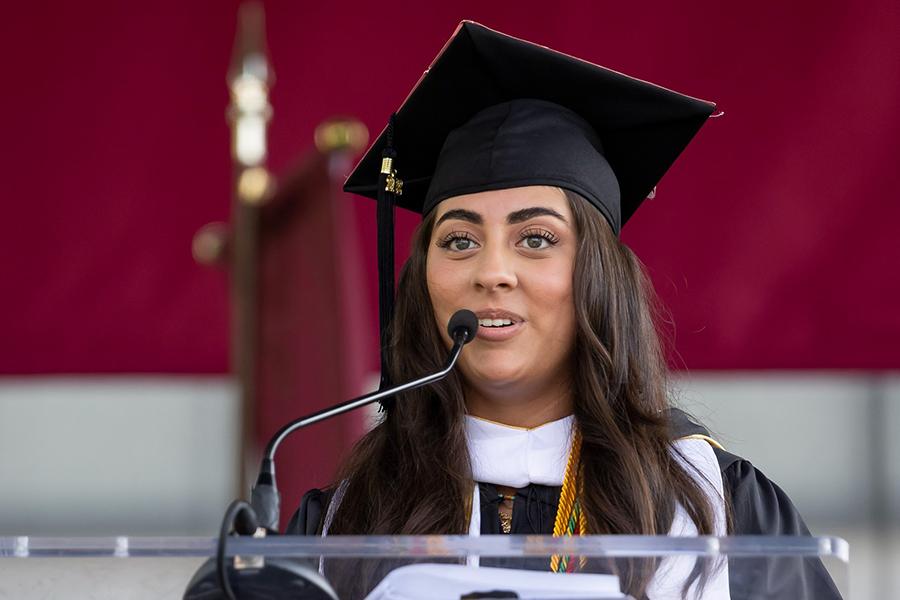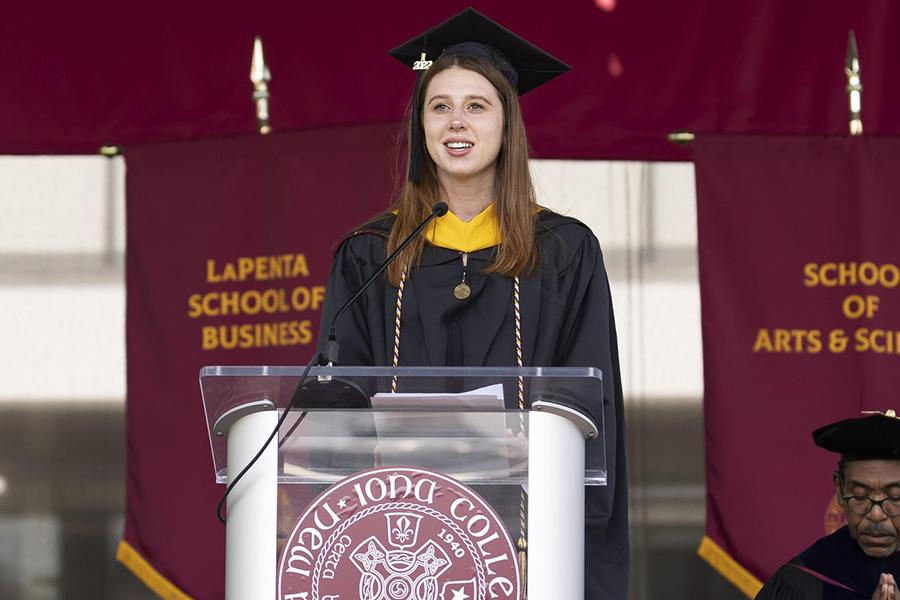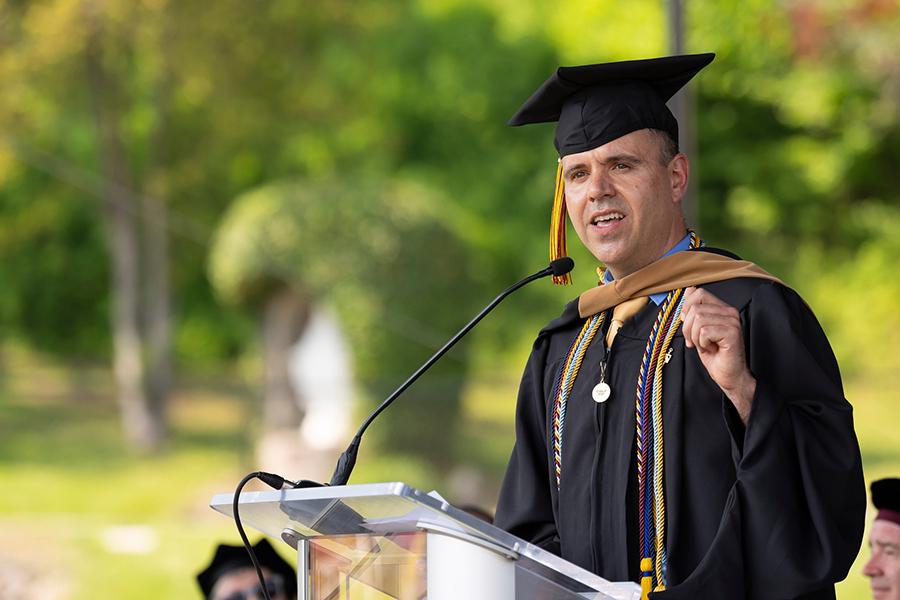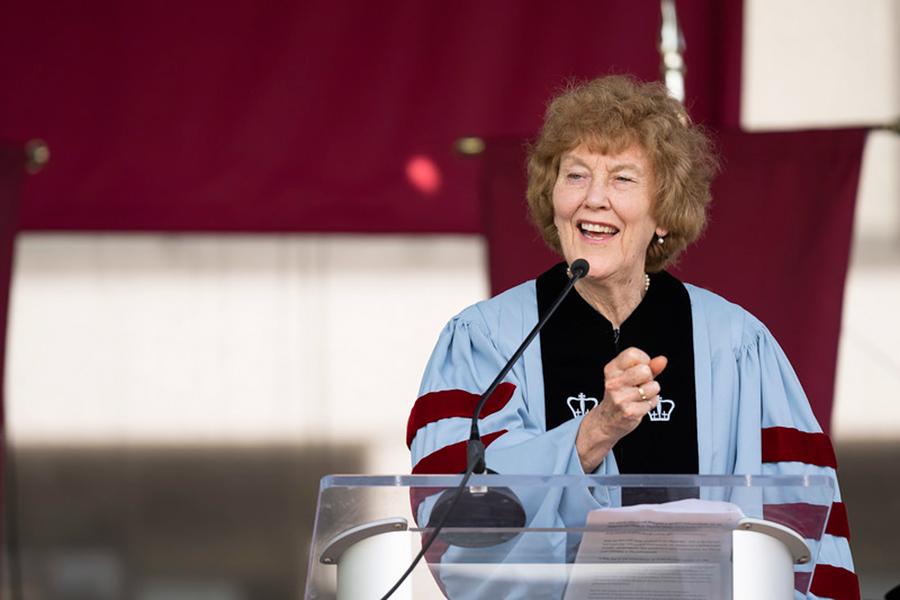 ABOUT IONA
Founded in 1940, Iona College is a master's-granting private, Catholic, coeducational institution of learning in the tradition of the Edmund Rice Christian Brothers. Iona's 45-acre New Rochelle campus and 28-acre Bronxville campus are just 20 miles north of Midtown Manhattan. With a total enrollment of nearly 4,000 students and an alumni base of over 50,000 around the world, Iona is a diverse community of learners and scholars dedicated to academic excellence and the values of justice, peace and service. Iona is highly accredited, offering undergraduate degrees in liberal arts, science, and business administration, as well as Master of Arts, Master of Science and Master of Business Administration degrees and numerous advanced certificate programs. Iona's LaPenta School of Business is accredited by AACSB International, a prestigious recognition awarded to just five percent of business schools worldwide. The Princeton Review recognized Iona's on-campus MBA program as a "Best Business School for 2021." Iona College also recently launched a new, fully online MBA program for even greater flexibility. In July 2021, Iona College and NewYork-Presbyterian announced the establishment of the NewYork-Presbyterian Iona School of Health Sciences, to be principally located on the College's new campus at 171 White Plains Road, Bronxville, N.Y. Supported by a $20 million gift from NewYork-Presbyterian, the NewYork-Presbyterian Iona School of Health Sciences is expected to offer a new vision for collaborative health care education, modern workforce development, and community care.