Iona College Celebrates Opening of the Murphy Green
Vibrant new green space adds exciting energy to the heart of campus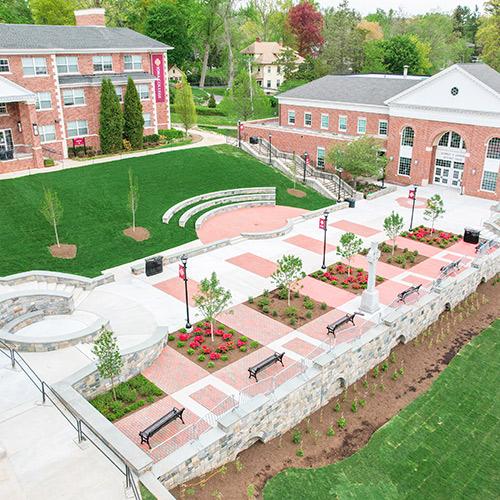 NEW ROCHELLE, N.Y. — The heart of Iona College's campus has come to life with the opening of the Murphy Green.
This vibrant new landscape, complete with a stunning stone promenade and terrace overlooking the lawn, breathes exciting new energy uniting the campus thanks to the generosity of Joseph M. Murphy '59, '83H and his late wife, JoAnn M. Murphy '98H, a longtime Iona trustee.
The Iona community celebrated the opening with a dedication ceremony on May 11, 2022. A joyful, optimistic spirit filled the air, as blue skies gave way to pink under the setting of a warm, spring sun. Iona is busy writing the next chapter in its long and proud legacy, and the opening of the Murphy Green undoubtedly ushered in a new beginning. 
"On certain occasions, ideas and people and circumstances align, and they result in something that is transformational. This new space is the result of one of those occasions," said Iona College President Seamus Carey, Ph.D. "I cannot think of a better way to honor JoAnn Murphy and to carry forward the indelible legacy that Joe Murphy has established here at Iona College. We are grateful and honored for all they've done."
Joseph Murphy fondly recalled his time as a student at Iona, as well as the combined 50 years he and his wife served on the Board of Trustees. Passionately driven by a commitment to the arts, the environment, service and student life at Iona, he said the new green is a beautiful culmination of the family's commitment to the College.
Murphy also credited President Carey for bringing fresh vision to what was previously a parking lot, saying the idea to transform it into a central meeting place for the community was just the kind of new energy the campus needed.
"Seamus Carey comes along and sees this as a quad and says, 'I can't believe it – this is the cornerstone of the campus!'" Murphy said. "In fact, this is the cornerstone of the Murphys' interests in Iona College. And I can't think of anything that could be more beautiful."
Designed by the architecture firm SLAM and built by the Consigli construction company, the nearly 30,000-square-foot green space is complete with stone walkways, benches, trees, a terrace area, and of course the focus is a gorgeous green lawn. The space also includes seating built into East Hill, which provides a dramatic setting for outdoor classes and performances of all kinds. Not only does this project beautify the campus, but statistically, campus green spaces correlate with a higher quality of life and higher cognitive and academic performance, making this vision even more relevant.
"When the College announced plans for the Murphy Green last spring, we as students were excited, but to stand here today and see the finished project is simply amazing," said Aidan Connolly, incoming president of the Student Government Association. "It's an honor to commemorate the tremendous impact Joe and JoAnn Murphy have had on us, the students. Together, they have created spaces that allow us to express ourselves both inside and outside the classroom. Through their generous acts, they show they care about student success, the arts and creating a vibrant Iona community."
JoAnn Murphy, who passed away in December 2020, was a longtime and passionate advocate for student life all across Iona's campus. Among her many positions, she co-chaired the Student Development & Mission Committee of the Board for many years, and in 1998, she received an Honorary Doctorate of Humane Letters, honoris causa, for her dedication and support of the arts and cultural events at Iona. She also chaired the Iona College Council on the Arts and is a 2006 recipient of the Brother Driscoll Award for Heroic Humanitarian Service. She was inducted into the Goal Club Hall of Fame in 2012, and Iona College's Mazzella Field was named for her parents. She was also posthumously honored in 2021 with the Legacy Award at the Trustees Scholarship Award Gala.
Joseph M. Murphy, Iona trustee emeritus, was the co-founder and chairman of Country Bank and is chairman of Value Investors. The Murphy Center is named for his parents. This building houses the Christopher J. Murphy Auditorium, named in memory of the Murphy's son, Christopher.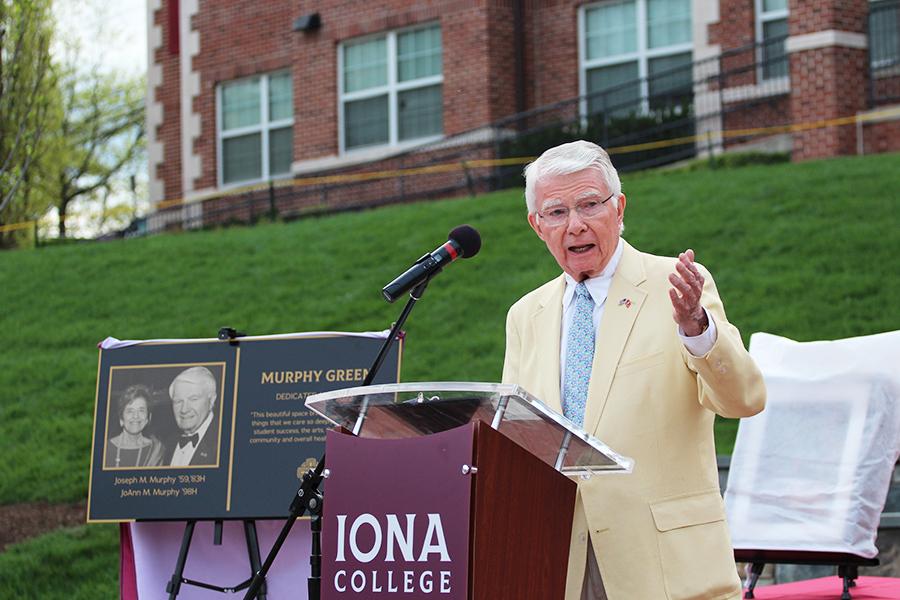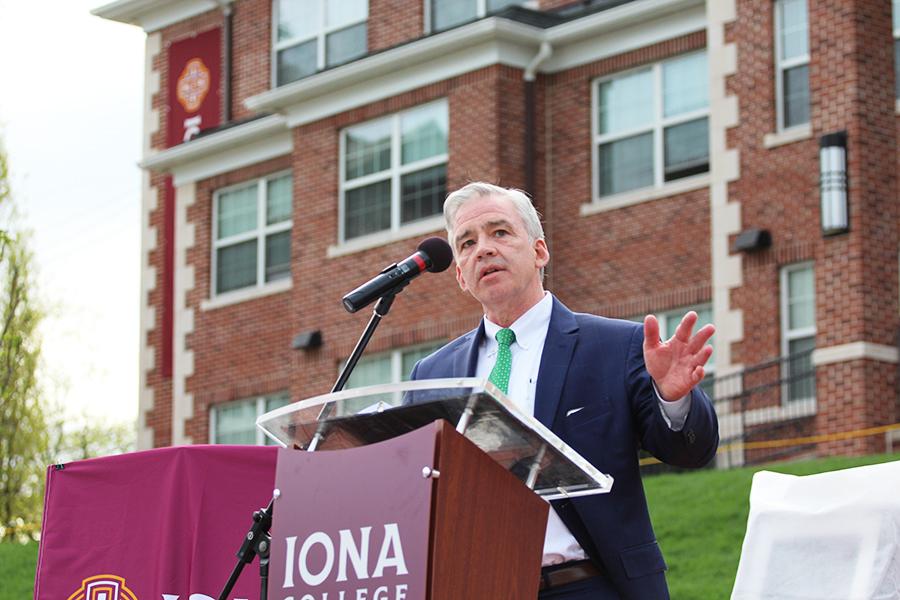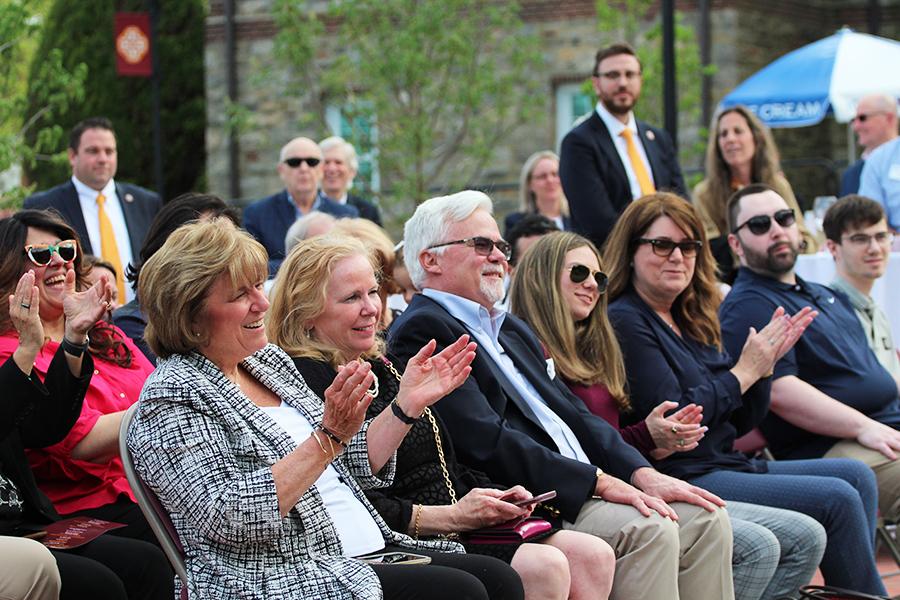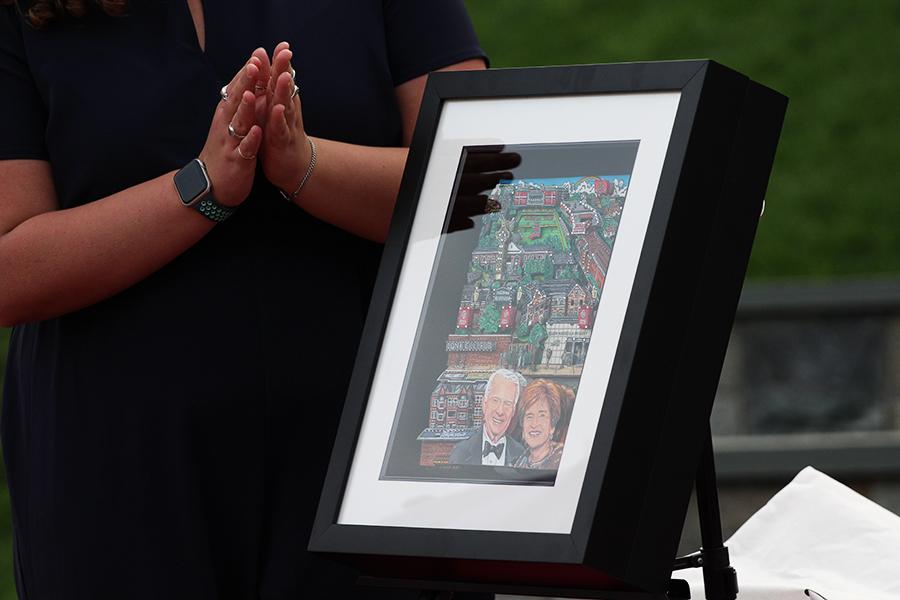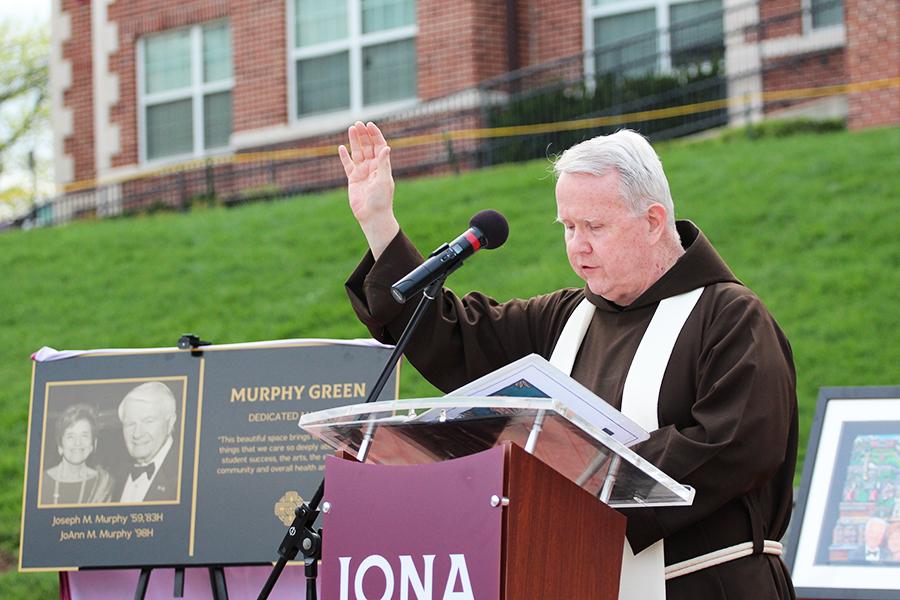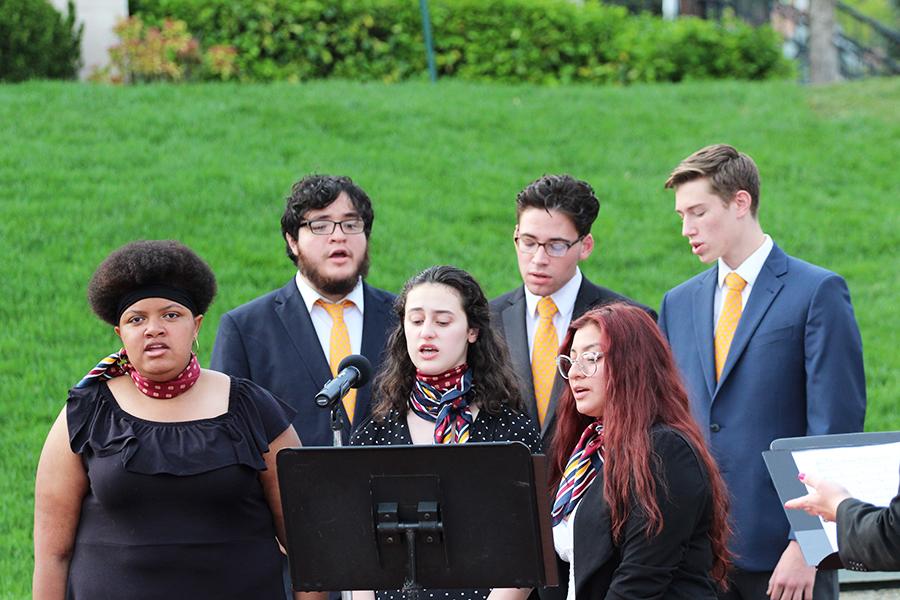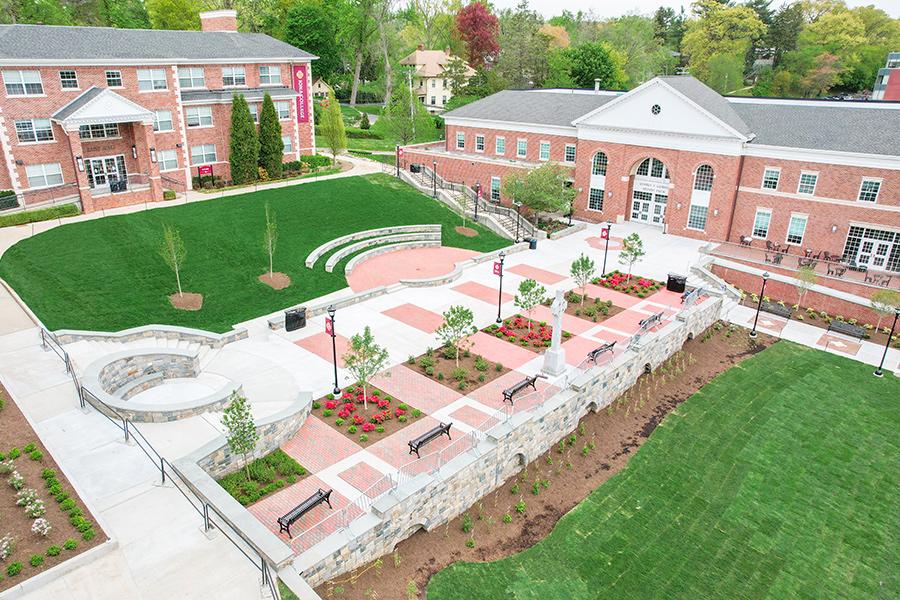 ABOUT IONA
Founded in 1940, Iona University is a master's-granting private, Catholic, coeducational institution of learning in the tradition of the Edmund Rice Christian Brothers. Iona's 45-acre New Rochelle campus and 28-acre Bronxville campus are just 20 miles north of Midtown Manhattan. With a total enrollment of nearly 4,000 students and an alumni base of over 50,000 around the world, Iona is a diverse community of learners and scholars dedicated to academic excellence and the values of justice, peace and service. Iona is highly accredited, offering undergraduate degrees in liberal arts, science, and business administration, as well as Master of Arts, Master of Science and Master of Business Administration degrees and numerous advanced certificate programs. Iona's LaPenta School of Business is accredited by AACSB International, a prestigious recognition awarded to just five percent of business schools worldwide. The Princeton Review recognized Iona's on-campus MBA program as a "Best Business School for 2022." Iona University also recently launched a new, fully online MBA program for even greater flexibility. In July 2021, Iona University and NewYork-Presbyterian announced the establishment of the NewYork-Presbyterian Iona School of Health Sciences, to be principally located on the University's new campus in Bronxville, N.Y. Supported by a $20 million gift from NewYork-Presbyterian, the NewYork-Presbyterian Iona School of Health Sciences offers a new vision for collaborative health care education, modern workforce development, and community care. On July 1, 2022, Iona officially changed its status from College to University, reflecting the growth of its academic programs and the prestige of an Iona education.