Iona College Contributed $276.9M to State Economy Pre-Pandemic, Report Finds
The Commission on Independent Colleges and Universities continues to measure the statewide impact of COVID-19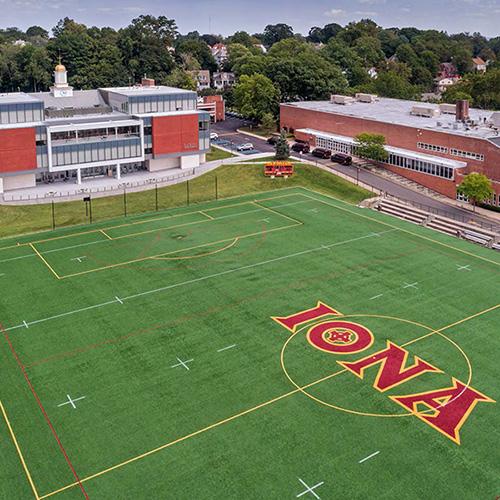 NEW ROCHELLE, N.Y. – Iona College contributed a total of $276.9 million to the state economy and accounted for 1,710 jobs in 2019, according to a study conducted by the Albany-based Commission on Independent Colleges and Universities (CICU).
"Since 2005, CICU has worked with the Rochester-based Center for Governmental Research (CGR) to produce a biennial economic impact estimate for our members," said Drew Bogner, Ph.D., interim president of CICU. "The pandemic caused us to alter our approach this year, therefore, this study provides an important snapshot of our sector prior to the pandemic."
The study, which looked at New York State's more than 100-plus private, not-for-profit colleges and universities, also found that Iona College's presence translated into $117.1 million of direct spending; $36.8 million in student and visitor spending; $11.3 million in construction spending; and $6.7 million in combined income and sales tax revenue.
"The CICU's report is a resourceful indication of the impact that Iona College continues to have – not only the city of New Rochelle or the Hudson Valley region – but across New York state as a whole," said Seamus Carey, Ph.D., president of Iona. "We take immense pride in being able to support our state and local economies, and look forward to the College becoming an even greater economic engine for the future of New York."
Iona's significant impact on the state is demonstrated through the College's commitment to not only employing workers who live and pay taxes in New York, but also extending contracts to local dining establishments for student meal plans, working with local vendors for various office needs and hiring local contractors for various projects in support of the Hudson Valley economy. Additionally, with the recent acquisition of the Concordia College campus, Iona plans to develop a premier school of health sciences, furthering Iona's strategic investment in the field and adding to the potential for growth across health care as well as programming in the performing arts, athletics, continuing education, summer camps, tourism, film and much more.
Iona's economic impact was one part of the study's broader findings, which concluded that private, not-for-profit colleges and universities in New York contributed $97.6 billion to the state's economy, a 10 percent increase from the previous study in 2017, while supporting more than 432,595 jobs, a four percent increase from 2017.
The pandemic, however, has been extremely costly to New York's Independent Sector. Through CICU and CGR polling and preliminary data from state and federal sources, it is estimated that private, not-for-profit colleges and universities in New York lost $3.2 billion through January 2021. While the full costs of the pandemic cannot yet be measured, surveys are ongoing to measure the full financial impact the pandemic had on higher education.
ABOUT IONA
Founded in 1940, Iona University is a master's-granting private, Catholic, coeducational institution of learning in the tradition of the Edmund Rice Christian Brothers. Iona's 45-acre New Rochelle campus and 28-acre Bronxville campus are just 20 miles north of Midtown Manhattan. With a total enrollment of nearly 4,000 students and an alumni base of over 50,000 around the world, Iona is a diverse community of learners and scholars dedicated to academic excellence and the values of justice, peace and service. Iona is highly accredited, offering undergraduate degrees in liberal arts, science, and business administration, as well as Master of Arts, Master of Science and Master of Business Administration degrees and numerous advanced certificate programs. Iona's LaPenta School of Business is accredited by AACSB International, a prestigious recognition awarded to just five percent of business schools worldwide. The Princeton Review recognized Iona's on-campus MBA program as a "Best Business School for 2021." Iona University also recently launched a new, fully online MBA program for even greater flexibility. In July 2021, Iona University and NewYork-Presbyterian announced the establishment of the NewYork-Presbyterian Iona School of Health Sciences, to be principally located on the University's new campus in Bronxville, N.Y. Supported by a $20 million gift from NewYork-Presbyterian, the NewYork-Presbyterian Iona School of Health Sciences offers a new vision for collaborative health care education, modern workforce development, and community care. On July 1, 2022, Iona officially changed its status from College to University, reflecting the growth of its academic programs and the prestige of an Iona education.