Iona College Finalizes Agreement to Acquire Concordia College Campus in Bronxville, N.Y.
Iona plans to develop a school of health sciences and expand opportunities in performing arts, athletics and extracurricular activities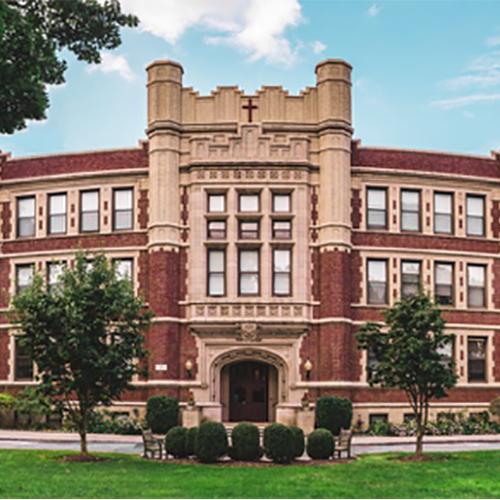 WESTCHESTER COUNTY, N.Y. — Initiated earlier this year, an agreement has been finalized for Iona College to acquire Concordia College's 28-acre campus in Bronxville, N.Y. Concordia will cease academic instruction before the start of the Fall 2021 semester.
The announcement sets the stage for Iona to pursue plans for a school of health sciences on the Concordia campus, furthering Iona's strategic investment in the field and building upon Concordia's legacy of excellence in health science education. The deal also creates opportunities for Iona to introduce new student programming in the performing arts, varsity and club athletics and other extracurricular activities, areas where Iona has successfully been engaging students around shared interests.
Concordia President Rev. John A. Nunes, Ph.D., said: "As we honor Concordia's rich, meaningful, relevant legacy, we look with hope to a time of new beginnings: for our graduates, our students, and Iona's exciting plans for the Concordia campus, all fueled by the transformative power of education."
Iona President Seamus Carey, Ph.D., said: "Concordia will forever leave its mark on the history and people of New York. Iona is an institution similarly grounded in faith, and it is our intention to fully honor Concordia's legacy as we turn the page to a new chapter. With plans to develop a leading school of health sciences on the Concordia campus, Iona hopes to turn these challenging circumstances into a positive development for the students and communities we serve."
Village of Bronxville Mayor Mary Marvin said: "Bronxville has enjoyed many wonderful decades of partnership with the Concordia College community. Over the years, students, faculty and staff have become our friends and neighbors. They shall be remembered forever with great fondness. As a community, we now step forward confidently and welcome Iona College to our Village. We look forward to building new and lasting relationships resulting in a bright future for all."
Westchester County Executive George Latimer said: "Preserving access to higher education in Westchester County is absolutely essential not only for our students and families, but for our economy. While it is bittersweet to see the 140-year legacy of Concordia College coming to a close, Iona's shared commitment to faith, opportunity and the transformative power of education will be a benefit to both Westchester County and New York State. As higher education across the nation is under strain, Westchester County is fortunate to be home to such leading institutions."
Business Council of Westchester President and CEO Marsha Gordon said: "The Business Council of Westchester applauds Iona and Concordia for reaching this agreement. Higher education is a key driver of economic prosperity not just for students, but for Westchester County and New York State. It is especially encouraging to see Iona's commitment to preparing future health care professionals, who are so vitally needed in our region and beyond."
Westchester County Association President Michael Romita said: "Iona and Concordia have long shared in the mission of providing a high-quality, affordable liberal arts education that empowers graduates to go on to successful careers across a wide range of disciplines. My father is a proud Iona Gael, holding both his bachelor's and an honorary doctorate in humane letters. This transaction reflects Iona's commitment to developing a world-class school of health sciences that will greatly benefit the region – especially as our demand for trained healthcare professionals is on the rise."
Founded in 1940 by the Congregation of Christian Brothers, Iona is a 45-acre campus in northern New Rochelle, located approximately three miles from Concordia. Both institutions have a shared commitment to providing students with a nurturing environment to explore their interests, discover their passions and graduate with a well-rounded, liberal arts education grounded in service, opportunity and Christian faith.
In addition to leading the way and providing a safe in-person learning experience through the pandemic, Iona this year forged ahead on its path of innovation. Empowering students to "Learn Outside the Lines," Iona focused on engaging students in new opportunities that pushed them to grow beyond the classroom.
As part of that effort, Iona hired its inaugural director of Performing Arts, who quickly launched and strengthened programs such as Irish Step, Dance Ensemble, Pipe Band and Pep Band; as well as its first director of Club Sports, who will be developing an array of new athletic opportunities. With the addition of the Concordia campus, Iona is poised to offer even more exciting programs that will help to support and develop the whole student.
"Engaged students get more out of their college experience," Carey said. "Engagement outside the classroom supports better performance inside the classroom and promotes physical, mental and spiritual maturity. It also leads to lasting relationships that will help them succeed in life. We couldn't be more excited about the future at Iona, and today is an important step along that path."
ABOUT IONA
Founded in 1940, Iona University is a master's-granting private, Catholic, coeducational institution of learning in the tradition of the Edmund Rice Christian Brothers. Iona's 45-acre New Rochelle campus and 28-acre Bronxville campus are just 20 miles north of Midtown Manhattan. With a total enrollment of nearly 4,000 students and an alumni base of over 50,000 around the world, Iona is a diverse community of learners and scholars dedicated to academic excellence and the values of justice, peace and service. Iona is highly accredited, offering undergraduate degrees in liberal arts, science, and business administration, as well as Master of Arts, Master of Science and Master of Business Administration degrees and numerous advanced certificate programs. Iona's LaPenta School of Business is accredited by AACSB International, a prestigious recognition awarded to just five percent of business schools worldwide. The Princeton Review recognized Iona's on-campus MBA program as a "Best Business School for 2023." Iona University also recently launched a new, fully online MBA program for even greater flexibility. In July 2021, Iona University and NewYork-Presbyterian announced the establishment of the NewYork-Presbyterian Iona School of Health Sciences, to be principally located on the University's new campus in Bronxville, N.Y. Supported by a $20 million gift from NewYork-Presbyterian, the NewYork-Presbyterian Iona School of Health Sciences offers a new vision for collaborative health care education, modern workforce development, and community care. On July 1, 2022, Iona officially changed its status from College to University, reflecting the growth of its academic programs and the prestige of an Iona education.