Iona College Eases Freshman Jitters With Camaraderie and Comfort Food
Thursday night suppers are a 30-Year tradition, hosted by the Office of Mission and Ministry.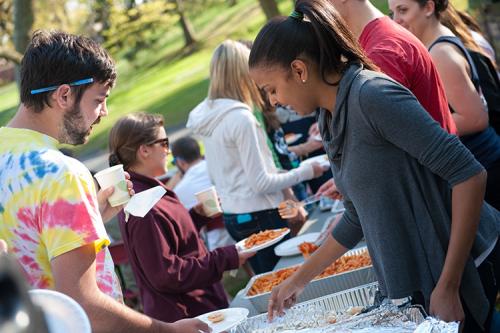 NEW ROCHELLE, N.Y. —The first few weeks of college are a whirlwind of events on campuses across the country. But, once the initial flurry fades and students settle into a new routine, that's often when homesickness and loneliness hit. That's why Iona College, through its Office of Mission and Ministry, hosts open-door free Hospitality Suppers for students every Thursday evening throughout the school year.
Led by trained student ambassadors, the dinners are a 30+ year Iona tradition and an important peer-to-peer tool to help students adjust to college life. For those who have difficulty making new friends, or may be overwhelmed by a bustling cafeteria of unfamiliar faces, the dinners provide much needed support.
"At our Hospitality Suppers, student ambassadors are trained to engage students who may feel isolated and lonely," notes Carl B. Procario-Foley, Ph.D., director of the Office of Mission and Ministry. "The dinners are also a way for students to meet new friends and get a great meal!"
Iona kicks off its first Hospitality Suppers — open to all Iona students — on Thursday, August 29, at 5:30 p.m., at the Montgomery House at 34 Montgomery Place.
Since Hospitality Suppers are open to all and no reservations are required, groups can range in size from 40-70. The mood is convivial and relaxed, and students feel comfortable attending alone.
"Sometimes, going alone to the cafeteria may feel uncomfortable," says Procario-Foley. "But any student arriving at a Hospitality Supper will immediately be welcomed into the group and feel right at home."
This is reassuring for parents sending their child off to college for the first time, and for transfer students who are "starting over."
The Iona College Office of Mission and Ministry is dedicated to keeping the mission of service, justice and spirituality conscious in the minds and hearts of the college community. Inspired by the Catholic tradition and the teachings of Blessed Edmund Rice, it seeks to build a caring community of faith and compassion. Hospitality Suppers take place every Thursday evening at 5:30 p.m. while school is in session. No reservations are needed. For more information, call (914) 637-2772.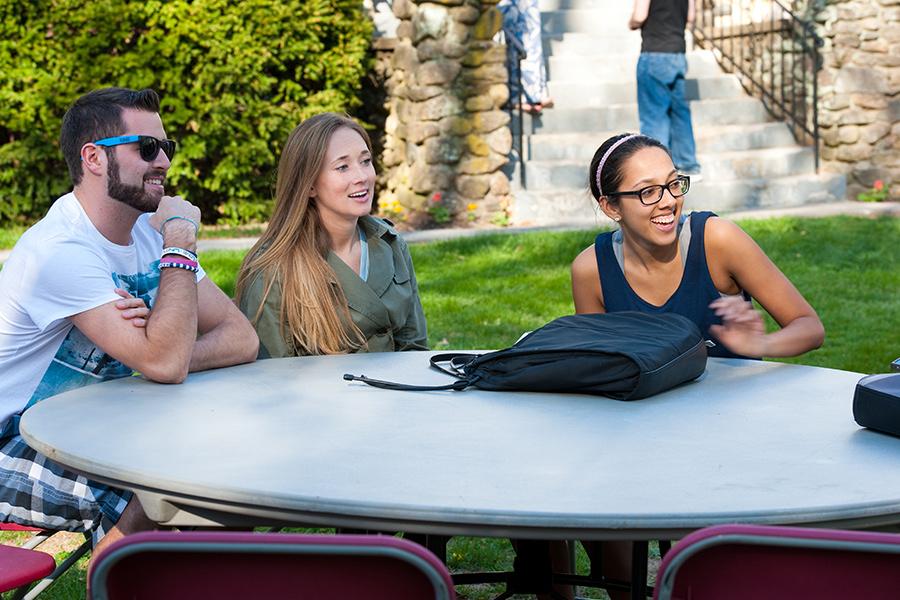 ABOUT IONA
Founded in 1940, Iona College is a master's-granting private, Catholic, coeducational institution of learning in the tradition of the Edmund Rice Christian Brothers. Iona's 45-acre campus is just 20 miles north of Midtown Manhattan. With a total enrollment of nearly 4,000 students and an alumni base of over 50,000 around the world, Iona is a diverse community of learners and scholars dedicated to academic excellence and the values of justice, peace and service. Iona is highly accredited, offering undergraduate degrees in liberal arts, science, and business administration, as well as Master of Arts, Master of Science and Master of Business Administration degrees and numerous advanced certificate programs. Iona's LaPenta School of Business is accredited by AACSB International, a prestigious recognition awarded to just five percent of business schools worldwide. The Princeton Review recognized Iona's on-campus MBA program as a "Best Business School for 2020." Iona College also recently launched a new, fully online MBA program for even greater flexibility.