Iona College Esports: 'The New Team in the Conference is Now the Best Team in the Conference'
Get the inside scoop on Iona's 2022 Rocket League MAAC championship win with team captain, Dylan Zerafa '25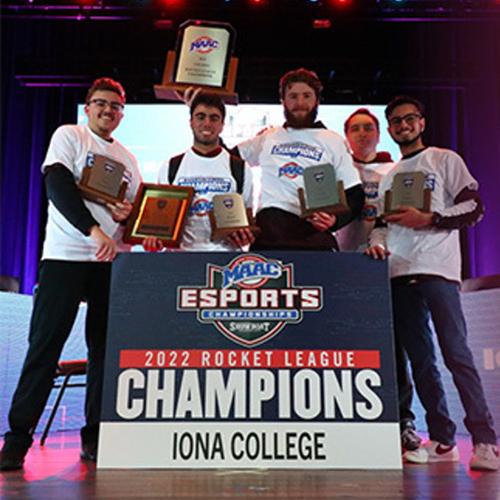 Iona College's newly established esports team took home the MAAC championship title in Rocket League, proving that the Gaels are top contenders on a national stage despite only forming last semester. This win served as a display of teamwork and passion while showcasing the team's talent, dedication and focus. Continue reading to learn more about how the Rocket League team became champions. Up next, Nationals! Go Gaels!
1. Who is on Iona's Rocket League team?
The roster for the entire MAAC championship was Ryan Walker '22, Jake Teto '24, and myself. Our subs, John Paul Michura '24 and James Zerafa '22, were also in attendance. They did not play but were a big part of giving us the hype and the motivation we needed to win.
2. Can you describe Rocket League for us?
In simple terms, Rocket League is essentially soccer with cars that can fly. Players use "boost" –a tool that allows them to increase their speed when moving forward or fly for a short amount of time — in an enclosed soccer field. Then, players can jump from walls or the ceiling, and even attempt backboard redirects similar to using a backboard in basketball.
3. How does the team feel about the win?
We are all super stoked to have won for the College. We put in countless hours to practice and improve and it has certainly paid off. I cannot even begin to describe the emotions we all felt when that final game was over. Excitement, happiness and relief all rushed through my body while I held back tears of joy. It just felt surreal, and almost two weeks later, I still cannot believe we won our very first LAN (local area network) event, and won our very first season as the esports team at Iona.
4. What are some highlights of the championship game?
There were a lot of highlight plays that helped us secure a big win. Jake and Ryan both did phenomenal jobs on defense, stopping a significant number of shots that could have easily been goals. I have never seen such a defensive stand from a team before, so I am very proud of them for stepping up, especially under pressure.
Jake also did great with setting me up with perfect passes that led to a bunch of goals being scored. Being the main goal scorer on the team, I like to think I did an amazing job with scoring clutch goals that helped us make a statement that the new team in the conference is now the best team in the conference.
I am especially proud of our ability to stay locked in throughout each game we played. Playing on a main stage with a big screen, casters announcing, and a crowd cheering can be quite the distraction.
5. What happens next?
Next up, we are going to be competing in Nationals on April 29, which will include 16 teams across each participating conference. Each conference is having their own championship, where the top two from those events will lock in a spot for Nationals. Since we placed first in the MAAC championship, we have automatically locked in our spot.
Nationals will be a group stage round-robin consisting of four groups, which will lead to a playoff bracket with the top teams from each group competing in the semi-finals and grand final.
6. What does the team need to do to succeed in Nationals?
Going into Nationals, we know we are going to have to play at a top-tier level if we want to win the entire thing. There are players in the league that also compete in the Rocket League Championship Series, which is the main esports league for the game hosted by the creators. Luckily, we all have experience going up against the professional players, so if we play confidently, I'm sure we will be able to pull off some crazy upsets. We are going to be looking over our replays and playing scrimmages very often so that we are more than prepared to have a defining performance at Nationals.
7. How can the Iona community watch the team play in Nationals?
The community can watch on Twitch at either twitch.tv/officialegf or twitch.tv/egfrocketleague.
ABOUT IONA
Founded in 1940, Iona University is a master's-granting private, Catholic, coeducational institution of learning in the tradition of the Edmund Rice Christian Brothers. Iona's 45-acre New Rochelle campus and 28-acre Bronxville campus are just 20 miles north of Midtown Manhattan. With a total enrollment of nearly 4,000 students and an alumni base of over 50,000 around the world, Iona is a diverse community of learners and scholars dedicated to academic excellence and the values of justice, peace and service. Iona is highly accredited, offering undergraduate degrees in liberal arts, science, and business administration, as well as Master of Arts, Master of Science and Master of Business Administration degrees and numerous advanced certificate programs. Iona's LaPenta School of Business is accredited by AACSB International, a prestigious recognition awarded to just five percent of business schools worldwide. The Princeton Review recognized Iona's on-campus MBA program as a "Best Business School for 2023." Iona University also recently launched a new, fully online MBA program for even greater flexibility. In July 2021, Iona University and NewYork-Presbyterian announced the establishment of the NewYork-Presbyterian Iona School of Health Sciences, to be principally located on the University's new campus in Bronxville, N.Y. Supported by a $20 million gift from NewYork-Presbyterian, the NewYork-Presbyterian Iona School of Health Sciences offers a new vision for collaborative health care education, modern workforce development, and community care. On July 1, 2022, Iona officially changed its status from College to University, reflecting the growth of its academic programs and the prestige of an Iona education.