Iona College Hosts Inaugural White Coat Ceremony for Graduate Students
The ceremony highlighted humanistic medical care through partnerships with nonprofit organizations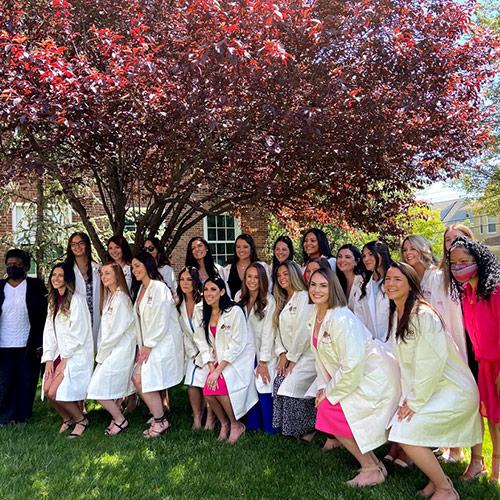 NEW ROCHELLE, N.Y. — Iona College hosted its first White Coat Ceremony in celebration of 23 Communication Science and Disorders graduate students who have committed themselves to pursuing careers reflective of empathy, compassion and humanism, which is the practice of providing honest and respectful health care that honors the dignity and beliefs of all patients.
In honoring the program's stance on humanistic medical care, the College worked with The Arnold P. Gold Foundation, an organization with a mission to infuse the human connection into health care. Back in 2012, The Gold Foundation awarded Iona, one of the only nonmedical schools recognized by the foundation, with a grant to assist with expenses for a speakers' series to bring to campus people committed to improving health communication. This year, they also supplied "Keeping Healthcare Human" lapel pins, which serve as a visual reminder to deliver the best care to patients.
As one of few colleges who emphasize humanism in allied health professions, Iona has also developed a unique Advanced Certificate in Clinical Communication, which is designed to increase patient-centeredness and to promote effective communication consistent with the current changes in the United States health care system. The white coat recipients are currently pursuing this advanced certificate and have studied theories espoused by The Gold Foundation during their studies.
For the ceremony, the College also partnered with Custom Collaborative, a nonprofit organization that works with no/low-income and immigrant women to build the skills necessary to achieve a successful career in the fashion industry. Custom Collaborative hand-made all of the white coats and also had two representatives present at the ceremony to assist with cloaking the students in the program.
"Humanism, compassion and Iona's mission-driven spirit were all instilled into the ceremony," said Dr. Diane Ferrero-Paluzzi, associate dean of the School of Arts & Science. "Our students, from start to finish, are taught about and asked to live The Gold Foundation mission. We really carried that experience into the ceremony, especially by working with these two nonprofits."
Other highlights of the ceremony included a lesson on the history and symbolism of the White Coat Ceremony, which first began at the Columbia University College of Physicians & Surgeons in 1993. During this time, Dr. Arnold Gold was a professor at the university and observed that the existing practice of having students take the Hippocratic Oath at the end of their medical training took place four years too late. Shortly after, The Gold Foundation instituted the White Coat Ceremony as a way to emphasize humanism in medicine at the beginning of medical education.
"Our students have been dedicated to learning about social justice, empathy and how to become caring health care providers. It was an honor to officially and ceremoniously give them their white coats," said Dr. Ferrero-Paluzzi. "By next year, we hope to expand our White Coat Ceremony to include our new allied health professional programs in nursing and occupational therapy."
ABOUT IONA
Founded in 1940, Iona College is a master's-granting private, Catholic, coeducational institution of learning in the tradition of the Edmund Rice Christian Brothers. Iona's 45-acre campus is just 20 miles north of Midtown Manhattan. With a total enrollment of nearly 4,000 students and an alumni base of over 50,000 around the world, Iona is a diverse community of learners and scholars dedicated to academic excellence and the values of justice, peace and service. Iona is highly accredited, offering undergraduate degrees in liberal arts, science, and business administration, as well as Master of Arts, Master of Science and Master of Business Administration degrees and numerous advanced certificate programs. Iona's LaPenta School of Business is accredited by AACSB International, a prestigious recognition awarded to just five percent of business schools worldwide. The Princeton Review recognized Iona's on-campus MBA program as a "Best Business School for 2021." Iona College also recently launched a new, fully online MBA program for even greater flexibility.