Iona College Interim Dean to Moderate Virtual Finance Panel on October 1
Westchester County Association hosts panel of top banking and finance professionals to discuss impact of finance industry in the COVID-19 recovery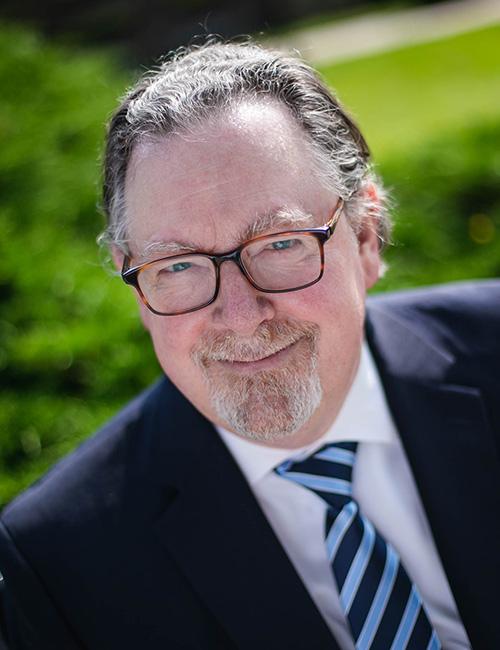 NEW ROCHELLE, N.Y. – Dr. Richard Highfield, interim dean of the LaPenta School of Business at Iona College, will moderate a virtual panel on October 1 focused on the impact of finance during the COVID-19 recovery. The Iona College community is invited to join; pre-registration is required.
"Students at Iona know the value of learning outside the lines. This event will offer timely and relevant perspectives from the world of finance. Not only will this help inform a student's worldview; it will also provide great insight into an important career path," Highfield said. "It is a privilege to moderate such a distinguished panel."
Hosted by the Westchester County Association, the event will include featured speaker William Keller, regional chief investment officer for Wells Fargo Private Bank. His economic commentary will discuss the following:
Economic Impact and Reactions to COVID-19 Pandemic
National Trends Leading up to the Election of 2020
How to Rebound from Record Unemployment Levels
An interactive panel discussion with banking experts will follow. Panelists include:
William C. Keller, Wells Fargo Private Bank: William C. Keller is a regional chief investment officer located in the Bethesda, Maryland, Wells Fargo Private Bank office. Keller leads a team of investment professionals who deliver comprehensive, custom, diversified portfolio management for clients of The Private Bank.
Joseph Roberto, PCSB Bank: Joseph Roberto is the president & CEO of PCSB Bank. PCSB Bank is a full-service New York bank with locations throughout Westchester, Putnam, Dutchess and Rockland counties.
David Lewing, KeyBank: David Lewing serves as the market president for KeyBank's Metro New York Market, including the Hudson Valley and Leader of Middle Market Banking. He oversees the delivery of commercial banking and capital markets solutions to mid-sized companies doing business in metropolitan New York City.
Frank Micalizzi, M&T Bank: Frank Micalizzi is the regional president for the Connecticut, Westchester, Rockland and Bronx marketplaces.
Mike Vitale, Sterling National Bank: Michael Vitale serves as senior managing director and senior vice president of Sterling National Bank based in White Plains. Vitale heads up one of The Bank's Westchester-based commercial teams with a focus on commercial real estate, multi-family, C&I, construction, property management banking, and not-for-profits.
Dr. Richard Highfield, Iona College (Moderator): Dr. Richard Highfield is interim dean for the LaPenta School of Business at Iona College. Prior to Iona College, Highfield was interim dean for Central Washington University. Before CWU, he was dean and professor at the University of New Haven from 2008-2011.
EVENT DETAILS:
"Banking & Our Regional Economic Outlook: Impact of the Finance Industry During COVID Recovery"
Zoom Webinar: Pre-registration Required 
Thursday, Oct. 1, 2020
2-3 p.m.
ABOUT IONA
Founded in 1940, Iona University is a master's-granting private, Catholic, coeducational institution of learning in the tradition of the Edmund Rice Christian Brothers. Iona's 45-acre New Rochelle campus and 28-acre Bronxville campus are just 20 miles north of Midtown Manhattan. With a total enrollment of nearly 4,000 students and an alumni base of more than 50,000 around the world, Iona is a diverse community of learners and scholars dedicated to academic excellence and the values of justice, peace and service. Iona is highly accredited, offering undergraduate degrees in liberal arts, science and business administration, as well as Master of Arts, Master of Science and Master of Business Administration degrees and numerous advanced certificate programs. Iona students enjoy small class sizes, engaged professors and a wide array of academic programs across the School of Arts & Science; LaPenta School of Business; NewYork-Presbyterian Iona School of Health Sciences; and Hynes Institute for Entrepreneurship & Innovation. Iona is widely recognized in prestigious rankings, including The Princeton Review's 2024 national list of "The Best 389 Colleges" and The Wall Street Journal/College Pulse's "2024 Best Colleges in America," which ranked Iona at #66 in the nation overall and #8 in the nation among Catholic schools. Iona's LaPenta School of Business is also accredited by AACSB International, a recognition awarded to just five percent of business schools worldwide. In addition, The Princeton Review recognized Iona's on-campus MBA program as a "Best Business School for 2023." Iona also offers a fully online MBA program for even greater flexibility. In July 2021, Iona announced the establishment of the NewYork-Presbyterian Iona School of Health Sciences, which is now principally located on Iona's Bronxville campus in collaboration with NewYork-Presbyterian. Connecting to its Irish heritage, the University also recently announced it is expanding abroad with a new campus in County Mayo, Ireland. A school on the rise, Iona officially changed its status from College to University on July 1, 2022, reflecting the growth of its academic programs and the prestige of an Iona education.