Iona College to Launch Comprehensive New Approach to Domestic Violence Prevention, Support and Education
Supported by a $300,000 federal grant, Iona has partnered with community agencies to strengthen a culture of care beyond the classroom.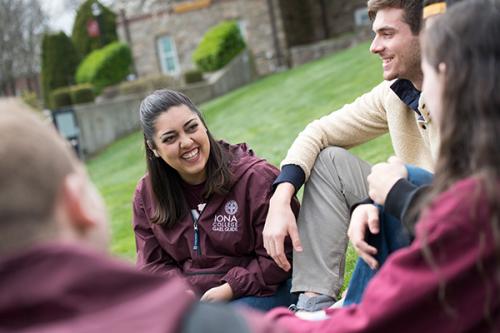 NEW ROCHELLE, N.Y. — Iona College today announced a comprehensive new program to prevent and address issues related to domestic violence, dating violence, sexual assault and stalking (DVSAS). In seeking to ensure that the College continues to provide the most inclusive, accessible and culturally sensitive education, prevention and trauma-informed services, the program also includes the hiring of a new full-time director to oversee all aspects of implementation.
Iona will also work closely with community partners to create a Coordinated Community Response Team (CCRT), which will help achieve program goals and provide support services. Partners include WestCOP Victim Assistance Services, the New Rochelle Police Department, The Loft LGBT Community Center, and College Steps, a nonprofit that empowers students living with learning and social challenges.
"Students are going to get their education in the classroom, but it is our responsibility to educate the student beyond of the classroom as well," said Joel Quintong, dean of students. "In Catholic education and faith, there is an important recognition of the dignity and respect that is due for every person. This program addresses that right up front, and sets the tone for a culture of safety, justice and support. Understanding the importance of treating each other well seems so basic, but it's something that is vitally important and foundational to our mission here at Iona."
The program is supported in part by a $300,000 federal grant from the U.S. Department of Justice over three years. Securing the grant for Iona was a collaborative process spearheaded by Brielle Stark-Adler, Ph.D., director of the Counseling Center, and Adrian Navarrete, director of Campus Safety. Together, College leadership is in the process of interviewing candidates for a new full-time project director, who will report directly to Quintong and work in close collaboration with the Counseling Center.
"Survivors of sexual assault and interpersonal violence approach the Counseling Center in their most vulnerable moments, and need a comprehensive response," said Stark-Adler. "The federal grant expands the survivors' support network beyond our campus, while strengthening the network within our community. Major institutions such as the Police Department and Victim Assistance Services will join us in our mission to provide immediate, accessible, trauma-informed care and advocacy."
Early in the new year, Iona and its partners will come together to share expertise in support of the following program goals:
Create a Coordinated Community Response Team (CCRT) to implement the program mission of education, prevention, bystander intervention, training and victim services.  
Provide education and prevention strategies for the entire campus, including a mandatory program for all incoming students and a revised program for all current students.
Focus on two underserved groups: neurodiverse and LGBTQ+ students, engaging CCRT members to provide inclusive, accessible and culturally sensitive education, prevention and trauma-informed victim services.  
Review victim safety and confidentiality procedures with a campuswide analysis of processes, documentation, training and record-keeping.
Review and revise as necessary all publicly available information describing the prevention strategies and resources available, with a focus on the Iona website to make information and referrals more accessible.
Encourage a campus culture where all students feel comfortable and confident in reporting incidents, seeking help or intervening.
Coordinate with on- and off-campus partners to ensure that victims have access to comprehensive, culturally sensitive, victim-centered care, with full awareness of their rights to privacy, safety and autonomy.
Create a stalking prevention campaign to educate and raise awareness on campus.
"Members of Campus Safety are usually one of the first to respond to the scene of a sexual assault or incidents involving interpersonal violence," said Navarrete. "This grant will allow Campus Safety to receive updated policies and training in order to be better prepared to assist the victim and secure the scene until law enforcement arrives.
The additional training will also allow members of Campus Safety to recognize behavior that puts students at risk for a sexual assault and be better prepared to intervene before it happens."
ABOUT IONA
Founded in 1940, Iona College is a master's-granting private, Catholic, coeducational institution of learning in the tradition of the Edmund Rice Christian Brothers. Iona's 45-acre campus is just 20 miles north of Midtown Manhattan. With a total enrollment of nearly 4,000 students and an alumni base of over 50,000 around the world, Iona is a diverse community of learners and scholars dedicated to academic excellence and the values of justice, peace and service. Iona is highly accredited, offering undergraduate degrees in liberal arts, science, and business administration, as well as Master of Arts, Master of Science and Master of Business Administration degrees and numerous advanced certificate programs. Iona's LaPenta School of Business is accredited by AACSB International, a prestigious recognition awarded to just five percent of business schools worldwide. The Princeton Review recognized Iona's on-campus MBA program as a "Best Business School for 2020." Iona College also recently launched a new, fully online MBA program for even greater flexibility.