Iona College Model United Nations Club Earns Honorable Mention at National Conference
Get the inside scoop with Model United Nations president, Jack Mollohan '22, a political science major from Tappan, N.Y.
Iona College's Model United Nations team received an Honorable Mention award at the 2022 National Model United Nations (NMUN) conference held April 3-7 in New York City. The Gaels also ranked within the top 35 colleges and universities in the competition, representing Cambodia as they ventured to "learn outside the lines" in a display of skill, persuasiveness and knowledge of global issues. Next up, the team looks forward to taking their talents to Kobe, Japan this November, where they are excited to compete once again! Go Gaels!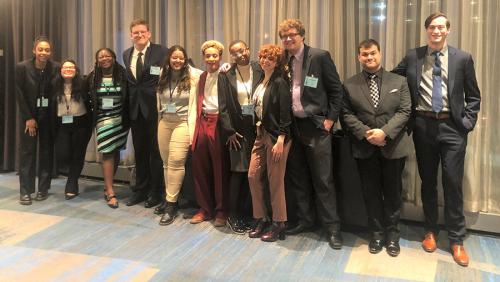 1. Can you describe the Model United Nations club at Iona?
Our team simulates the work of the United Nations by assuming roles of delegates and coordinating agreements and resolutions to international problems. Our team practices weekly and focuses on debating, writing skills and public speaking. We are a student-led group with 12 members.
2. What is the National Model United Nations conference?
NMUN is the longest-running simulated Model UN event. It started in 1927 as a model League of Nations simulation at Syracuse University and has continued yearly since. NMUN's New York City conference allows thousands of college students to meet and discuss real-world issues while representing UN member states and their specific policies. This year, we had our first in-person conference since the COVID-19 pandemic began. 
3. How did Iona's Model UN club participate in the NMUN conference and what was the team tasked to do?
We represented Cambodia while at NMUN and competed against 95 other colleges and universities. We were then awarded an Honorable Mention and this placed us in the top 35; it was the club's first delegation award. This conference was also the club's first time participating in NMUN in person and one of the first in-person events we have been able to attend this year. 
During the months leading up to the conference, we were tasked with understanding Cambodia's inner workings and geopolitical history. We were also tasked with researching topic areas for the committees we were assigned to – these committees model real-life UN committees like UNICEF and General Assembly to name a few. 
4. Can you describe the nature of the competition?
Each competition is a multi-day event with up to three or four sessions per day that last multiple hours. During these sessions, teams who are representing an assigned country will give public speeches to the committee group they are assigned.
When the first session starts, committees must pick a topic to focus on. For example, in my committee at NMUN we had two topics to choose from: combating the danger of nuclear weapons and materials or combating improvised explosive devices. After the agenda has been set, the speeches are geared toward convincing other nations to form groups with each other and write draft resolutions on how to combat the problem. It involves a lot of diplomacy and public speaking along with a high degree of teamwork and negotiating. 
5. What sets Iona's Model UN team apart from the others?
What sets our team apart is that we are student-run; many teams that compete are run and managed by a professor who leads the club or teaches a Model UN class for credit. We also have a smaller delegation size than most schools. Coming in with 12 delegates can make it more difficult to win awards and get attention because we aren't in as many committees as other schools and organizations. Additionally, none of our members receive class credits for their participation – they all participate for the enjoyment of the event and dedicate as much time as a college class would require.
6. What are Iona Model UN's other achievements?
Along with winning an Honorable Mention at NMUN, the club was also awarded the Organization of the Year at this year's GAEL awards. 
7. What's next for the team?
Our organization plans on attending the NMUN conference in Kobe, Japan in November 2022. This is one of the first times we can go because of COVID and also the first time the club has planned and started preparing to go abroad to compete.
Along with this trip, our club is planning on attending Harvard's Model UN conference in Boston in February 2023 and NMUN New York City in April 2023.
Totaling three conferences for the 2022-23 academic year is new club high. Our goal is to give our current and future members the greatest opportunity to learn and compete.
ABOUT IONA
Founded in 1940, Iona University is a master's-granting private, Catholic, coeducational institution of learning in the tradition of the Edmund Rice Christian Brothers. Iona's 45-acre New Rochelle campus and 28-acre Bronxville campus are just 20 miles north of Midtown Manhattan. With a total enrollment of nearly 4,000 students and an alumni base of over 50,000 around the world, Iona is a diverse community of learners and scholars dedicated to academic excellence and the values of justice, peace and service. Iona is highly accredited, offering undergraduate degrees in liberal arts, science, and business administration, as well as Master of Arts, Master of Science and Master of Business Administration degrees and numerous advanced certificate programs. Iona's LaPenta School of Business is accredited by AACSB International, a prestigious recognition awarded to just five percent of business schools worldwide. The Princeton Review recognized Iona's on-campus MBA program as a "Best Business School for 2021." Iona University also recently launched a new, fully online MBA program for even greater flexibility. In July 2021, Iona University and NewYork-Presbyterian announced the establishment of the NewYork-Presbyterian Iona School of Health Sciences, to be principally located on the University's new campus in Bronxville, N.Y. Supported by a $20 million gift from NewYork-Presbyterian, the NewYork-Presbyterian Iona School of Health Sciences offers a new vision for collaborative health care education, modern workforce development, and community care. On July 1, 2022, Iona officially changed its status from College to University, reflecting the growth of its academic programs and the prestige of an Iona education.