Iona College Names School of Business After Prominent Benefactor
LaPenta School of Business named in honor of Trustee and Alumnus Robert V. LaPenta '67, '00H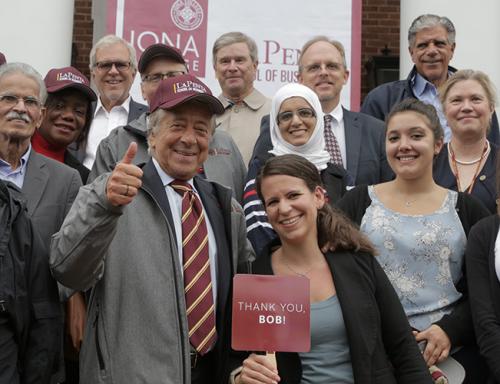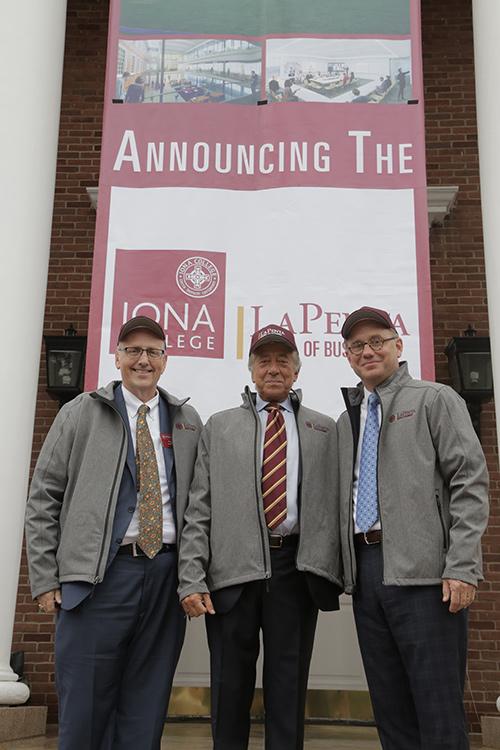 NEW ROCHELLE, N.Y. – Iona University is pleased to announce the naming of its School of Business after Board of Trustee member, alumnus and benefactor Robert V. LaPenta '67, '00H. The College's AACSB accredited business program will henceforth carry the name LaPenta School of Business.
"Bob LaPenta represents the values and successes to which many Iona Gaels aspire," said Joseph E. Nyre, Ph.D., president of Iona University.  "It is with deep appreciation and in recognition of his indelible impact on the College that we are thrilled to reveal our School of Business will forever bear his name."
"I am truly honored for this distinction bestowed today. My time at Iona University and business degree prepared me well for success and for the ability to positively impact the lives and livelihoods of others," said LaPenta. "I look forward to seeing future students of Iona University receive a robust business education and grow into the future leaders and entrepreneurs of the world."
Like many of Iona's students, both past and present, LaPenta was the first in his family to attend college. He understood the power of a college education and the potential it had to transform his life. Through hard work, he went on to earn his BBA in 1967 from the School of Business which now bears his name.  Armed with a vision, passion, innate motivation and an Iona education, LaPenta set out to Move the World, and took that same drive and commitment to his post-college work career, becoming a successful executive and philanthropist, renowned for his leadership experience in the aerospace, defense and electronics industries.  LaPenta has more than 40 years of executive management experience and is currently founding general partner of Aston Capital Partners, a private investment company specializing in military intelligence, homeland security companies and companies involved in green technology. He also serves as chairman and CEO of Revolution Lighting Technologies and The Radiant Group. Prior to these endeavors, Mr. LaPenta founded L-1 Identity Solutions and co-founded L-3 Communications.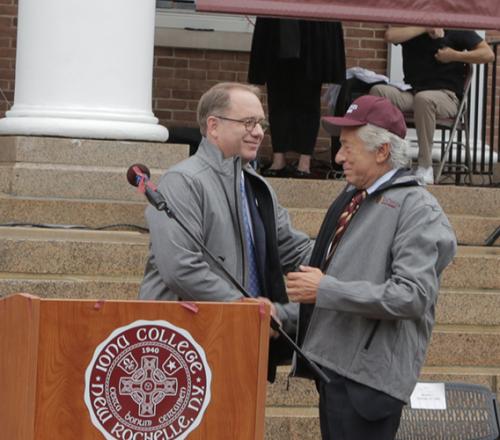 Also an avid participant in the sport of horse racing as an owner, LaPenta's horses captured wins in the last leg of the coveted Triple Crown, the Belmont Stakes in 2008 with Da'Tara and 2017 with Tapwrit.  Most recently last month, his horse, Catholic Boy, earned a win at the prestigious Travers Stakes in Saratoga Springs, N.Y.
A transformational gift of $17.5 million from LaPenta laid the foundation for the construction of a new School of Business building. A groundbreaking held on July 26, 2018, launched the eighteen-month build of the $37 million-dollar facility that will double the current academic space to more than 67,260 square feet and create a world-class learning environment for Iona's students.  The renovated building and addition will feature large new classroom and lecture hall spaces, spaces for collaboration amongst students and faculty, and offices for all business faculty. 
"Thanks to Mr. LaPenta and this new facility, for the first time in our history, we will be able to consolidate all of the business school's activities, faculty, and staff in one location," said William B. Lamb, Ph.D., dean of the LaPenta School of Business. "This will dramatically improve the way our students, faculty, staff, and members of the community interact, collaborate and learn."
"Bob LaPenta has been a loyal and staunch friend to his alma mater," added Nyre. "As a member of the Board of Trustees, then in building the Robert V. LaPenta Student Union and the LaPenta-Lynch Trading Floor and in providing for additions to Ryan Library, with the largest gift in College history to build the new LaPenta School of Business building, and with his example of entrepreneurship and service, Bob LaPenta has time and again transformed and enriched the lives of students of Iona University."
Iona University's LaPenta School of Business offers high-quality academic programs in all aspects of business. Students develop broad knowledge and capabilities in general business concepts and develop a deep understanding of the area they choose as their major.  The undergraduate business program consists of a Bachelor of Business Administration degree with a major in one of seven business disciplines, including Accounting, Business Administration, Finance, Information Systems, International Business, Management and Marketing. Each student in Iona's BBA program completes a liberal arts core as well as a business core curriculum that is formulated to meet strict AACSB standards to impart knowledge; provide valuable learning experiences, including in areas of entrepreneurship and innovation; and foster student engagement.  Iona's business graduate programs provide flexible plans of study and include ample electives. Students can take classes at their own pace. As of fall 2018, Iona has launched an exciting new MBA program which is more flexible, faster, and cost-effective and requires only 39 credits to attain the degree. In addition, the LaPenta School of Business offers three specialized Master of Science degrees.
ABOUT IONA
Founded in 1940, Iona University is a master's-granting private, Catholic, coeducational institution of learning in the tradition of the Edmund Rice Christian Brothers. Iona's 45-acre New Rochelle campus and 28-acre Bronxville campus are just 20 miles north of Midtown Manhattan. With a total enrollment of nearly 4,000 students and an alumni base of over 50,000 around the world, Iona is a diverse community of learners and scholars dedicated to academic excellence and the values of justice, peace and service. Iona is highly accredited, offering undergraduate degrees in liberal arts, science, and business administration, as well as Master of Arts, Master of Science and Master of Business Administration degrees and numerous advanced certificate programs. Iona's LaPenta School of Business is accredited by AACSB International, a prestigious recognition awarded to just five percent of business schools worldwide. The Princeton Review recognized Iona's on-campus MBA program as a "Best Business School for 2023." Iona University also recently launched a new, fully online MBA program for even greater flexibility. In July 2021, Iona University and NewYork-Presbyterian announced the establishment of the NewYork-Presbyterian Iona School of Health Sciences, to be principally located on the University's new campus in Bronxville, N.Y. Supported by a $20 million gift from NewYork-Presbyterian, the NewYork-Presbyterian Iona School of Health Sciences offers a new vision for collaborative health care education, modern workforce development, and community care. On July 1, 2022, Iona officially changed its status from College to University, reflecting the growth of its academic programs and the prestige of an Iona education.