Iona College Offers Dynamic Immersion Program Designed to Help Start-Ups and Spur Innovation
A new graduate-level certificate program at Iona's Hynes Institute for Entrepreneurship & Innovation is now available.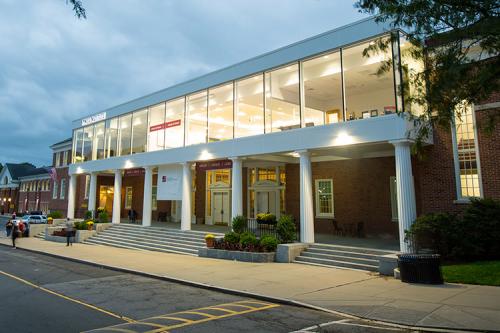 NEW ROCHELLE, N.Y. – Driven by a mission to educate the next generation of innovators, critical thinkers, and business leaders, Iona College in New Rochelle, New York is offering a new graduate-level certificate program at Iona's Hynes Institute for Entrepreneurship & Innovation.
"Fostering an 'Entrepreneurial Mindset' Is Key in Today's Economy"
Joseph E. Nyre, Ph.D., President of Iona College, announced today that the College has created an Advanced Certificate in Entrepreneurship & Innovation for graduate level students and expanded the curriculum at the Hynes Institute, an emerging program that provides students with the knowledge, experience, and skills necessary to succeed in today's global economy. This new certificate is ideal for students who want to fast track the creation of their own entrepreneurial ventures, without the time or expense of earning a traditional MBA. The certificate is also ideal for professionals who would like to build their entrepreneurial skills to advance their careers within their existing organizations.
"The economy is changing at warp speed and so must higher education, so fostering an entrepreneurial mindset is key," Dr. Nyre pointed out. "With this new program, we are helping the next generation become the big-thinkers, problems solvers, and visionaries who will lead and build the companies of the future. We believe it also will drive a new movement in higher education that will become a national model of innovation."
In Just Two Months, Students Can Earn Graduate Level Entrepreneurial Certificate
The certificate program is 15 credits (or five MBA-level courses) and provides immersive and collaborative experiences in problem-solving, ideation, design thinking, and business modeling. The program is also designed to help students gain access to Iona's collaborative workspace, mentorship, start-up support, as well as opportunities to present to potential investors.
"We are truly on the cusp of something great," said Christoph Winkler, Ph.D., founding director of the Hynes Institute. "Our interdisciplinary approach encourages students across all disciplines to think and act entrepreneurially by creating something of value for themselves and our economy. We couldn't be more excited to invite students to participate in this cutting-edge program."
The Hynes Institute for Entrepreneurship & Innovation was established on campus in 2017 with a $15 million gift from James and Anne Marie Hynes, and aims to prepare the next generation of entrepreneurs, innovators and leaders, in part by preparing students for the growing global economy.
During its relatively short existence, the Hynes Institute is making a name for itself. Last year, three Iona students were chosen to participate in Stanford's University Innovation Fellows (UIF) Program among other students from 96 universities in 16 countries from around the world. As part of that fellowship, the students are going through training and will travel to the University Innovation Fellows Silicon Valley Meetup in California where they conduct in-depth analyses to develop unique projects that address a need at their respective schools.
On campus, construction began earlier this year at Spellman Hall, where the Hynes Institute will occupy 3,800 square feet of classroom and office space. GaelVentures, Iona's incubator space that is part of the Hynes Institute, is located on North Avenue, and is an essential part of the Advanced Certificate in Entrepreneurship & Innovation.
ABOUT IONA
Founded in 1940, Iona College is a master's-granting private, Catholic, coeducational institution of learning in the tradition of the Edmund Rice Christian Brothers. Iona's 45-acre campus is just 20 miles north of Midtown Manhattan. With a total enrollment of nearly 4,000 students and an alumni base of over 50,000 around the world, Iona is a diverse community of learners and scholars dedicated to academic excellence and the values of justice, peace and service. Iona is highly accredited, offering undergraduate degrees in liberal arts, science, and business administration, as well as Master of Arts, Master of Science and Master of Business Administration degrees and numerous advanced certificate programs. Iona's LaPenta School of Business is accredited by AACSB International, a prestigious recognition awarded to just five percent of business schools worldwide. The Princeton Review recognized Iona's on-campus MBA program as a "Best Business School for 2020." Iona College also recently launched a new, fully online MBA program for even greater flexibility.