Iona College Podcast Explores Voter Registration in the Age of COVID-19 with HeadCount Executive Director Andy Bernstein
Harnessing the power of music, HeadCount has registered over one million voters since its 2004 founding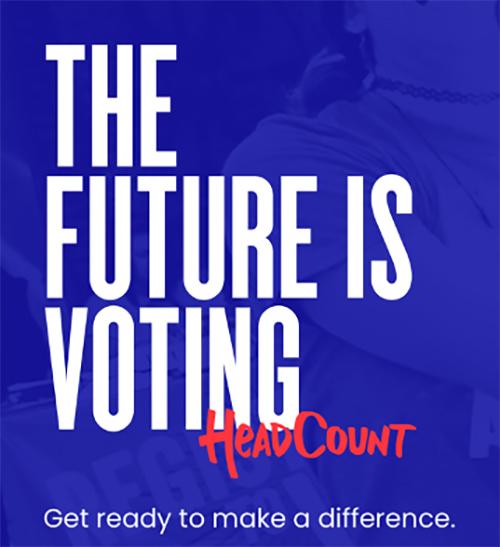 NEW ROCHELLE, N.Y. — From the Grateful Dead, Phish and Dave Matthews Band to Ariana Grande, Billie Eilish and hundreds of other major artists and music festivals worldwide, HeadCount partners with many of the biggest names to register voters and turn out the vote. On a recent episode of Iona College's new "Public History in a Virtual Age" podcast, host Lindsay M. Chervinsky, Ph.D., welcomes HeadCount executive director Andy Bernstein for a lively conversation exploring everything from the importance of voting, to digital innovations during COVID-19, to the remarkable power that YouTube influencers add to marketing campaigns. (HeadCount's recent Tesla giveaway with David Dobrik drove over 100,000 new voter registrations in a single day.)
Listen to Iona College's HeadCount podcast on Spotify.
Chervinsky, scholar-in-residence with the Institute for Thomas Paine Studies (ITPS) at Iona College, is an expert in the cabinet, presidential history, and United States government institutions. She recently launched this new podcast series to explore some of the most pertinent public history topics of the times. This month, the focus is on voting and civic engagement. Past episodes have discussed "Public Health as Public History" amid the dual pandemics of COVID-19 and international racism.
All episodes are now streaming on Spotify. The latest episode explores "Elections, Past and Present," with Dr. Mark Boonshoft, author and assistant professor at Duquesne University.
"History has the power to help up us understand who we are and how we got to our current moment, but that knowledge means nothing if we don't engage as citizens," said Chervinsky. "Voting and elections are the core of any democracy and the heart of citizenship. I had so much fun exploring HeadCount's exciting initiatives to engage citizens in the process of voting, and I hope listeners – especially Iona students – feel even more inspired and motivated to get involved."
Bernstein, who helped found HeadCount in 2004, became its executive director in the spring of 2008. This week, on October 20, HeadCount surpassed the remarkable milestone of registering 1 million voters since its founding. Equally as impressive, 75 percent of the voters registered by HeadCount go on to cast their vote. As a non-partisan, non-profit organization, breaking down silos and encouraging dialogue have been paramount to HeadCount's mission and success, Bernstein explained.
"I think it's really just interesting, always, to be able to repeat both sides of the argument and to try to understand where we are politically in this country, rather than to be able to say, 'I don't understand the other side. I don't understand how anyone could think that way.' I think that's what's gotten us into trouble in this country. We've stopped listening, and stopped the dialogue. We live in two enormous, ever-growing silos," he said. "For HeadCount as a non-partisan organization trying to reach everybody, I think our long-term hope is that we can get to a place as a country where there is more commonality; where there is more agreement on the fundamental principles of democracy, and representative democracy. And where we can have respectful disagreements. I don't think we're even having disagreements anymore, as much as a complete lack of awareness of what the other side thinks."
As one of the founders of National Voter Registration Day, Bernstein also conceived of the corresponding social media campaign that has involved over 500 musicians and celebrities and generated over one billion social media impressions. He also helped create "Participation Row," an activism village where concert attendees have taken over 100,000 socially-conscious actions while raising nearly $1.5 million for various music-industry charities, including over $500,000 generated from the auction of one guitar signed by members of the Grateful Dead.
Bernstein has produced nearly a dozen benefit concerts and live music events, including 2012's "The Bridge Session," which paired HeadCount board member Bob Weir with members of The National for the first time. Prior to creating HeadCount, Bernstein was best known in the music community as an author of "The Pharmer's Almanac", a guide to the band Phish that sold over 70,000 copies. He also worked in sports for more than a decade, as media editor of Street & Smith's SportsBusiness Journal and a vice president at the sports technology company Kangaroo TV. He splits his time between New York City and a slope-side ski condo in nearby Vernon, NJ.
Visit HeadCount.org to register to vote, check your registration status, volunteer for virtual events, learn more about internship opportunities and follow on social media.
ABOUT IONA
Founded in 1940, Iona College is a master's-granting private, Catholic, coeducational institution of learning in the tradition of the Edmund Rice Christian Brothers. Iona's 45-acre campus is just 20 miles north of Midtown Manhattan. With a total enrollment of nearly 4,000 students and an alumni base of over 50,000 around the world, Iona is a diverse community of learners and scholars dedicated to academic excellence and the values of justice, peace and service. Iona is highly accredited, offering undergraduate degrees in liberal arts, science, and business administration, as well as Master of Arts, Master of Science and Master of Business Administration degrees and numerous advanced certificate programs. Iona's LaPenta School of Business is accredited by AACSB International, a prestigious recognition awarded to just five percent of business schools worldwide. The Princeton Review recognized Iona's on-campus MBA program as a "Best Business School for 2020." Iona College also recently launched a new, fully online MBA program for even greater flexibility.