Iona College Professor Receives Visionary Award for Bringing Catholic Higher Education to Life for Students
Dr. Christina Carlson is recognized for her innovative and engaging teaching techniques in Catholic higher education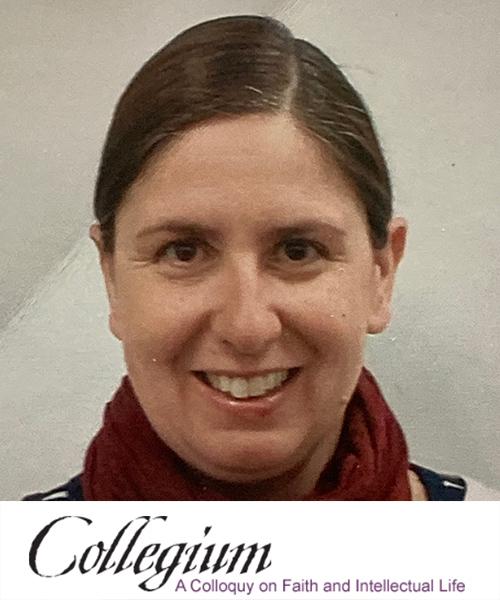 NEW ROCHELLE, N.Y. — Christina Carlson, Ph.D., associate professor of English and chair of Iona's Catholic Intellectual Tradition committee, has been named the 2022 Collegium Visionary Award recipient. This prestigious award is given to Collegium alumni who display leadership in promoting Catholic missions on campus, producing scholarship to advance the Catholic intellectual tradition and developing innovative teaching that brings aspects of the mission of Catholic higher education to life for students.
Founded in 1992, Collegium was established to provide faculty at Catholic colleges and universities with a greater understanding of the mission of Catholic higher education, and to invite them to become leaders in advancing that mission in creative ways. Bringing lessons learned from Collegium to Iona, Carlson teaches courses primarily centered on medieval literature, including Celtic spirituality. She is a member of the Honors faculty, and teaches Iona's Columba Cornerstone class for first-year students. This three-credit freshman seminar allows students to explore topics that are critical to the present day, including diversity and sustainability in a digitally and globally connected world, while connecting them to "the Iona story."
Carlson has also spearheaded various study abroad, service and mission trips to engage students beyond the classroom. To date, she has twice organized study abroad trips to the Isle of Iona in Scotland and served as a moderator on four Iona in Mission immersions (once each to Americus, Ga., and Camden, N.J., and twice to Brownsville, Texas). She also represented the College at the Edmund Rice Education Beyond Borders Congress in Kolkata, India.
Similarly, Carlson has contributed to Iona's recently built sustainability garden, adding an additional raised plot to be planted as a medieval kitchen garden by her students in the spring of 2022. This innovative teaching method offers students the opportunity to explore historical analysis, current environmental issues and experiential learning.
"I have been teaching at Catholic colleges for 28 years. In that time, I have seen few educators who are as inspiring and transformative to their students, as collegial and helpful to their colleagues, or as committed and devoted to the Catholic mission, as is Dr. Carlson," said Kim Paffenroth, Ph.D., professor of religious studies and director of the Honors Program. "Dr. Carlson's dedication and creativity are astonishing and effective, and clearly promote the Catholic mission of our school."
Carlson's written work is also connected to the mission and institutional identity of Iona. Her portfolio includes an essay in the collection "Readers, Reading and Reception in Devotional Literature and Practice," as well as book reviews in "Augustinian Studies" and presentations at medieval conferences, including most recently, "Identity, Community, Pedagogy: Interacting with the Elements in the Life of St. Columba" at the International Medieval Congress in Leeds, U.K.
Her current work focuses on popular culture to connect with students and readers. In that regard, Carlson is producing her current book project, "Princesses in the Marketplace: Retelling and Retailing in the Disney Princess Franchise," an outgrowth of one of her courses at Iona.
"I am honored to receive this award," said Carlson. "Collegium was a transformative experience for me, one that has deeply informed my work at Iona. I am grateful to Collegium for their recognition, and for their support over the years of the work we do here. I look forward to continuing to uphold the mission of Catholic higher education at Iona, to sharing it with colleagues and students in new and creative ways, and I hope this award inspires a new generation of colleagues to experience Collegium."
In honor of this achievement, Carlson will receive a framed citation to be presented at a reception on campus during the Spring 2022 semester, as well as an award of $1,000 that can be used for a retreat, in support of relevant academic research and pedagogical development or for mission-related events on campus.
ABOUT IONA
Founded in 1940, Iona University is a master's-granting private, Catholic, coeducational institution of learning in the tradition of the Edmund Rice Christian Brothers. Iona's 45-acre New Rochelle campus and 28-acre Bronxville campus are just 20 miles north of Midtown Manhattan. With a total enrollment of nearly 4,000 students and an alumni base of over 50,000 around the world, Iona is a diverse community of learners and scholars dedicated to academic excellence and the values of justice, peace and service. Iona is highly accredited, offering undergraduate degrees in liberal arts, science, and business administration, as well as Master of Arts, Master of Science and Master of Business Administration degrees and numerous advanced certificate programs. Iona's LaPenta School of Business is accredited by AACSB International, a prestigious recognition awarded to just five percent of business schools worldwide. The Princeton Review recognized Iona's on-campus MBA program as a "Best Business School for 2023." Iona University also recently launched a new, fully online MBA program for even greater flexibility. In July 2021, Iona University and NewYork-Presbyterian announced the establishment of the NewYork-Presbyterian Iona School of Health Sciences, to be principally located on the University's new campus in Bronxville, N.Y. Supported by a $20 million gift from NewYork-Presbyterian, the NewYork-Presbyterian Iona School of Health Sciences offers a new vision for collaborative health care education, modern workforce development, and community care. On July 1, 2022, Iona officially changed its status from College to University, reflecting the growth of its academic programs and the prestige of an Iona education.