Iona College Professor Recognized for Excellence In Teaching
English professor Dr. Christina Carlson receives national award for excellence in teaching medieval studies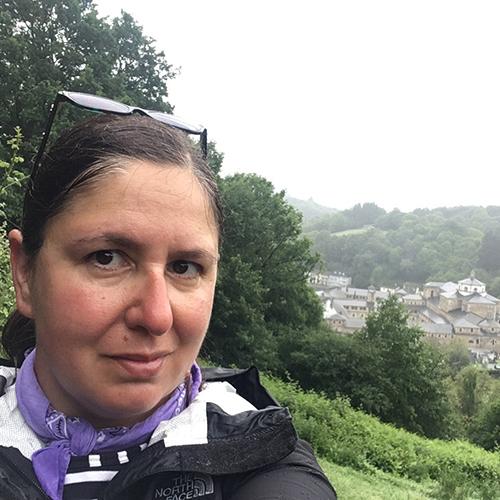 NEW ROCHELLE, N.Y. – Dr. Christina Carlson, associate professor of English, has been awarded a 2021 Medieval Academy of America/CARA Award for Excellence in Teaching.
The award recognizes outstanding medievalists who have inspired students at the undergraduate or graduate levels, or by creating innovative and influential textbooks or other materials for teaching medieval subjects. Carlson shares this award with Dr. Geraldine Heng, a professor of English and Comparative Literature at the University of Texas at Austin.
Innovation in the field of medieval subjects may seem counterintuitive, but it is the work of professors like Carlson that keep students engaged and expanding their horizons both in and out of the classroom. Carlson, who has taught at Iona for nearly 20 years, currently teaches courses in Chaucer, seminar courses for students in the Honors Program, and a range of courses centered around composition, literature, medieval women and Celtic spirituality. One of her most popular courses focuses on the representations of Disney princesses and their medieval inspirations. Currently on sabbatical, Carlson is working on a book inspired by the course.
For Carlson, bringing topics that are relatable to students into the classroom is one of the best ways to challenge students' ideas and help them learn.
"As an educator, one of the things you learn early on is that you have two choices," Carlson said. "You can stick to what you've learned in graduate school, or you can think about the audience sitting in front of you – who are they, what are they trying to learn and what relevance does this have to their lives?"
Carlson incorporates pop culture into the classroom as just one way of engaging students with a topic that might not immediately feel relevant to them. Carlson enjoys taking students outside the lines of the traditional classroom and challenging them to think about their coursework in a new way, bridging the gap between traditional academia and the new age that students are living in.
When putting together her syllabus, Carlson enjoys challenging the assumptions of the medieval discipline and helping students explore the context of the literature they are reading. She challenges her students to consider the cultural context that medieval texts like Chaucer were written in, and how it was the pop culture phenomenon of its time. She encourages students to bring what they know from their own life – from books, movies or advertisements – and incorporate it into a dialogue in the classroom.
Dr. Kim Paffenroth, director of the Honors Program, has worked with Carlson during her time as a professor in the program. According to Paffenroth, Carlson has been a consistently applauded professor for the Honors Humanities seminar she teaches, working to engage with students and expand the boundaries of study, innovating to include more non-European subjects in the study of the Middle Ages. In addition to her time in the classroom, she has promoted undergraduate research in medieval studies by taking students to present at the Undergraduate Conference in Medieval and Early Modern Studies at Moravian University. Carlson has pioneered some of the most valuable lessons outside of the classroom.
"[Dr. Carlson] has always given our students an exciting example of experiential learning with an annual trip to the Cloisters and has recently innovated by expanding such experiential learning into planting a medieval garden on campus," Paffenroth said. "She has also taught in Study Abroad programs and led mission trips. And I know she is as eager as I am to bring all such high-impact practices back to her teaching, now that the worst parts of the pandemic are over."
Carlson will be presented with the Excellence in Teaching award at the Medieval Academy of America's virtual annual meeting on Friday, April 16.
ABOUT IONA
Founded in 1940, Iona College is a master's-granting private, Catholic, coeducational institution of learning in the tradition of the Edmund Rice Christian Brothers. Iona's 45-acre campus is just 20 miles north of Midtown Manhattan. With a total enrollment of nearly 4,000 students and an alumni base of over 50,000 around the world, Iona is a diverse community of learners and scholars dedicated to academic excellence and the values of justice, peace and service. Iona is highly accredited, offering undergraduate degrees in liberal arts, science, and business administration, as well as Master of Arts, Master of Science and Master of Business Administration degrees and numerous advanced certificate programs. Iona's LaPenta School of Business is accredited by AACSB International, a prestigious recognition awarded to just five percent of business schools worldwide. The Princeton Review recognized Iona's on-campus MBA program as a "Best Business School for 2021." Iona College also recently launched a new, fully online MBA program for even greater flexibility. In July 2021, Iona College and NewYork-Presbyterian announced the establishment of the NewYork-Presbyterian Iona School of Health Sciences, to be principally located on the College's new campus at 171 White Plains Road, Bronxville, N.Y. Supported by a $20 million gift from NewYork-Presbyterian, the NewYork-Presbyterian Iona School of Health Sciences is expected to offer a new vision for collaborative health care education, modern workforce development, and community care.