Iona College Provides Partnership and New Home to Longstanding New Rochelle Tutoring Program
Iona College and Academic Pathways, a highly utilized New Rochelle tutoring program, have joined forces with a new home on Iona's campus.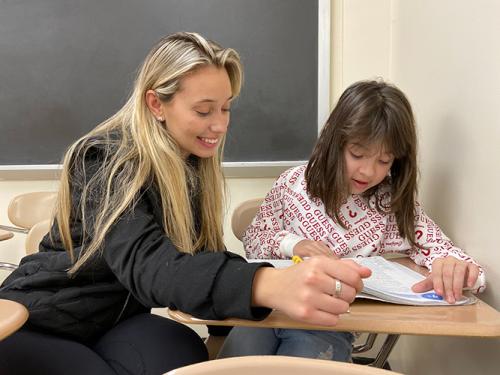 NEW ROCHELLE, N.Y. – Guided by a shared commitment to the transformative power of education, Iona College and Academic Pathways, a highly utilized New Rochelle tutoring program, have joined forces with a new home on campus. The partnership not only elevates the experience for children in need of enrichment, but also expands fieldwork opportunities for Iona students pursing Education degrees – a win, win.
Academic Pathways has been providing after-school tutoring and enrichment in New Rochelle for more than 17 years. Founded by Columbia University Graduate School of Education alumna Angela Campbell, Ed.D., the program has served over 850 students in grades 1 through 8 with remarkable results. According to Campbell, 98 percent of program participants have entered four-year colleges, receiving over $4 million in merit scholarships to pursue undergraduate studies. Campbell, whose specialty lies in nurturing diverse populations of young people to pursue STEAM careers, said her work is guided by the motto: "It is easier to educate and connect with a child than repair an adult. Turn your diamond in the rough into an honor student."
Iona College, meanwhile, operates its own after-school program (ASSET, formerly the Success Center) and saw an opportunity to partner. Offering to share its space in Amend Hall, Iona merged with Academic Pathways in October 2019. The new program accommodates children who traditionally attended Iona's program, as well as students enrolled in Academic Pathways. Importantly for Iona students, the combined program enriches fieldwork opportunities for those enrolled in the College's two introductory Education courses (EDU 201/202).
Amanta Krasniqi '22, an adolescent education major from Yorktown, said she enjoys tutoring as a way to gain hands-on experience working with children – her future career path.
"It's so impactful when you get to educate someone," she said one afternoon as she read with a third grader. "It's a nice feeling, like you really accomplished something important. You remember being that young and that feeling when you really 'get' something for the first time."
Amanda Howerton-Fox, Ph.D., assistant professor in the Education Department, serves as faculty liaison to the program, coordinating students' fieldwork and facilitating communication between Academic Pathways and relevant Iona offices. She said she was thrilled to be able to establish this mutually beneficial, service-learning partnership with Academic Pathways.
"One of the distinguishing features of Iona's Education program is that we engage students in meaningful fieldwork experiences from their introductory coursework through student teaching. Inviting children from the New Rochelle community onto our campus to engage with over 70 undergraduates majoring in education each semester offers enriching educational experiences to both groups," said Howerton-Fox. "Our students consistently report that their work at the on-campus, after-school program is one of the most impactful components of their program."
ABOUT IONA
Founded in 1940, Iona College is a master's-granting private, Catholic, coeducational institution of learning in the tradition of the Edmund Rice Christian Brothers. Iona's 45-acre campus is just 20 miles north of Midtown Manhattan. With a total enrollment of nearly 4,000 students and an alumni base of over 50,000 around the world, Iona is a diverse community of learners and scholars dedicated to academic excellence and the values of justice, peace and service. Iona is highly accredited, offering undergraduate degrees in liberal arts, science, and business administration, as well as Master of Arts, Master of Science and Master of Business Administration degrees and numerous advanced certificate programs. Iona's LaPenta School of Business is accredited by AACSB International, a prestigious recognition awarded to just five percent of business schools worldwide. The Princeton Review recognized Iona's on-campus MBA program as a "Best Business School for 2020." Iona College also recently launched a new, fully online MBA program for even greater flexibility.