Iona College Ranks in Top Six Percent Nationwide Based on Return on Investment
New Georgetown University Report Ranks 4,500 Institutions to Answer: "Is College Worth It?"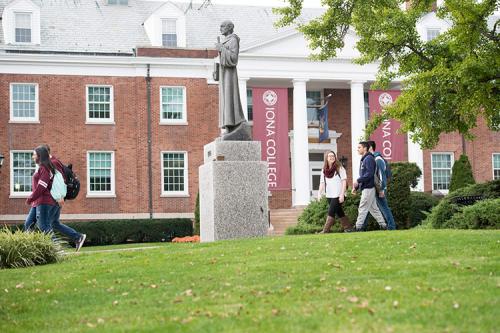 NEW ROCHELLE, N.Y. - In the face of rising college tuition and increased student debt nationwide, students and families are often left asking: Is college worth it? A new report, A First Try at ROI: Ranking 4,500 Colleges, recently released by Georgetown University's Center on Education and the Workforce (CEW), not only confirms the value of higher education, but also goes one step further—it provides solid data to compare institutions based on their return on investment (ROI).
In the new report, Iona College ranks in the top six percent among all 4,500 institutions based on its long-term ROI. In addition, Iona ranks #1 among colleges with main campuses based in Westchester for delivering the highest ROI both 40 and 30 years after graduation, the time frames that best reflect a college's value, according to the report.
 "This new value-based measurement tool is highly useful for incoming students and their families. It provides the first long-term analysis that demonstrates how a college education is critical to social mobility," said Darrell P. Wheeler, Ph.D., MPH, ACSW, Iona College provost and senior vice president for Academic Affairs. "At Iona College, affordable tuition and distinguished programs and resources—such as our Hynes Institute for Entrepreneurship & Innovation, our newly expanded LaPenta School of Business, robust service learning and internship opportunities, and an engaged alumni network—not only help students succeed today, but well into the future."
The report uses expanded College Scorecard data to calculate the Net Present Value (NPV) of a credential from 4,500 colleges. CEW also developed an online table of the 4,500 colleges that allows users to sort data by tuition, median student debt, and median earnings for each institution.
With an NPV of $1.14 million over 40 years, graduates from Iona College outperformed the national average of $838,000 for graduates of similar private, nonprofit colleges. That's compared to an average of $765,000 for graduates of public colleges and $551,000 for graduates of private, for-profit colleges, according to the report.
The authors of the report say students and their families should take advantage of the data to make more informed financial decisions about where to attend college. Dr. Anthony P. Carnevale, lead author and CEW director, provides another key takeaway: "This kind of information on the costs and benefits of higher education holds institutions more accountable."
While an objective measure of return is critically important, Wheeler added that the value proposition of a liberal arts education also runs much deeper.
"A liberal arts education is invaluable in that it challenges students' perspectives and instills the skills needed to succeed in life as well as in learning," he said. "Creative thinking, leadership, ethical decision making, service to others – these traits are foundational to the character of an Iona College education, and in my view, transcend any measure in terms of dollars and cents."
ABOUT IONA
Founded in 1940, Iona College is a master's-granting private, Catholic, coeducational institution of learning in the tradition of the Edmund Rice Christian Brothers. Iona's 45-acre campus is just 20 miles north of Midtown Manhattan. With a total enrollment of nearly 4,000 students and an alumni base of over 50,000 around the world, Iona is a diverse community of learners and scholars dedicated to academic excellence and the values of justice, peace and service. Iona is highly accredited, offering undergraduate degrees in liberal arts, science, and business administration, as well as Master of Arts, Master of Science and Master of Business Administration degrees and numerous advanced certificate programs. Iona's LaPenta School of Business is accredited by AACSB International, a prestigious recognition awarded to just five percent of business schools worldwide. The Princeton Review recognized Iona's on-campus MBA program as a "Best Business School for 2020." Iona College also recently launched a new, fully online MBA program for even greater flexibility.