Iona College Revives Master's Degree Program in Educational Leadership
Now accepting applications!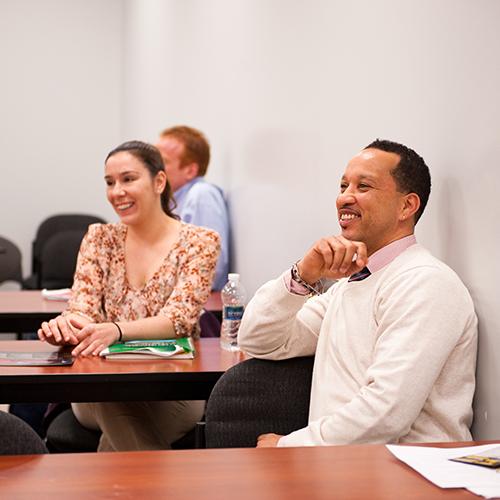 NEW ROCHELLE, N.Y. — Iona College today announced it has revived its master's degree program in Educational Leadership, offering students an opportunity to take their passion for education to the next level.
In preparing students to serve as principals, assistant principals, departmental chairs and other school leaders, the program empowers students to make a difference not just in their classrooms, but in their schools and communities.
"With small, personalized classes taught by experienced leaders in the field, Iona's program excels in developing practical skills that can immediately be put to use," said Malissa A. Scheuring Leipold, Ed.D., chair and associate professor, Education Department. "By integrating theory and real-life school situations, the program draws upon case studies, action research, computerized simulation activities and collaborative group study to provide a comprehensive and deeply rewarding experience."
Explore the master's degree program in Educational Leadership to learn more about courses, internships and career opportunities. Interested candidates may apply online, or contact Lisa Tufariello, assistant director of Graduate Admissions, at ltufariello@iona.edu for more information.
Consistent themes found within the program include:
Building Bridges for Social Justice
The School Leader as Curricular Leader
Ethical Decision-Making
School Leaders as Entrepreneurs
Faculty are experts in the field, including former superintendents, principals and administrators, who draw upon their professional experience as they work closely with students to develop the confidence and skills needed to become effective leaders.
Understanding the challenges of work and family obligations, Iona's Educational Leadership program was designed to be as convenient as possible. Each class will be taken over the course of one month, with two weekend meeting times, freeing up more time during the week.
Adjunct professor Dr. Tom Callahan, a 2006 graduate of Iona's Educational Leadership program, currently serves as director of Mathematics and Science (K-12) in the Pelham Union Free School District. He said Iona's program teaches graduates to be adaptive, progressive thinkers, prepared for the realities of teaching, learning and leading in the 21st century.
"Iona's program in Educational Leadership is designed to meet the challenges of an ever-changing educational landscape," Callahan said. "The focus is on preparing all students with the skills they will need to be effective problem solvers, collaborative decision makers, and inspirational, visionary leaders in our schools. Iona's graduates will put the students at the center of the learning process, embrace and value the contributions of all cultures to the human experience, and represent integrity, honesty, and character in their work."
Upon completion of the program, students will have met the requirements for New York State initial certification in School Building Leadership (SBL) and will be eligible to take the NYSTCE School Building Leader Exam. In addition, students will also be able to take courses that can be used to apply for NYS Special Education Certification.
Requirements for acceptance include a New York State provisional or initial teaching certificate, plus at least three years of full-time, paid, approved teaching, supervisory, administrative and/or pupil personnel services.
"At Iona, you will become part of a community of lifelong learners, and you will discover new ways to share that passion through the important work you do," said Leipold. "You will work with experienced faculty who are experts in the field, and who are eager to share their knowledge. This is an important career decision, and we look forward to preparing the next generation of school leaders."
ABOUT IONA
Founded in 1940, Iona College is a master's-granting private, Catholic, coeducational institution of learning in the tradition of the Edmund Rice Christian Brothers. Iona's 45-acre campus is just 20 miles north of Midtown Manhattan. With a total enrollment of nearly 4,000 students and an alumni base of over 50,000 around the world, Iona is a diverse community of learners and scholars dedicated to academic excellence and the values of justice, peace and service. Iona is highly accredited, offering undergraduate degrees in liberal arts, science, and business administration, as well as Master of Arts, Master of Science and Master of Business Administration degrees and numerous advanced certificate programs. Iona's LaPenta School of Business is accredited by AACSB International, a prestigious recognition awarded to just five percent of business schools worldwide. The Princeton Review recognized Iona's on-campus MBA program as a "Best Business School for 2020." Iona College also recently launched a new, fully online MBA program for even greater flexibility.