Iona College Student Breaks Barriers in Virtual Reality Research Thanks to a New $10K Fellowship
Last Mile Education Fund bolsters diversity in computing by awarding $100,000 to 10 undergraduates for summer research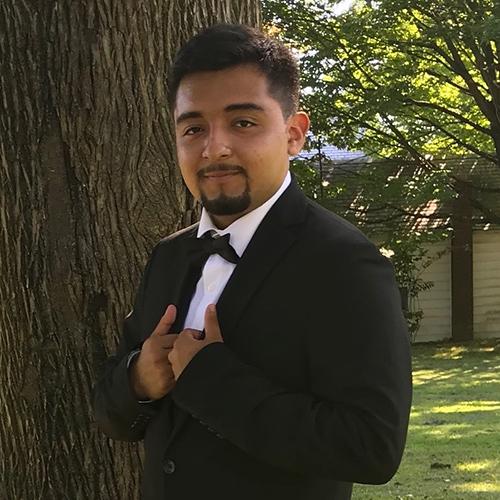 NEW ROCHELLE, N.Y. – Iona College computer science major Diego Rivera '23 is one of only 10 undergraduate students nationwide to win a $10,000 fellowship from the Last Mile Education Fund, whose goal is to improve diversity in computing-related research.
As Rivera ventures to "Learn Outside the Lines" of the classroom this summer, he will focus his research on virtual reality, more specifically tackling education and simulation at Hunter College. He said he chose VR because he finds it fun and fascinating, and he wants to gain experience in how to create educational VR applications for children.
He added that this scholarship will help to break diversity barriers in computer science because it will enable more students to focus on their studies and pursue their dreams in the field of STEM, regardless of their background or income levels. His dream job is to join or start a company creating programs for educational purposes so that children can have fun and learn at the same time by using VR.
"I love how many applications can be created in computer science to help people make their lives easier. Computer science allows individuals to feed their imaginations in creating things everyone will enjoy using," said Rivera, of Port Chester. "This scholarship is going to help me and my family a lot, so I'm really grateful to have been chosen."
The pilot program, called the Last Mile Fellowship to Broaden Computing-Related REU Participation, eliminates financial barriers that prevent low-income students from participating in pivotal research experiences during college.
REUs—research experiences for undergraduates—are critical to building a pipeline of computing students into graduate school, and ultimately to technology research careers and academia. The National Science Foundation (NSF) provides the primary funding for REUs through research grants to universities and makes recommendations on the maximum allowable stipend per student.  
"Unfortunately, like unpaid internships, the stipend offered for undergraduate research is often barely enough to cover housing and food—making it nearly impossible for students from low-income backgrounds to participate," said Ruthe Farmer, founder and CEO of the Last Mile Education Fund. "Imagine moving to Southern California, Seattle, or New York for the summer for $5,000 to $7,000 without additional help from your family."
This early gate-keeping unnecessarily shrinks the talent pool and ultimately inhibits innovation, Farmer added. This fellowship brings the compensation for the summer REU more in line with an industry internship.
This pilot initiative is funded by the Gordon and Betty Moore Foundation, with additional support from the Hopper-Dean Foundation. Last Mile is conducting an evaluation and will share its findings on the feasibility of large-scale REU stipend subsidies in computing and data science fields to help diversify the STEM graduate school pipelines across related scientific disciplines.
"The Gordon and Betty Moore Foundation is committed to the advancement of scientific discovery and investment in higher education. Enabling all students, regardless of socioeconomic status, the opportunity to explore research careers serves both those goals. We are hopeful this pilot program will provide insight into the ways financial factors limit participation in REUs and uncover potential solutions to address these obstacles," said Janet Coffey, program director, Science Learning at the Gordon and Betty Moore Foundation.
The Last Mile Fellowship to Broaden Computing-Related REU Participation supports a diverse cohort that is 60% female, 30% male, 10% non-binary; 30% African American, 30% Hispanic, 30% White, and 10% Asian; plus, 70% of the fellows are first-generation college students. 
ABOUT IONA
Founded in 1940, Iona University is a master's-granting private, Catholic, coeducational institution of learning in the tradition of the Edmund Rice Christian Brothers. Iona's 45-acre New Rochelle campus and 28-acre Bronxville campus are just 20 miles north of Midtown Manhattan. With a total enrollment of nearly 4,000 students and an alumni base of over 50,000 around the world, Iona is a diverse community of learners and scholars dedicated to academic excellence and the values of justice, peace and service. Iona is highly accredited, offering undergraduate degrees in liberal arts, science, and business administration, as well as Master of Arts, Master of Science and Master of Business Administration degrees and numerous advanced certificate programs. Iona's LaPenta School of Business is accredited by AACSB International, a prestigious recognition awarded to just five percent of business schools worldwide. The Princeton Review recognized Iona's on-campus MBA program as a "Best Business School for 2023." Iona University also recently launched a new, fully online MBA program for even greater flexibility. In July 2021, Iona University and NewYork-Presbyterian announced the establishment of the NewYork-Presbyterian Iona School of Health Sciences, to be principally located on the University's new campus in Bronxville, N.Y. Supported by a $20 million gift from NewYork-Presbyterian, the NewYork-Presbyterian Iona School of Health Sciences offers a new vision for collaborative health care education, modern workforce development, and community care. On July 1, 2022, Iona officially changed its status from College to University, reflecting the growth of its academic programs and the prestige of an Iona education.
About Last Mile Education Fund
Last Mile Education Fund offers a disruptive approach to solving for social inequality and increasing diversity in tech and engineering fields by addressing critical gaps in financial support for low-income, underrepresented students within reach of a degree. Unlike traditional scholarships, Last Mile takes a broad investment approach, identifying students committed to technology and engineering fields, providing agile, just-in-time support for challenges they face that are beyond their control, and incubating them to be the next generation of innovators. Last Mile Education Fund is a fiscally-sponsored project of the Digital Harbor Foundation. For additional information, visit LastMile-ed.org and follow us on Twitter.