Iona College's Communication Sciences and Disorders: Serving Students, Serving the Community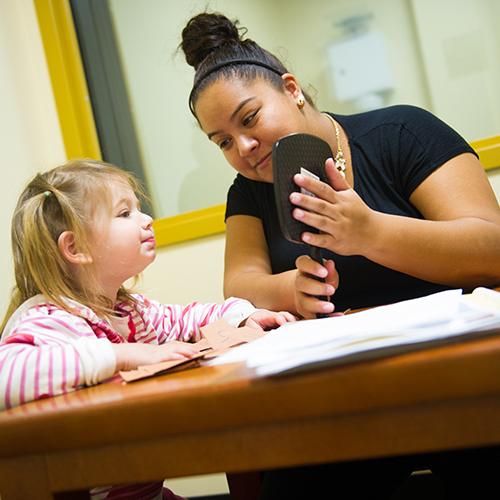 Note: Photo was taken pre-COVID-19.
NEW ROCHELLE, N.Y. - Iona's Speech Communication Studies Department is well-known for educating students to become compassionate communicators and for providing the community with critical speech, language and hearing services. The department recently received recognition with the accreditation of its graduate program, and it became time for a name change to better reflect its mission and purpose.
Now called Communication Sciences and Disorders, the department continues to prepare students with rigorous clinical experience, coursework and holistic training, and offers a variety of bachelor's and master's degrees as well as a professional certificate program.
With small classes, supportive faculty and a variety of club and professional opportunities, students thrive in this program as they gain confidence and valuable experience.
"What I love most about Iona is how much support is available," said Nicole Genser '21, a speech-language pathology & audiology major and president of the American Sign Language (ASL) Club on campus. "My professors and peers are always there to help in expanding interests, sparking new ideas, and helping to put these interests and ideas into action. I know that working hard has allowed for my success so far, and that hard work pays off, but without the particular support I've had, I wouldn't necessarily have had the chance to advance with everything that I want to pursue."
The Iona College Speech, Language & Hearing Clinic, a renowned component of the Communication Sciences and Disorders Department, offers a full-range of diagnostic and treatment services for children and adults. Unlike other clinics that closed during the COVID-19 pandemic, the Iona Clinic is serving all clients virtually via Zoom.
Services include treatment for language delays, communicative disorders resulting from brain injury or stroke, accent modification, stuttering, swallowing therapy, and many other conditions. To further accommodate the community, these services are offered at a significantly reduced rate.
A recent client spoke about the caring and convenient attention her husband received. "We couldn't be more pleased with our experiences at the Iona Speech Clinic. My husband has had both on-site sessions and sessions via Zoom during the pandemic. He has made slow but steady progress following his stroke, which resulted in expressive aphasia and apraxia. The graduate student clinicians he's worked with are well-trained and very responsive to my husband's needs, providing lots of different activities that keep him engaged and encourage him to work hard. The director of the clinic, Maria Armiento-DeMaria, MA, CCC-SLP, TSHH, has been extremely helpful, especially when she put together a special winter term out of her concern that my husband and other clients would lose progress when we realized that there would be nearly three months between the fall and spring terms. We have had experiences with speech clinics at other universities and the program at Iona is far superior."
ABOUT IONA
Founded in 1940, Iona College is a master's-granting private, Catholic, coeducational institution of learning in the tradition of the Edmund Rice Christian Brothers. Iona's 45-acre campus is just 20 miles north of Midtown Manhattan. With a total enrollment of nearly 4,000 students and an alumni base of over 50,000 around the world, Iona is a diverse community of learners and scholars dedicated to academic excellence and the values of justice, peace and service. Iona is highly accredited, offering undergraduate degrees in liberal arts, science, and business administration, as well as Master of Arts, Master of Science and Master of Business Administration degrees and numerous advanced certificate programs. Iona's LaPenta School of Business is accredited by AACSB International, a prestigious recognition awarded to just five percent of business schools worldwide. The Princeton Review recognized Iona's on-campus MBA program as a "Best Business School for 2020." Iona College also recently launched a new, fully online MBA program for even greater flexibility.