Iona Makes the Final Four...Where it Matters
For Third Year, Gaels Among Top Schools in Income Mobility Tournament.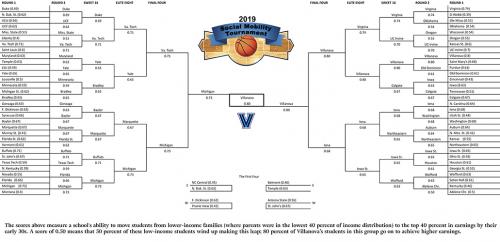 NEW ROCHELLE, N.Y. - As Iona College readies for its game against another perennial college basketball powerhouse in the NCAA Tournament this Friday (this year it's No. 1 seed North Carolina Tar Heels), you might ask, who is betting on the Gaels making it to the Final Four?
The answer: A Princeton professor and Washington think tank that studies how colleges help students achieve the American Dream by moving up the income ladder.
Happily, Iona College ranks among the top 4 of the 68 schools in the NCAA Tournament when it comes to helping students achieve upward economic mobility and financial security, according to an analysis done by Jorge Klor de Alva, president of the Nexus Research and Policy Center in Washington D.C.
In the three years that Nexus has conducted research using data from the Harvard-based Equality of Opportunity Project, Iona has made it far into this Tournament, which is a reflection on all of its students and graduates – not just the basketball program.
In 2019, Iona joined Villanova, Michigan and Virginia Tech as raising students from the bottom 40 percent of the income ladder to the upper 40 percent by their early 30s according to de Alva. In 2017 and 2018, Iona made it to the round of eight. To paraphrase announcer Dick Vitale, the Gaels are on fire, baby!
"Schools with a record of helping the nation's millions of first-generation and underserved students succeed are not only doing a good thing for their students," the author writes in an article on the74million.org, "they are helping to form strong families, civic-minded communities, and thriving local economies."
The findings are consistent with Iona College's mission and history. Inspired by the legacy of the Blessed Edmund Rice and the Christian Brothers, Iona College believes in the power of education to better the lives of its students. Over the years, its graduates have proved this to be true. Whether it's in the area of finance, business, computer science, music, education, or any number of other areas, Iona graduates are on an impressive list of who's who in their respective industries. Among its alumni, Iona counts current or former CEOs of Visa (Al Kelly), Univision (Randy Falco), Heineken (Maggie Timoney), New York Stock Exchange (Catherine Kinney) and Benihana (Tom Baldwin).
In fact, Iona consistently ranks high among PayScale's salary survey with graduates, earning $73,000 per year, on average, and more than six-figures by mid-career.
"At the end of the day, it's not about the titles or money," says Iona College President Joseph E. Nyre, Ph.D. "It's about helping students achieve the American Dream through the power of education. Iona and its founders always understood that college was a means to transform one's life. To create more opportunities than were ever thought to be possible, that's a major achievement."
ABOUT IONA
Founded in 1940, Iona College is a master's-granting private, Catholic, coeducational institution of learning in the tradition of the Edmund Rice Christian Brothers. Iona's 45-acre campus is just 20 miles north of Midtown Manhattan. With a total enrollment of nearly 4,000 students and an alumni base of over 50,000 around the world, Iona is a diverse community of learners and scholars dedicated to academic excellence and the values of justice, peace and service. Iona is highly accredited, offering undergraduate degrees in liberal arts, science, and business administration, as well as Master of Arts, Master of Science and Master of Business Administration degrees and numerous advanced certificate programs. Iona's LaPenta School of Business is accredited by AACSB International, a prestigious recognition awarded to just five percent of business schools worldwide. The Princeton Review recognized Iona's on-campus MBA program as a "Best Business School for 2020." Iona College also recently launched a new, fully online MBA program for even greater flexibility.