Iona Scholars Day: A Celebration of Research and Resiliency as Presentations Go Virtual
COVID-19 could not stop these Iona Scholars from forging ahead.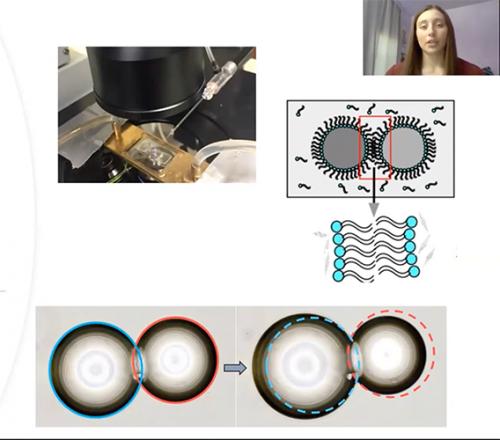 NEW ROCHELLE, N.Y. — Thought-provoking research, adaptability and resiliency – all were on display during the 11th annual Iona College Scholars Day, which this week showcased nearly 25 student research videos on a new virtual platform.
"We are not only proud of these students' academic accomplishments, but also of the adaptability, perseverance and dedication to scholarship they have demonstrated under these unusual circumstances," said Sunghee Lee, Ph.D., Board of Trustees endowed professor, Biophysical/Analytical/Surface Chemistry. "We are grateful to have a team that allows us to continue our wonderful tradition of learning together, and supporting and celebrating each other, even if on new online platforms until we can bring our full community together again."
Typically, Iona Scholars Day offers students an opportunity to share their faculty-mentored work with the greater college community by exhibiting presentations across campus. This year, however, as COVID-19 forced colleges to move to online environments, Iona Scholars opted to create a virtual platform in order to share their outstanding work in a new way. 
Despite the new challenges, nearly 25 students participated by filming and submitting their presentations to the Virtual Scholars Day platform, which is now available for all to view.
Students were encouraged to be as creative as they would like in preparing their videos, but also were given a general outline to help guide them through the production. In many ways, these are the new skills needed for the future not only of research and education, but of the workplace and beyond, so it provided an additional learning experience.
Presentations covered topics including Computer Science, Criminal Justice, Dance, Education, Finance, Psychology, Science, Speech Communication and Text Analysis.
Marnie Skinner '20, a biochemistry major and CBL Scholar, focused her research on the importance of studying graphene oxide's interaction with cellular membranes in order to be able to safely apply it to various biomedical applications. Her research partner was Regan Warmoth '20.
"While not being able to present my work for Iona Scholars Day in person this year was saddening, I am very grateful for this online opportunity to not only share my work, but also express my gratitude for my amazing mentor," said Skinner, who will pursue her doctoral degree starting this fall in the Biochemistry and Molecular Biology Department at Johns Hopkins Bloomberg School of Public Health.
A member of Dr. Lee's lab for all four of her years at Iona, Skinner said her work has not only taught her how to perform lab techniques successfully, but also how to think scientifically and ask the right questions when faced with new challenges.  
"Through Dr. Lee's support I have had many amazing opportunities, such as a research trip to Italy during the summer of 2019, all of which have better prepared me to become a successful scientist, as I wish to do," said Skinner. "Being a member of this lab has opened up doors for me academically that I originally never thought would be available to me. As my time here at Iona ends this spring, I know that I am leaving well-equipped with the tools necessary for success, and it is thanks to Dr. Lee that I will be transitioning to the next step of my education with confidence."
Dr. Margaret Pisani '85, MD, MPH, who was originally scheduled to deliver the Iona Scholars Day keynote address, will instead present next year, as she is currently serving tirelessly as an MD on the front lines of the COVID-19 pandemic at Yale Medicine in New Haven, Conn.
ABOUT IONA
Founded in 1940, Iona College is a master's-granting private, Catholic, coeducational institution of learning in the tradition of the Edmund Rice Christian Brothers. Iona's 45-acre campus is just 20 miles north of Midtown Manhattan. With a total enrollment of nearly 4,000 students and an alumni base of over 50,000 around the world, Iona is a diverse community of learners and scholars dedicated to academic excellence and the values of justice, peace and service. Iona is highly accredited, offering undergraduate degrees in liberal arts, science, and business administration, as well as Master of Arts, Master of Science and Master of Business Administration degrees and numerous advanced certificate programs. Iona's LaPenta School of Business is accredited by AACSB International, a prestigious recognition awarded to just five percent of business schools worldwide. The Princeton Review recognized Iona's on-campus MBA program as a "Best Business School for 2021." Iona College also recently launched a new, fully online MBA program for even greater flexibility.