Iona Students Present Innovative Solutions to Environmental Justice in Yonkers as part of BCW Partnership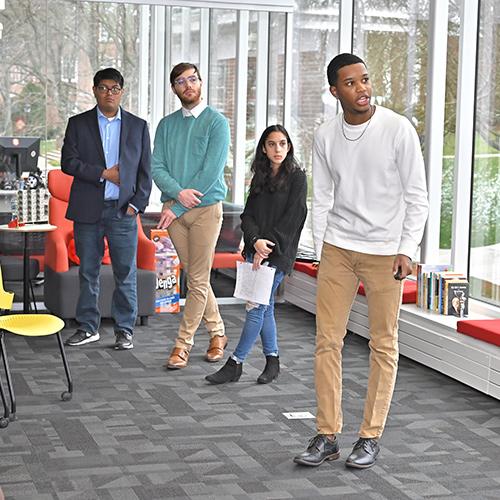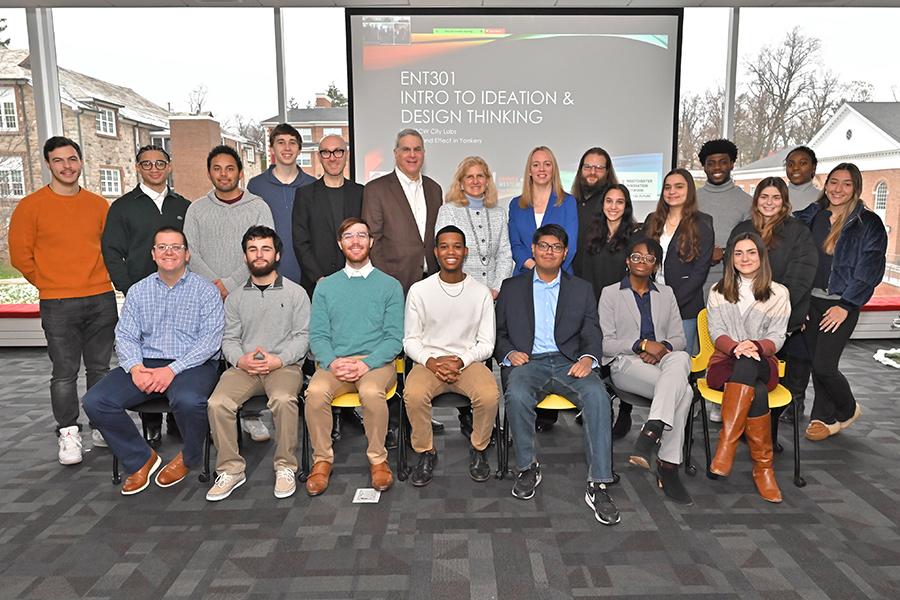 NEW ROCHELLE, N.Y. – Iona University recently completed a collaboration with the Yonkers Housing Authority and Groundwork Hudson Valley to study the awareness of heat islands among residents as part of the Business Council of Westchester's new Westchester Innovation Network (WIN) City Labs initiative.
Students in Iona's Introduction to Ideation and Design Thinking class spent five weeks meeting with the authority's residents to discuss heat island effects in their neighborhoods and other concerns. A heat island is a developed area with little vegetation whose asphalt, concrete or brick surfaces absorb summer heat and make a neighborhood hotter than surrounding areas that possess more grass and trees.
The students' innovative recommendations included:
Mobile heat island simulator that would help educate the public about heat trapping neighborhoods.
Virtual-reality tours of the authority's future construction projects and Groundwork Hudson Valley's future heat-island remediation efforts. The virtual reality demonstrations would be designed to build residents' support and elicit their feedback while the projects are still in the design phase.
"Working on a real-world problem that affects our neighborhoods was a tremendous opportunity for our students," said Dr. Christoph Winkler, program director of the Hynes Institute for Entrepreneurship & Innovation. "By applying the design thinking process to develop solutions to a very complex problem, our students really dove into the stakeholder engagement component of this."
The Iona-Yonkers Housing Authority collaboration was part of City Labs, one of WIN's three efforts to propel innovation as the underpinning for the future economic growth of Westchester. WIN's City Labs spotlights a host community and teams that municipality with individuals focused on identifying projects to assist in delivering immediate economic benefit to that community and its residents through innovation.
"As the Yonkers Housing Authority and Groundwork Hudson Valley travel to Washington, Albany, White Plains and even our properties to educate our elected officials and tenants on the impacts of heat island effect on our tenants we have noticed that some people have difficulty visualizing the issue and its impact. This is not unusual because different people learn in different ways. The innovations that the Iona University students presented directly overcome those challenges and help our audiences see and feel the impact of heat island effect and how we can mitigate it.  It's very exciting to have the students' fresh perspective address a point of frustration in 5-weeks that we have been wrestling with for a while," said Wilson Kimball, the authority's president and CEO.
WIN's City Labs initiative launched earlier this year in Mount Vernon, where Iona students met with owners of minority- and women-owned businesses. The entrepreneurs explained their struggles finding government requests for proposals, bidding on government contracts and tolerating government contracts' payment schedules. The project led to the creation of a landing page designed to help minority- and women-owned businesses secure more municipal contracts.
"WIN's City Labs initiative was designed to help municipalities solve problems. That's where this project comes into play," said Dr. Marsha Gordon, the BCW's CEO, who attended the students' presentation. "Some of the students' findings just might make it into the comprehensive plan for the City of Yonkers, so that's really exciting."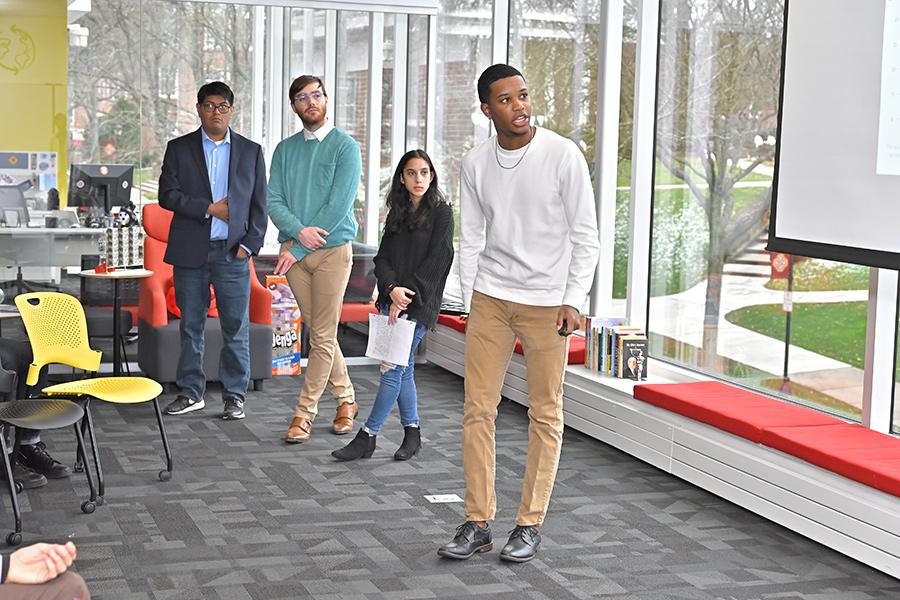 ABOUT IONA
Founded in 1940, Iona University is a master's-granting private, Catholic, coeducational institution of learning in the tradition of the Edmund Rice Christian Brothers. Iona's 45-acre New Rochelle campus and 28-acre Bronxville campus are just 20 miles north of Midtown Manhattan. With a total enrollment of nearly 4,000 students and an alumni base of more than 50,000 around the world, Iona is a diverse community of learners and scholars dedicated to academic excellence and the values of justice, peace and service. Iona is highly accredited, offering undergraduate degrees in liberal arts, science and business administration, as well as Master of Arts, Master of Science and Master of Business Administration degrees and numerous advanced certificate programs. Iona students enjoy small class sizes, engaged professors and a wide array of academic programs across the School of Arts & Science; LaPenta School of Business; NewYork-Presbyterian Iona School of Health Sciences; and Hynes Institute for Entrepreneurship & Innovation. Iona is widely recognized in prestigious rankings, including The Princeton Review's 2024 national list of "The Best 389 Colleges" and The Wall Street Journal/College Pulse's "2024 Best Colleges in America," which ranked Iona at #66 in the nation overall and #8 in the nation among Catholic schools. Iona's LaPenta School of Business is also accredited by AACSB International, a recognition awarded to just five percent of business schools worldwide. In addition, The Princeton Review recognized Iona's on-campus MBA program as a "Best Business School for 2023." Iona also offers a fully online MBA program for even greater flexibility. In July 2021, Iona announced the establishment of the NewYork-Presbyterian Iona School of Health Sciences, which is now principally located on Iona's Bronxville campus in collaboration with NewYork-Presbyterian. Connecting to its Irish heritage, the University also recently announced it is expanding abroad with a new campus in County Mayo, Ireland. A school on the rise, Iona officially changed its status from College to University on July 1, 2022, reflecting the growth of its academic programs and the prestige of an Iona education.