Iona University Announces $5 Million Gift and Naming of the Kelly Center for Health Sciences
Flagship Building of the NewYork-Presbyterian Iona School of Health Sciences Set to Open January 2023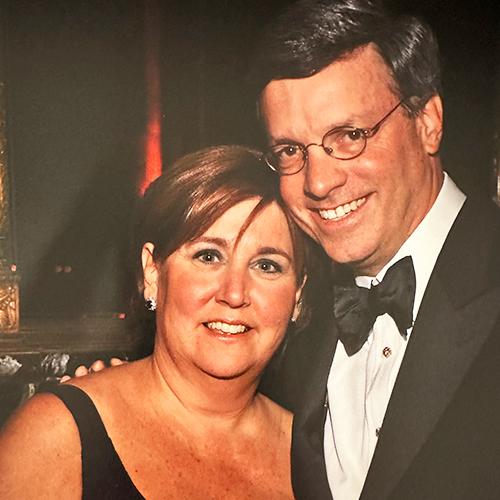 NEW ROCHELLE AND BRONXVILLE, N.Y. – Iona University is proud to announce that the flagship building of the NewYork-Presbyterian Iona School of Health Sciences will be named the Kelly Center for Health Sciences in honor of benefactors Alfred F. Kelly Jr. '80, '81MBA, '19H, chairman and chief executive officer of Visa, and Peggy Kelly '81, '84MBA.
In making a $5 million gift to Iona, the Kellys said they are happy to invest behind the vision of President Seamus Carey, Ph.D., and his colleagues to help jumpstart the University's new campus in Bronxville, N.Y.
"Giving today is increasingly about investing, and this felt like the right time, place and effort to invest behind," the Kellys said in a joint interview. "It is an incredible feather in the cap of Iona University to be partnered with NewYork-Presbyterian and we believe it will lead to the NewYork-Presbyterian Iona School of Health Sciences being one of the top schools in these important fields of study."
The nearly 32,000-square-foot Kelly Center for Health Sciences is set to open in January 2023. Located on the former campus of Concordia College, which Iona acquired in May 2021, the newly renovated building spans three floors and features the most modern equipment, spaces and amenities. Notably, the entire top floor is dedicated to recreating a hospital setting, complete with simulation labs, exam rooms and training equipment on the cutting-edge of the industry.  
"I am so grateful for Al and Peggy's incredible generosity in naming the Kelly Center for Health Sciences," Carey said. "The knowledge and training that will emanate from this building will be transformative not only for our students and their families, but for the individuals and the communities they will go on to serve. The future is bright at Iona, and the Kelly Center for Health Sciences will be a beacon for all those who feel called to serve others through these fields."  
Established in July 2021 and supported by a $20 million gift, the NewYork-Presbyterian Iona School of Health Sciences offers a new vision for collaborative education, modern workforce development and community care. NewYork-Presbyterian is consistently ranked one of the nation's best hospitals and is also a leader in medical education in collaboration with two renowned medical schools: Weill Cornell Medicine and Columbia University Vagelos College of Physicians and Surgeons.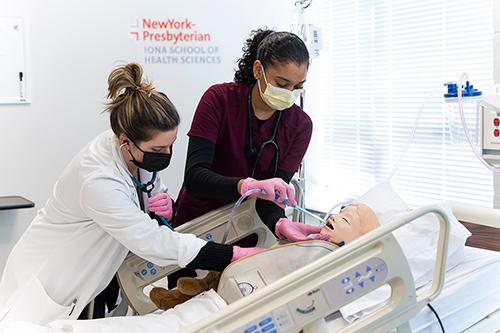 The Kellys are keenly aware of the amazing things happening at NewYork-Presbyterian. One of their five children, Kaitlin, battled two bouts of cancer at the hospital, and Mr. Kelly has served on the Board of Trustees since 2005.
"In our opinion, it is the finest academic medical center in the world and is fortunate to be led by an incredible person in Dr. Steven Corwin. The doctors, nurses, administrators and other health care professionals are the best and the patient experience is simply awesome," the Kellys said. "Our charitable support has always been focused on education, the Catholic Church and health care. The NewYork-Presbyterian Iona School of Health Sciences is a union of all three areas of focus for us."
Dr. Steven Corwin, NewYork-Presbyterian president and CEO, congratulated the Kellys on the naming of the new building, adding his excitement for all that is still to come.
"The collaboration between NewYork-Presbyterian and Iona University will help to ensure that the next generation of health care professionals is highly skilled, well trained and compassionate in their care of others," Corwin said. "I am so pleased that the anchor of these efforts will be the Kelly Center for Health Sciences. Thank you to Al and Peggy Kelly for their remarkable generosity and support."
On a personal note, the Kellys began their relationship at Iona in December 1977, when they went to an Iona basketball game and bonded over a common interest. They also were both the oldest in their families, commuted to Iona and worked part-time to help pay for expenses. Peggy majored in accounting in the former Hagan School of Business; Al studied computer and information science in the School of Arts & Science. Both also earned their Master in Business Administration at Iona. Forty-five years later, you can still see the Kellys sitting courtside as longtime season ticket holders.
Reflecting on the legacy that the Kelly Center for Health Sciences will have at Iona, they said the building is just a structure – what matters most are the students who will emerge transformed by the education they've received within.
"The legacy will be the nurses, nurse practitioners, physical therapists, physician assistants and many others, and the work they will do to assist in the treatment of people who find themselves requiring care," the Kellys said. "The field of health care is a calling, and we hope that thousands of Iona University students go on to share their calling by helping to save lives and make lives better for many."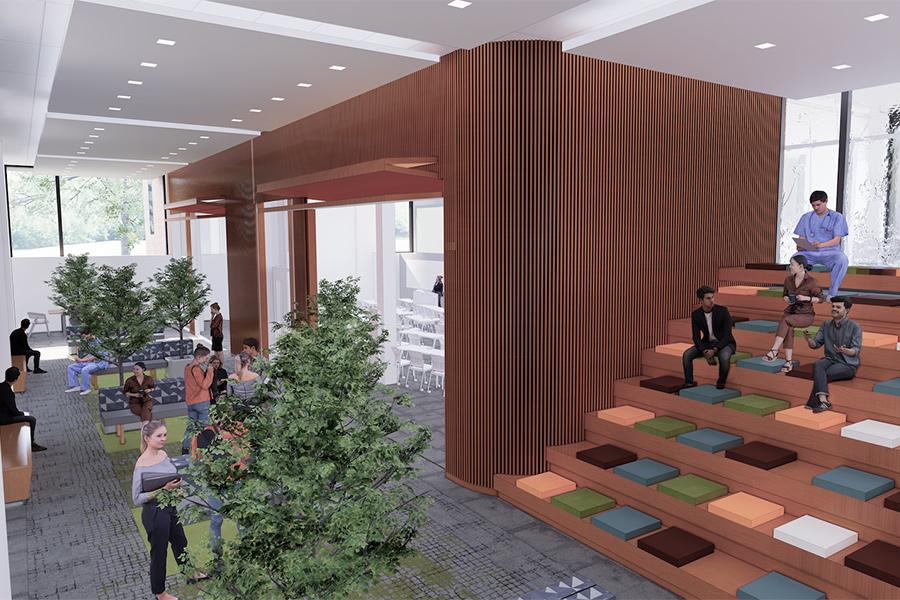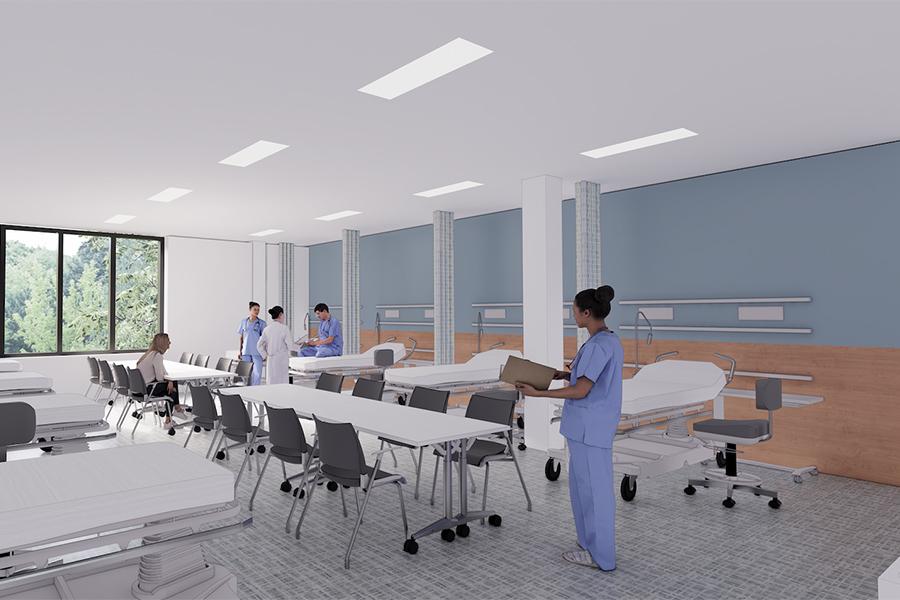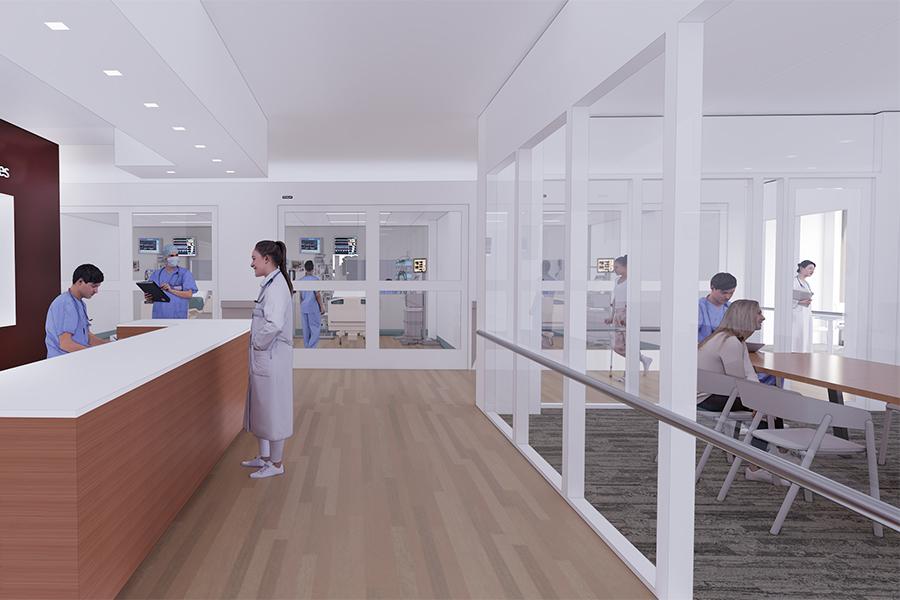 ABOUT IONA
Founded in 1940, Iona University is a master's-granting private, Catholic, coeducational institution of learning in the tradition of the Edmund Rice Christian Brothers. Iona's 45-acre New Rochelle campus and 28-acre Bronxville campus are just 20 miles north of Midtown Manhattan. With a total enrollment of nearly 4,000 students and an alumni base of over 50,000 around the world, Iona is a diverse community of learners and scholars dedicated to academic excellence and the values of justice, peace and service. Iona is highly accredited, offering undergraduate degrees in liberal arts, science, and business administration, as well as Master of Arts, Master of Science and Master of Business Administration degrees and numerous advanced certificate programs. Iona's LaPenta School of Business is accredited by AACSB International, a prestigious recognition awarded to just five percent of business schools worldwide. The Princeton Review recognized Iona's on-campus MBA program as a "Best Business School for 2023." Iona University also recently launched a new, fully online MBA program for even greater flexibility. In July 2021, Iona University and NewYork-Presbyterian announced the establishment of the NewYork-Presbyterian Iona School of Health Sciences, to be principally located on the University's new campus in Bronxville, N.Y. Supported by a $20 million gift from NewYork-Presbyterian, the NewYork-Presbyterian Iona School of Health Sciences offers a new vision for collaborative health care education, modern workforce development, and community care. On July 1, 2022, Iona officially changed its status from College to University, reflecting the growth of its academic programs and the prestige of an Iona education.