Iona University Awarded $1.5 Million National Science Foundation Grant to Support the Next Generation of STEM Educators
Funding will support student scholarships and help fill a critical need for STEM teachers in high-need school districts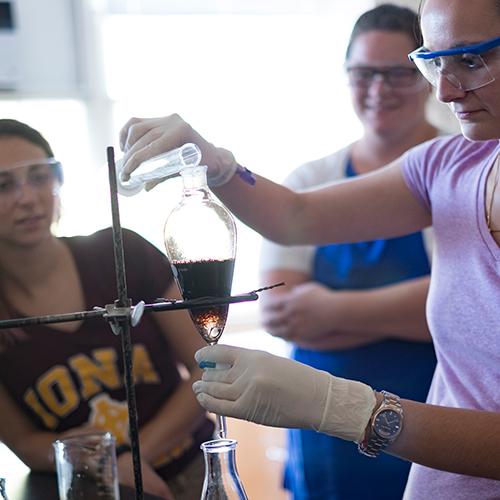 The National Science Foundation (NSF) has awarded Iona University a five-year, $1.5 million grant to establish the INSTRUCT program, or Inspiring STEM Teachers to Reach Underserved Classrooms Together. Working in partnership with SUNY Westchester Community College (WCC), the grant will help Iona prepare the next generation of STEM educators and meet the critical need for teachers of science, technology, engineering and math in underserved districts. Funding was provided through the foundation's Robert Noyce Teacher Scholarship Program.
Students in Iona's INSTRUCT program will receive scholarship funding for the final two years of their undergraduate study and one year of graduate study in the University's 4+1 BS/MST combined degree programs, which allows students to earn their bachelor's and master's degrees in just five years, saving tuition expenses while getting them into their careers faster. Current Iona students and WCC transfer students who are accepted into Iona's 4+1 BS/MST programs and are studying to become biology, chemistry or mathematics teachers will be eligible to apply.
Along with scholarship support, the INSTRUCT program is designed to recruit additional STEM students and/or WCC transfer students to the field, while also providing experiential learning opportunities, academic enrichment and other opportunities. The program will also support INSTRUCT alumni during their careers by providing mentorship and other support activities as they develop and grow in the classroom.
In return, INSTRUCT scholars must commit to two years of working as a full-time teacher for every one year of Noyce scholarship support they receive. This process will be facilitated by Iona's partner school districts where students also complete student teaching.
The grant was awarded to principal investigator Kathleen Kristian, Ph.D., associate professor of inorganic chemistry and chair of the Chemistry & Biochemistry Department, and her fellow INSTRUCT program faculty members including Christina Andruk, Ph.D., assistant professor of biology; Joseph Stabile, Ph.D., dean of the School of Arts & Science and professor of biology; Benjamin Gaines, Ph.D., associate professor of mathematics; Margaret Smith, Ph.D., associate professor of mathematics education; Dennis Gunn, Ph.D., CFC, '93, assistant professor of education; and WCC's Stergios Bibis, Ph.D. 
"The faculty in Iona's departments of Biology, Chemistry & Biochemistry, Mathematics & Physics and Education, as well as our partners at SUNY Westchester, are ready to work to increase the number of STEM majors in the pipeline of future teachers," Kristian said. "Thank you to the National Science Foundation for recognizing and supporting this important need. Teachers with strong content preparation and the skills and mindset required to persist will help address the STEM teacher shortage in New York State. We look forward to welcoming the first cohort of INSTRUCT scholars in the Fall 2023 semester."
ABOUT IONA
Founded in 1940, Iona University is a master's-granting private, Catholic, coeducational institution of learning in the tradition of the Edmund Rice Christian Brothers. Iona's 45-acre New Rochelle campus and 28-acre Bronxville campus are just 20 miles north of Midtown Manhattan. With a total enrollment of nearly 4,000 students and an alumni base of more than 50,000 around the world, Iona is a diverse community of learners and scholars dedicated to academic excellence and the values of justice, peace and service. Iona is highly accredited, offering undergraduate degrees in liberal arts, science and business administration, as well as Master of Arts, Master of Science and Master of Business Administration degrees and numerous advanced certificate programs. Iona students enjoy small class sizes, engaged professors and a wide array of academic programs across the School of Arts & Science; LaPenta School of Business; NewYork-Presbyterian Iona School of Health Sciences; and Hynes Institute for Entrepreneurship & Innovation. Iona is widely recognized in prestigious rankings, including The Princeton Review's 2024 national list of "The Best 389 Colleges" and The Wall Street Journal/College Pulse's "2024 Best Colleges in America," which ranked Iona at #66 in the nation overall and #8 in the nation among Catholic schools. Iona's LaPenta School of Business is also accredited by AACSB International, a recognition awarded to just five percent of business schools worldwide. In addition, The Princeton Review recognized Iona's on-campus MBA program as a "Best Business School for 2023." Iona also offers a fully online MBA program for even greater flexibility. In July 2021, Iona announced the establishment of the NewYork-Presbyterian Iona School of Health Sciences, which is now principally located on Iona's Bronxville campus in collaboration with NewYork-Presbyterian. Connecting to its Irish heritage, the University also recently announced it is expanding abroad with a new campus in County Mayo, Ireland. A school on the rise, Iona officially changed its status from College to University on July 1, 2022, reflecting the growth of its academic programs and the prestige of an Iona education.