Iona University Celebrates 50 Years of Women's Basketball
The Iona University community gathered on January 28 to celebrate the growth of the program over the years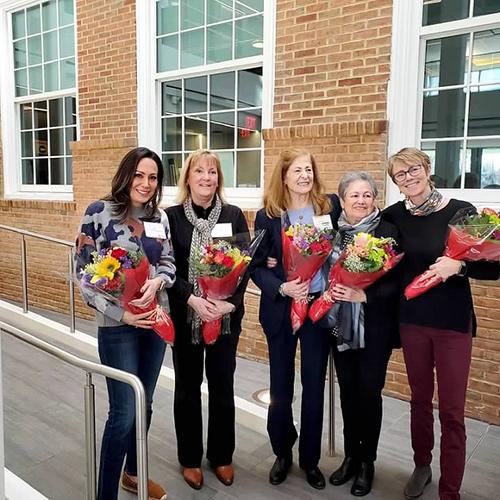 NEW ROCHELLE, N.Y. — Members of the Iona University community celebrated 50 years of women's basketball with a reception on January 28, 2023. Gathered in the LaPenta School of Business atrium, the event included formal remarks, a recognition ceremony for historic MVPs, and a special video presentation highlighting the program and its achievements over the years.
Iona's first varsity women's sport, the women's basketball team was founded in 1973, shortly after Iona opened its doors to women in 1969, and the team played their first game against Manhattanville College on February 7, 1973. Building on that foundation, Iona's women's basketball program has grown to become a fierce competitor in the Metro Atlantic Athletic Conference (MAAC).
"It's an honor to celebrate 50 years of women's basketball at Iona," said Director of Athletics Matthew Glovaski. "While the uniforms, venues, and team members may have changed over the years, the dedication and perseverance that our Gaels display on the court have remained the same. Thank you to all who celebrated this occasion with us, and to all who have had an influence and impact on this program. I look forward to celebrating this team and its accomplishments for years to come."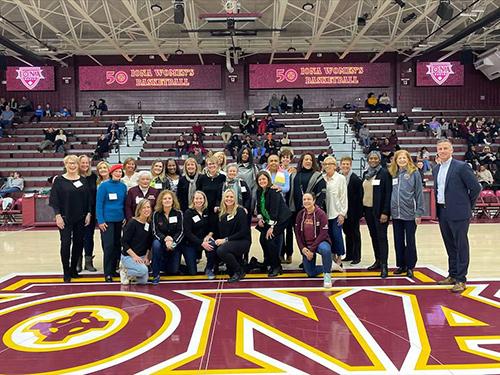 Notable alumni instrumental in creating Iona's women's basketball program were honored, including Janice "Ghiorsi" Crowley '76, Ruthanne "Mahoney" Boehmcke '76, and Jeanne Morris '74, who was honored posthumously; her daughter, Amy Torigian Parise '03MST attended the celebration and accepted the recognition. Sandie Capifali, Iona's first women's basketball coach from 1974-1984, and Fran Clemente '95, head coach from 1988-1993, were also honored. Maggie Timoney '89, '92MBA, Heineken CEO and former Iona basketball player, also attended the celebration.
Led by Coach Billi Chambers, Iona's women's basketball team went on to secure a win over Manhattan College after the anniversary event. As of February 3, the Gaels have 10 straight wins, are in first place in the MAAC standings, and have a conference record of 11-1. Additionally, on January 19, the team broke an NCAA record by scoring 15 consecutive three-point field goals, breaking the previous record set by North Carolina State. Meanwhile, the Gaels picked up 316 votes in the College Insider Women's Mid Major Top 25 Poll, appearing at No. 17, the only MAAC team inside the top 25.
Watch: Iona Women's Basketball Coaches Past and Present
ABOUT IONA
Founded in 1940, Iona University is a master's-granting private, Catholic, coeducational institution of learning in the tradition of the Edmund Rice Christian Brothers. Iona's 45-acre New Rochelle campus and 28-acre Bronxville campus are just 20 miles north of Midtown Manhattan. With a total enrollment of nearly 4,000 students and an alumni base of over 50,000 around the world, Iona is a diverse community of learners and scholars dedicated to academic excellence and the values of justice, peace and service. Iona is highly accredited, offering undergraduate degrees in liberal arts, science, and business administration, as well as Master of Arts, Master of Science and Master of Business Administration degrees and numerous advanced certificate programs. Iona's LaPenta School of Business is accredited by AACSB International, a prestigious recognition awarded to just five percent of business schools worldwide. The Princeton Review recognized Iona's on-campus MBA program as a "Best Business School for 2023." Iona University also recently launched a new, fully online MBA program for even greater flexibility. In July 2021, Iona University and NewYork-Presbyterian announced the establishment of the NewYork-Presbyterian Iona School of Health Sciences, to be principally located on the University's new campus in Bronxville, N.Y. Supported by a $20 million gift from NewYork-Presbyterian, the NewYork-Presbyterian Iona School of Health Sciences offers a new vision for collaborative health care education, modern workforce development, and community care. On July 1, 2022, Iona officially changed its status from College to University, reflecting the growth of its academic programs and the prestige of an Iona education.