Iona University Computer Science Students Create Their Own Virtual Reality Worlds
Finalizing their midterm projects, students used cutting-edge technology to present various virtual scenarios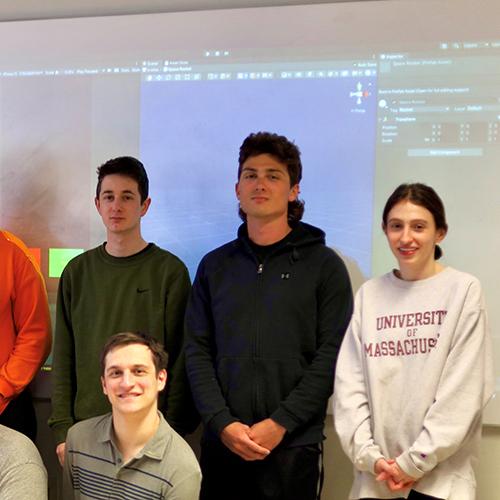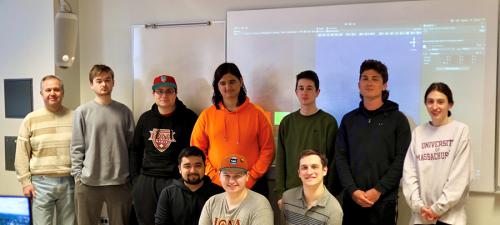 NEW ROCHELLE, N.Y. — Students in Iona University's computer science advanced game development course created their own virtual reality worlds, which they demonstrated as midterm projects for the semester. Using a special helmet device, students were transported to alternate realities created by their own hard work and design.
Virtual reality game development is one of the most cutting-edge fields of computer science, with applications ranging from entertainment and advertising to serious training simulations in defense, medicine, psychology and STEM (science, technology, engineering and math).
Student projects included stylized puzzle rooms, where the student solved puzzles in order to advance; dungeons and monster-inhabited islands, where students had to defend themselves; the pitcher's mound of a baseball field, with a bat in hand; and one even flipped the virtual world upside down.
"Everyone had a great time and showed off their talent and creativity," said Lubomir Ivanov, Ph.D., Iona University computer science professor. "Iona students majoring in computer science with a concentration in game development are at the forefront of a new wave of technological innovation that promises to transform our lives and careers. They've accomplished so much and it's only the middle of the semester – the best is yet to come."
ABOUT IONA
Founded in 1940, Iona University is a master's-granting private, Catholic, coeducational institution of learning in the tradition of the Edmund Rice Christian Brothers. Iona's 45-acre New Rochelle campus and 28-acre Bronxville campus are just 20 miles north of Midtown Manhattan. With a total enrollment of nearly 4,000 students and an alumni base of more than 50,000 around the world, Iona is a diverse community of learners and scholars dedicated to academic excellence and the values of justice, peace and service. Iona is highly accredited, offering undergraduate degrees in liberal arts, science and business administration, as well as Master of Arts, Master of Science and Master of Business Administration degrees and numerous advanced certificate programs. Iona students enjoy small class sizes, engaged professors and a wide array of academic programs across the School of Arts & Science; LaPenta School of Business; NewYork-Presbyterian Iona School of Health Sciences; and Hynes Institute for Entrepreneurship & Innovation. Iona is widely recognized in prestigious rankings, including The Princeton Review's 2024 national list of "The Best 389 Colleges" and The Wall Street Journal/College Pulse's "2024 Best Colleges in America," which ranked Iona at #66 in the nation overall and #8 in the nation among Catholic schools. Iona's LaPenta School of Business is also accredited by AACSB International, a recognition awarded to just five percent of business schools worldwide. In addition, The Princeton Review recognized Iona's on-campus MBA program as a "Best Business School for 2023." Iona also offers a fully online MBA program for even greater flexibility. In July 2021, Iona announced the establishment of the NewYork-Presbyterian Iona School of Health Sciences, which is now principally located on Iona's Bronxville campus in collaboration with NewYork-Presbyterian. Connecting to its Irish heritage, the University also recently announced it is expanding abroad with a new campus in County Mayo, Ireland. A school on the rise, Iona officially changed its status from College to University on July 1, 2022, reflecting the growth of its academic programs and the prestige of an Iona education.