Iona University Dedicates Kelly Center for Health Sciences in Bronxville
Flagship building of NewYork-Presbyterian Iona School of Health Sciences named with $5M gift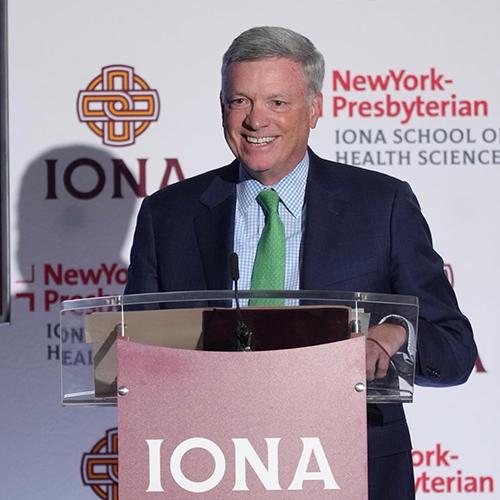 BRONXVILLE, N.Y. – Iona University hosted a dedication ceremony for the Kelly Center for Health Sciences on January 12, 2023, recognizing benefactors Alfred F. Kelly Jr. '80, '81MBA, '19H, chairman and chief executive officer of Visa, and Peggy Kelly '81, '84MBA, who generously gifted $5 million to name the building.
Located on Iona's new campus in Bronxville, N.Y., the Kelly Center for Health Sciences will serve as the flagship building of the NewYork-Presbyterian Iona School of Health Sciences.
"It is a great honor to be opening the Kelly Center for Health Sciences, as we believe the NewYork-Presbyterian Iona School of Health Sciences will become a top destination for all those who feel called to serve others through these important fields of study," said Al Kelly. "This is a proud moment for our family and a historic milestone for our alma mater."
"The legacy of the Kelly Center for Health Sciences will be built through the many thousands of Iona students who go on to save and improve lives for generations to come," said Peggy Kelly. "Al and I are humbled by this gorgeous new facility, and we look forward to all that is still to come."
During the dedication ceremony, Iona University President Seamus Carey, Ph.D., said the opening of the Kelly Center for Health Sciences marked the beginning of a new era for Iona. Classes are set to begin at Iona Bronxville for the first time on Tuesday, January 17.
"At a time when many private institutions of higher education are challenged to stay open, Iona made the move to purchase a new campus to accommodate growth," said Carey. "This building and this campus are wellsprings of hope, not only for the students who will study here, but for the people and communities they will serve. The students who pass through this school and this building will make their mark on the world by providing health care with compassion. They will be distinctive not only for what they know, but for their generosity of spirit that is endemic in the Iona culture."
The Kelly Center for Health Sciences spans three floors and is nearly 32,000 square feet. With a design philosophy focused on holistic wellness, the building is bright, eco-friendly and infused with natural elements. Cutting-edge, collaborative spaces, meanwhile, promote interdisciplinary learning.
Building Highlights Include:
Six classroom seminar rooms and a collaborative area
Five simulation rooms with connected control rooms
Four laboratory rooms, including a physical assessments lab, bedside skills lab, flex occupational therapy lab and adult occupational therapy lab
Two group therapy rooms
Two patient examination rooms
Interprofessional Education (IPE) collaboration space
Two student lounges with seating, an 85-inch television display, kitchen and vending area
Two debrief rooms
Two administrative offices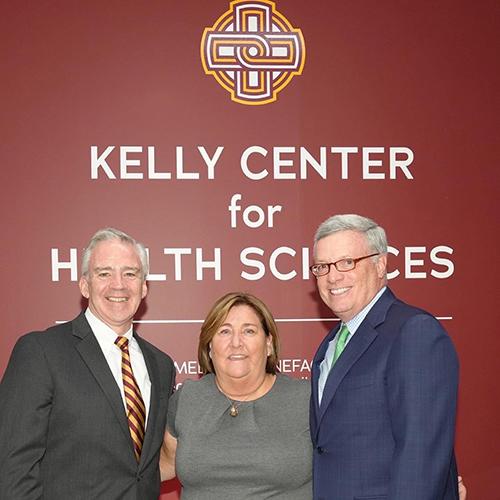 The Kelly Center for Health Sciences completely transformed what was formerly the library of the Concordia College campus, which Iona acquired in May 2021. Renovations began April 2022.
By retaining the existing structure of the 50-year-old building, as well as the interior floors, stairs and elevator, Iona and the project team not only minimized the time and cost of the project, but also the environmental impact. The building will also reduce fossil fuel consumption and carbon emissions by utilizing new heat-pump technology for heating and cooling. Other eco-friendly improvements include dimmable LED lighting as well as new double-pane windows, updated air systems and more. 
Iona worked with industry leaders on the design and execution of the project, including SLAM, the architecture firm; Consigli, the construction company; and JLL, a real estate services and project management firm.
Established in July 2021 and supported by a $20 million gift, the NewYork-Presbyterian Iona School of Health Sciences offers a new vision for collaborative education, modern workforce development and community care. NewYork-Presbyterian is consistently ranked one of the nation's top hospitals and is also a leader in medical education in collaboration with two renowned medical schools: Weill Cornell Medicine and Columbia University Vagelos College of Physicians and Surgeons.
"We are pleased to celebrate the dedication of the Kelly Center for Health Sciences, and we are grateful to Al and Peggy Kelly for their generosity and support," said Dr. Steven J. Corwin, NewYork-Presbyterian President and CEO. "Today is a momentous occasion, and it is just the start. We look forward to the continued development of the NewYork-Presbyterian Iona School of Health Sciences and educating the next generation of health care professionals." 
Approximately 150 people attended the dedication ceremony, including Bronxville Mayor Mary Marvin and the Board of Trustees; New Rochelle Mayor Noam Bramson; New York State Assemblymember Amy Paulin; Deputy County Executive Ken Jenkins; New York State Senator Shelley Mayer; and former United States House of Representatives Majority Leader Richard Gephardt.
In a special video message recorded for the dedication ceremony, His Eminence Cardinal Timothy Dolan, Archbishop of New York, congratulated President Carey and offered thanks to Al and Peggy Kelly. One attribute he has noticed about Iona students, he said, is their commitment and drive to serving others. Iona's growth in the health sciences is therefore in full alignment, he added.  
"This project is the perfect culmination of the advocacy work that Al and Peggy have made it their personal mission to fulfill – Catholic education and health care," said Cardinal Dolan. "The Kelly Center for Health Sciences will not only impact the lives of those who learn within it, but also the many thousands of lives that are going to benefit from the education that Iona students will receive."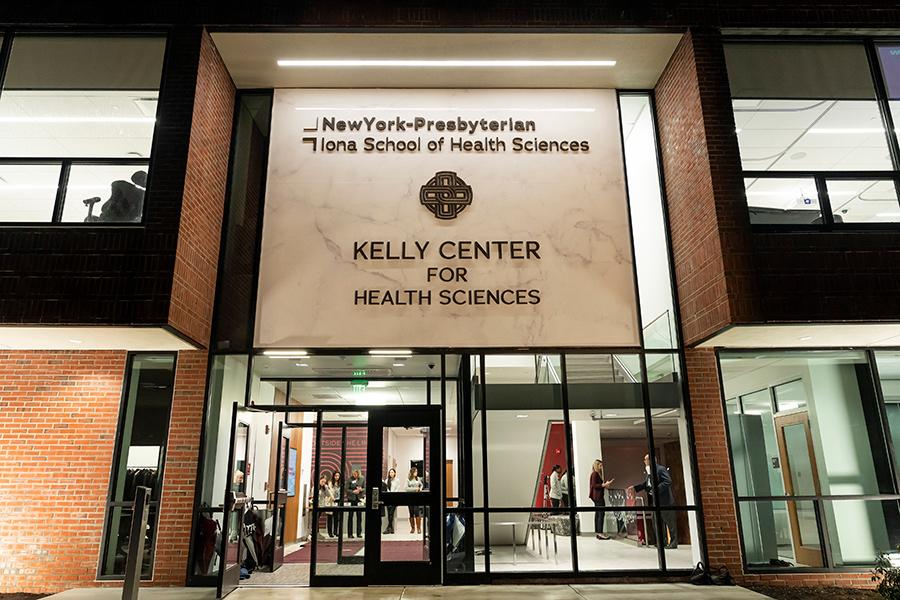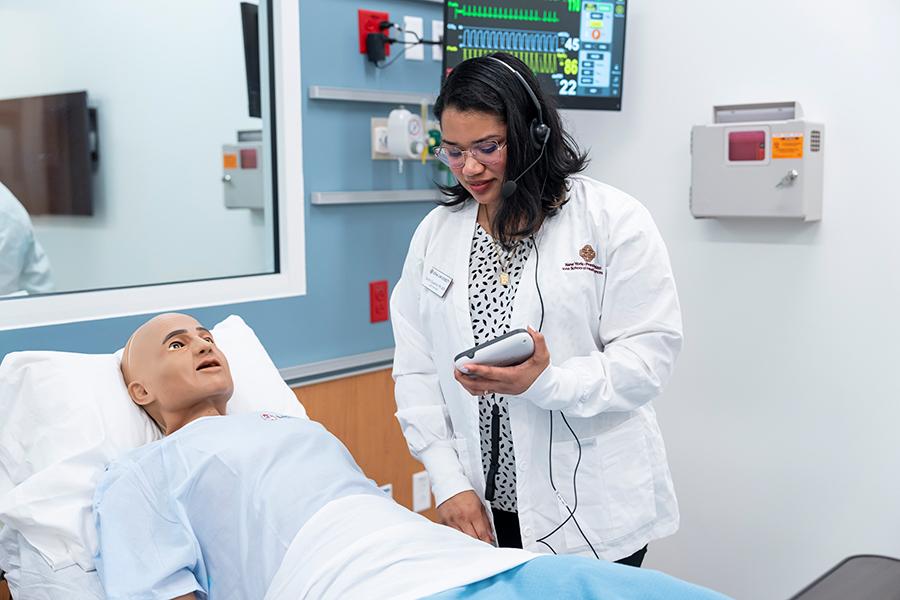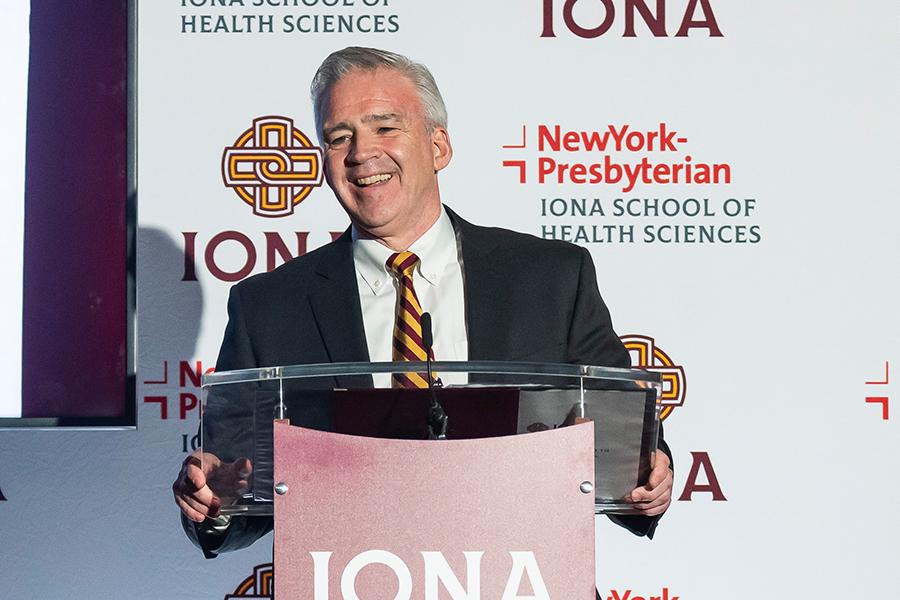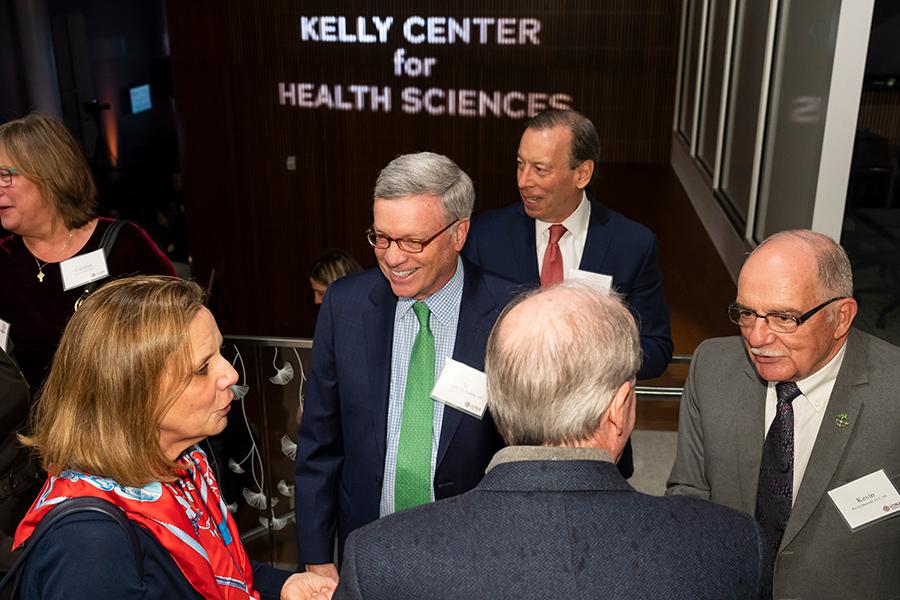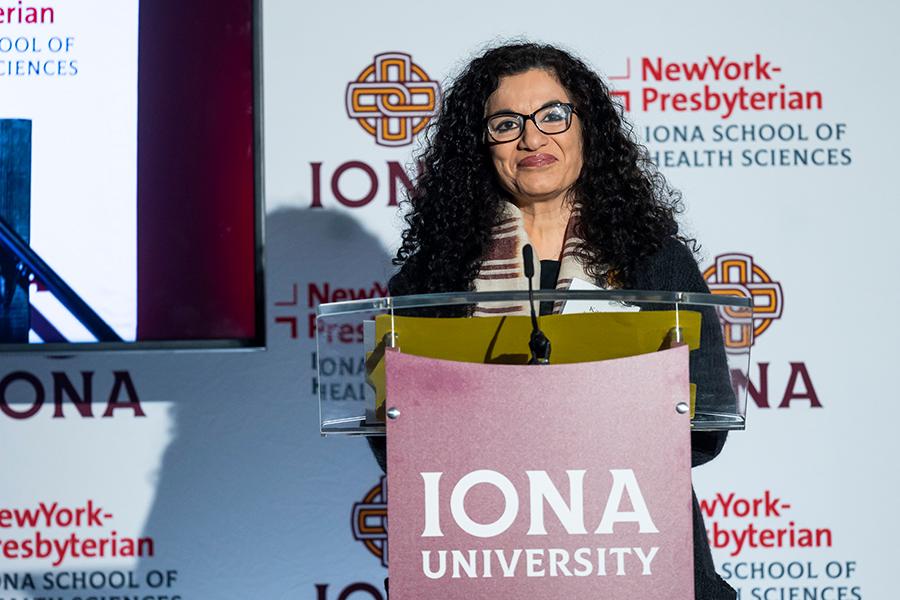 ABOUT IONA
Founded in 1940, Iona University is a master's-granting private, Catholic, coeducational institution of learning in the tradition of the Edmund Rice Christian Brothers. Iona's 45-acre New Rochelle campus and 28-acre Bronxville campus are just 20 miles north of Midtown Manhattan. With a total enrollment of nearly 4,000 students and an alumni base of over 50,000 around the world, Iona is a diverse community of learners and scholars dedicated to academic excellence and the values of justice, peace and service. Iona is highly accredited, offering undergraduate degrees in liberal arts, science, and business administration, as well as Master of Arts, Master of Science and Master of Business Administration degrees and numerous advanced certificate programs. Iona's LaPenta School of Business is accredited by AACSB International, a prestigious recognition awarded to just five percent of business schools worldwide. The Princeton Review recognized Iona's on-campus MBA program as a "Best Business School for 2023." Iona University also recently launched a new, fully online MBA program for even greater flexibility. In July 2021, Iona University and NewYork-Presbyterian announced the establishment of the NewYork-Presbyterian Iona School of Health Sciences, to be principally located on the University's new campus in Bronxville, N.Y. Supported by a $20 million gift from NewYork-Presbyterian, the NewYork-Presbyterian Iona School of Health Sciences offers a new vision for collaborative health care education, modern workforce development, and community care. On July 1, 2022, Iona officially changed its status from College to University, reflecting the growth of its academic programs and the prestige of an Iona education.