Iona University Freshman Qualifies for Two Nationally Renowned Classical Singing Competitions
Arts leadership major Krisna Rivera '26 will travel to California to compete in the Classical Singers (CS) Vocal Competition and the National Association of Teachers of Singing (NATS) Student Auditions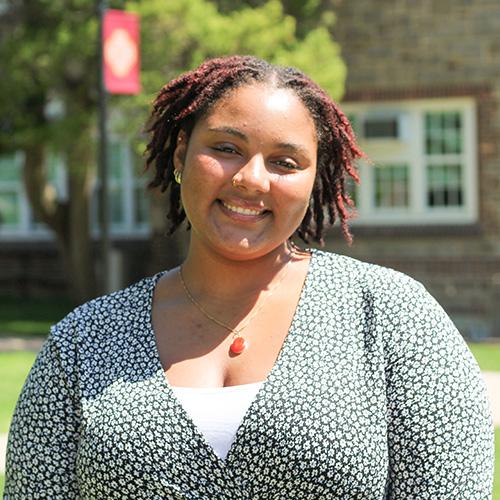 It will be a busy, but rewarding summer for Iona University student Krisna Rivera '26. The freshman arts leadership major will head to the Golden State to compete in two highly prestigious classical singing competitions, the Classical Singers (CS) Vocal Competition and the National Association of Teachers of Singing (NATS) Student Auditions.
"Participating in regional competitions this year has been an amazing experience," Rivera said. "It's allowed me to get a taste of the amazing music young people like me can make and perform. I am so happy and thankful for this opportunity and I can't wait for Nationals!"
First up, Rivera will showcase her skills at the CS Vocal Competition in San Francisco, Calif., from May 26-29. The CS Vocal Competition provides over $5.6 million in university and summer program scholarships and $13,000 in cash prizes. The competition also provides invaluable growth opportunities as contestants receive written feedback from university faculty and industry professionals as well as access to an exclusive masterclass.
Next, Rivera will head to San Diego, Calif., to compete in the NATS Student Auditions from July 7-9. This opportunity arose after Rivera won her division of the NATS Eastern Region Student Auditions, where she came out on top amongst contestants from Delaware, New Jersey, New York, Pennsylvania, Quebec and West Virginia. Now a contender in the National Auditions, Rivera will compete against talented collegiate vocalists from across the country and network with the largest group of professional voice teachers in the world.
"The CS Vocal Competition and NATS Student Auditions are both highly prestigious singing competitions for classical vocalists," said Adam Rosado, Ph.D., director of the Iona University Music Program. "Students train for these competitions for years, yet Krisna's success has come early in her college career. Her win at the NATS Eastern Region Student Auditions is an incredible accomplishment and a great source of pride for the Music Program and the entire University. She's a marvelous singer and her place in these prestigious finals is well-earned."
During the competitions, Rivera will be singing an impressive repertoire of works in three different languages – German, French and English.
In addition to competing in distinguished national competitions, Rivera is also active on Iona's campus as a member of the Vocal Ensemble. She recently participated in the annual Music Program Spring Concert, where she gave a memorable, show-stopping performance.
"Krisna's performance [in Iona's Music Program Spring Concert] demonstrated impressive grace and poise," said John Petrucelli, Ph.D., an award-winning saxophonist and composer, as well as the concert's guest artist. "I'm looking forward to seeing how her focus will continue to deepen her approach and interpretive abilities as her career unfolds."
ABOUT IONA
Founded in 1940, Iona University is a master's-granting private, Catholic, coeducational institution of learning in the tradition of the Edmund Rice Christian Brothers. Iona's 45-acre New Rochelle campus and 28-acre Bronxville campus are just 20 miles north of Midtown Manhattan. With a total enrollment of nearly 4,000 students and an alumni base of over 50,000 around the world, Iona is a diverse community of learners and scholars dedicated to academic excellence and the values of justice, peace and service. Iona is highly accredited, offering undergraduate degrees in liberal arts, science, and business administration, as well as Master of Arts, Master of Science and Master of Business Administration degrees and numerous advanced certificate programs. Iona's LaPenta School of Business is accredited by AACSB International, a prestigious recognition awarded to just five percent of business schools worldwide. The Princeton Review recognized Iona's on-campus MBA program as a "Best Business School for 2023." Iona University also recently launched a new, fully online MBA program for even greater flexibility. In July 2021, Iona University and NewYork-Presbyterian announced the establishment of the NewYork-Presbyterian Iona School of Health Sciences, to be principally located on the University's new campus in Bronxville, N.Y. Supported by a $20 million gift from NewYork-Presbyterian, the NewYork-Presbyterian Iona School of Health Sciences offers a new vision for collaborative health care education, modern workforce development, and community care. On July 1, 2022, Iona officially changed its status from College to University, reflecting the growth of its academic programs and the prestige of an Iona education.