Iona University Pinning Ceremony Celebrates Next Steps into Nursing
Longstanding tradition signifies entry into the profession for new nursing graduates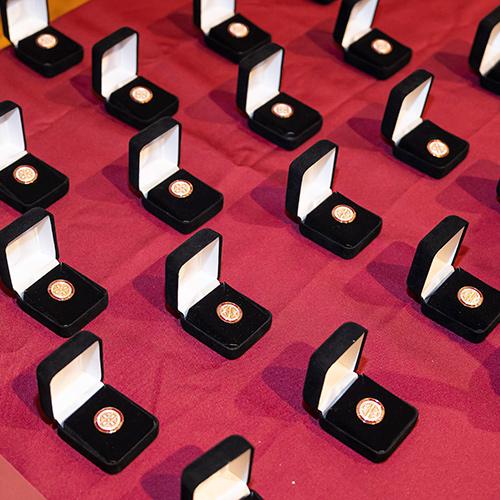 Bronxville, N.Y. – As a little girl, Antonella Tortorella '23 remembers watching her grandmother getting ready for work, heading out early in her scrub dress and heels for a long day of caring for others as a nurse in Argentina.
"Yes, you heard me right, heels!" Tortorella said, eliciting laughs from her fellow classmates, family members and friends at Iona's Nursing Pinning Ceremony. "She would go out to care for her patients each and every day, and even at that young age, I recognized her dedication."
On Friday, the Class of 2023 celebrated the culmination of their nursing education and their first steps into the profession of nursing, enjoying a rite of passage known as the Nursing Pinning Ceremony.
Dating back to Florence Nightingale, who laid the foundation for professional nursing with the establishment of her nursing school in London in the 1860s, the Nursing Pinning Ceremony is a deeply meaningful tradition for nurses. For some, it is even more cherished than Commencement, given the close bonds that form through rigorous training together as a cohort.
This year's class – the first traditional nursing cohort to graduate from Iona University's NewYork-Presbyterian Iona School of Health Sciences – consisted of 19 students.
"Many of us dealt with tough moments throughout the adventure," Tortorella said. "But God made sure to send us each other to hold strong when the other was weak. Bonds like this are once in a lifetime, and I couldn't be more thankful that God blessed me with meeting such empathetic, loving, optimistic, strong and uplifting future nurses."
AN ETHOS OF COMPASSION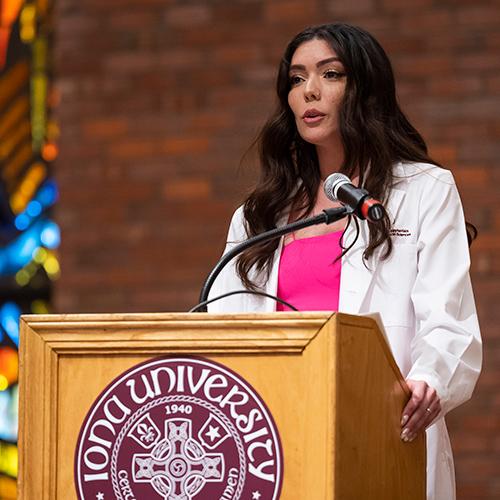 Each institution's nursing pin is designed to reflect the values and ethos of the program. As such, Iona's pin consists of a Celtic Knot Cross, reflecting the legacy of faith, service and deep spiritual compassion that is at the core of an Iona education.
"We are incredibly proud of the work you've done," said Iona President Seamus Carey, Ph.D. "You have studied a rigorous curriculum, and we know that academically, you are prepared to go out and make a big difference in the world of healthcare not just through the knowledge you've accumulated, but also through the ethic of care that we pride ourselves in at Iona."
Iona's director of nursing, Sherylyn Watson, Ph.D., MSN, RN, CNE, directed the ceremony, which also included a blessing from Father Gerard Mulvey, OFM, remarks from Provost Tricia Mulligan, Ph.D., and a presentation of pins, candle lighting ceremony, nursing pledge and musical performance. The event took place in the Sommer Center for Performing Arts on Iona's new campus in Bronxville, N.Y., where the state-of-the-art new Kelly Center for Health Sciences opened in January 2023.
PREPARED FOR THE JOURNEY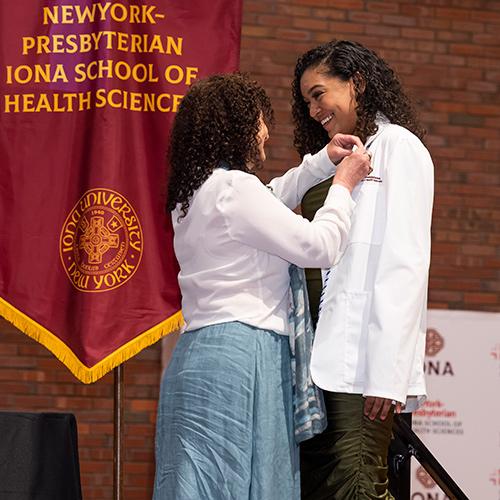 Kavita R. Dhanwada, Ph.D., founding dean of the NewYork-Presbyterian Iona School of Health Sciences, congratulated this year's class, noting all the hard work they've put into their education is going to come to fruition now in the field, especially as the need for nurses continues to rise.
"I think you've all heard the news that there is a major need for nurses, right?" she said with a laugh. "The expectations that we hold for our students are high, because the goal is to prepare you very well for the next steps in your career. You will face challenges, and what you have to overcome may be tough, but we know you are now ready to take those challenges on."
"The faculty are here today to say that you're ready to take this journey, and that you're ready to join them in the sisterhood and brotherhood of nursing," Dhanwada concluded.  
STRENGTHENED BY DIVERSITY
The Class of 2023 represented a beautiful diversity of both backgrounds and personal stages of life, noted faculty speaker and clinical lecturer Dawn Haughey, DNP, MSN, CPNP-PC, PMHS.
For instance, this year's cohort celebrated a classmate turning 21, while at the same time, there was an age difference of 15 years within the group. One student became a first-time mother during her time in the program, while others already have multiple children. Several students in the group were the first in their families to go to college, while others turned to nursing as a change of career.
"The one thing that stands out about this group for me especially is their compassion for each other and for their patients," Haughey said. "As nurses, you'll be making a difference in someone's life every day. You'll be your patient's light and hope in the darkest of times, their comfort when they have pain or sorrow. You'll also be there for the uplifting times, the birth of a child or achieving remission of a disease."
"By joining this profession, you've been granted a privilege," she continued. "Believe in yourselves and your ability to make a difference, no matter how large or small. The possibilities are endless."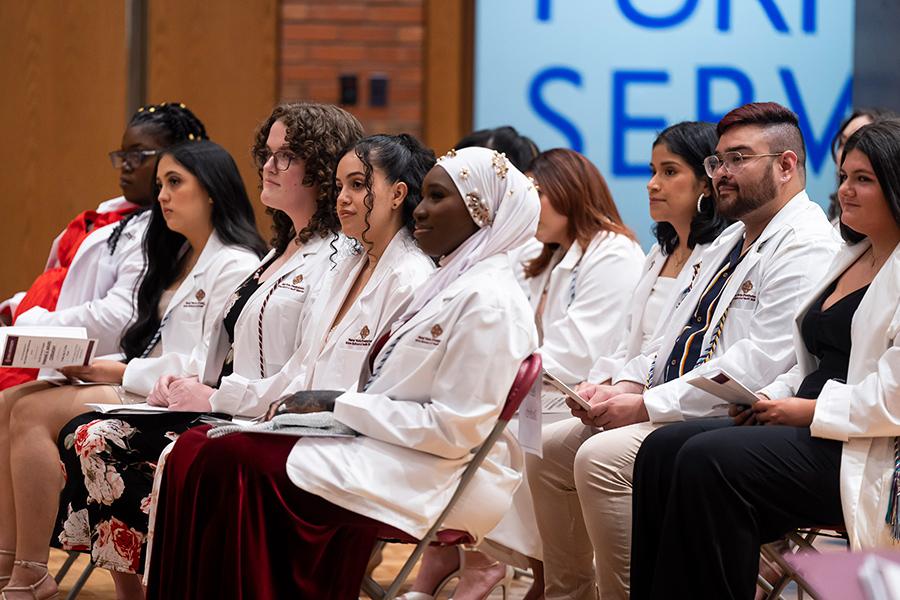 'PROMISE ME YOU WON'T GIVE UP'
As Tortorella further reflected on her journey to becoming a nurse, originally inspired by her grandmother's incredible example, she congratulated the class for reaching this proud milestone. It wasn't easy, but they did it – thankfully, in more comfortable shoes.
She concluded by making her classmates promise that no matter what life may throw at them next, they would never give up. It was a promise she had made to her grandmother before her passing.
"I will always remember our last phone call, as she was dying of lung cancer that had rapidly metastasized throughout her body," Tortorella recalled, an extra silence falling upon the room. "She could barely speak, but via FaceTime, I held up my admission letter into nursing school. As I translated what that piece of paper in my hands meant, she smiled as wide as she could, and said, 'Promise me you won't give up until you finish.' Well, Grandma, I'm proud to say I didn't give up. And neither did my classmates."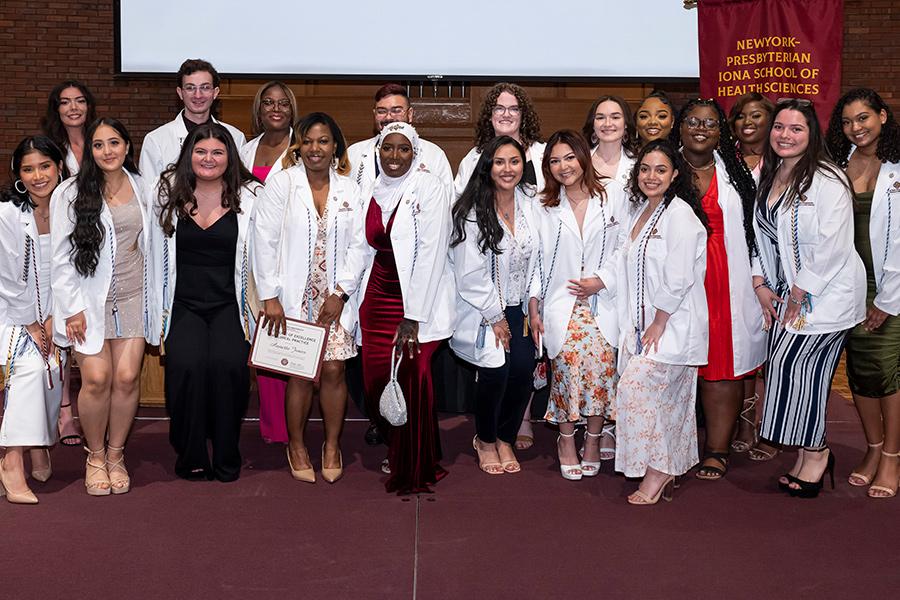 ABOUT IONA
Founded in 1940, Iona University is a master's-granting private, Catholic, coeducational institution of learning in the tradition of the Edmund Rice Christian Brothers. Iona's 45-acre New Rochelle campus and 28-acre Bronxville campus are just 20 miles north of Midtown Manhattan. With a total enrollment of nearly 4,000 students and an alumni base of more than 50,000 around the world, Iona is a diverse community of learners and scholars dedicated to academic excellence and the values of justice, peace and service. Iona is highly accredited, offering undergraduate degrees in liberal arts, science and business administration, as well as Master of Arts, Master of Science and Master of Business Administration degrees and numerous advanced certificate programs. Iona students enjoy small class sizes, engaged professors and a wide array of academic programs across the School of Arts & Science; LaPenta School of Business; NewYork-Presbyterian Iona School of Health Sciences; and Hynes Institute for Entrepreneurship & Innovation. Iona is widely recognized in prestigious rankings, including The Princeton Review's 2024 national list of "The Best 389 Colleges" and The Wall Street Journal/College Pulse's "2024 Best Colleges in America," which ranked Iona at #66 in the nation overall and #8 in the nation among Catholic schools. Iona's LaPenta School of Business is also accredited by AACSB International, a recognition awarded to just five percent of business schools worldwide. In addition, The Princeton Review recognized Iona's on-campus MBA program as a "Best Business School for 2023." Iona also offers a fully online MBA program for even greater flexibility. In July 2021, Iona announced the establishment of the NewYork-Presbyterian Iona School of Health Sciences, which is now principally located on Iona's Bronxville campus in collaboration with NewYork-Presbyterian. Connecting to its Irish heritage, the University also recently announced it is expanding abroad with a new campus in County Mayo, Ireland. A school on the rise, Iona officially changed its status from College to University on July 1, 2022, reflecting the growth of its academic programs and the prestige of an Iona education.