Iona University President to Deliver Keynote Address for the Irish Echo's Third Annual Big Irish Campfire
President Seamus Carey, Ph.D., will discuss the importance of education in building a bright future for Irish America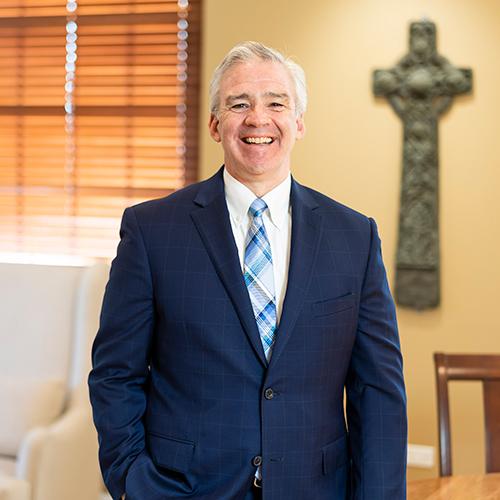 NEW ROCHELLE, N.Y. — Iona University President Seamus Carey, Ph.D., was chosen as the keynote speaker for the Irish Echo's third annual Big Irish Campfire, the most comprehensive showcase spotlighting Irish-American organizations across the U.S.
The event will feature various speakers covering topics such as business, lessons from the pandemic, theater, Irish studies and much more. The Campfire will take place on Iona's New Rochelle, N.Y., campus August 18-19, 2022. The Big Irish Campfire is open to the public. In-person tickets can be purchased here and virtual tickets can be purchased here.
The son of Irish immigrants, Carey will delve into the importance of education in building a bright future for Irish America during his speech.
"Thank you to the Irish Echo for this wonderful opportunity," Carey said. "As an Irish Catholic institution, we are proud and honored to welcome the Campfire to Iona. Irish America is a strong and vibrant community and I look forward to exploring the many ways we can achieve success together."
The Campfire will include several other distinguished speakers including Philadelphia Congressman Brendan F. Boyle; Elizabeth Crabill, CEO of CIE Tours, the largest Irish-owned tour operator in North America; Joan McDonald, director of operations for Westchester County; and many more. The showcase will be a permanent online celebration of Irish America and will also appear in the print and digital versions of the Irish Echo. 
Iona's lineage can be traced back to 563 A.D., when Columba, a member of the Irish ruling class, gave up the wealth and power afforded to him by birth and became a monk, later founding a monastery on the Isle of Iona. Along with the monks who followed him, they cultivated and spread knowledge throughout Europe and played an instrumental role in preserving and promoting Western culture through the Dark Ages.
Centuries later, in the early 1800s, another successful Irish business man, Edmund Rice, gave up his position and wealth and devoted himself to educating the poor young boys of Ireland. Over the past 220 years, the Christian Brothers – which Rice founded shortly after he began teaching – have opened hundreds of schools and educated thousands of students around the world.
In 1940, the Christian Brothers brought this movement to New Rochelle and opened the doors of Iona. They adopted Columba as their patron saint, as well as the name of his monastery, because they saw an affinity with his courage, faith, and educational mission. Iona is the only University established by the Irish Christian Brothers.
"There's one ingredient that I think is essential to the success of any community and to our country as a whole," Carey said. "And that's education. As an educator here at Iona University, I see firsthand the power of education to transform lives, and to set students up not just for economic success, but for success in their lives as members of the community, as family members, and as contributors to society. And I think for Irish America, that is a key ingredient for future success."
Learn more about the Big Irish Campfire here, including the full program of events.
ABOUT IONA
Founded in 1940, Iona University is a master's-granting private, Catholic, coeducational institution of learning in the tradition of the Edmund Rice Christian Brothers. Iona's 45-acre New Rochelle campus and 28-acre Bronxville campus are just 20 miles north of Midtown Manhattan. With a total enrollment of nearly 4,000 students and an alumni base of more than 50,000 around the world, Iona is a diverse community of learners and scholars dedicated to academic excellence and the values of justice, peace and service. Iona is highly accredited, offering undergraduate degrees in liberal arts, science and business administration, as well as Master of Arts, Master of Science and Master of Business Administration degrees and numerous advanced certificate programs. Iona students enjoy small class sizes, engaged professors and a wide array of academic programs across the School of Arts & Science; LaPenta School of Business; NewYork-Presbyterian Iona School of Health Sciences; and Hynes Institute for Entrepreneurship & Innovation. Iona is widely recognized in prestigious rankings, including The Princeton Review's 2024 national list of "The Best 389 Colleges" and The Wall Street Journal/College Pulse's "2024 Best Colleges in America," which ranked Iona at #66 in the nation overall and #8 in the nation among Catholic schools. Iona's LaPenta School of Business is also accredited by AACSB International, a recognition awarded to just five percent of business schools worldwide. In addition, The Princeton Review recognized Iona's on-campus MBA program as a "Best Business School for 2023." Iona also offers a fully online MBA program for even greater flexibility. In July 2021, Iona announced the establishment of the NewYork-Presbyterian Iona School of Health Sciences, which is now principally located on Iona's Bronxville campus in collaboration with NewYork-Presbyterian. Connecting to its Irish heritage, the University also recently announced it is expanding abroad with a new campus in County Mayo, Ireland. A school on the rise, Iona officially changed its status from College to University on July 1, 2022, reflecting the growth of its academic programs and the prestige of an Iona education.