Iona University Receives Full Accreditation from the National Association of School Psychologists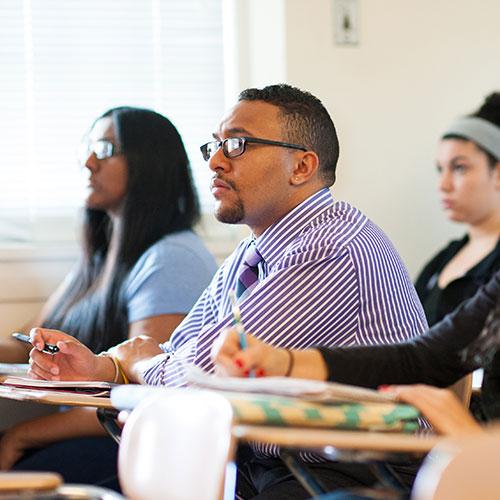 New Rochelle, N.Y. (September 2022) -- Iona University is pleased to announce that it has received full accreditation from the National Association of School Psychologists (NASP), effective August 1, 2022, through August 1, 2027.
Candidates who graduate from Iona's 64-credit Master of Arts in School Psychology program, while it holds NASP-accredited status, are automatically eligible for the National Certificate in School Psychology (NCSP), pending the attainment of a passing score on the Praxis II Examination in School Psychology and documentation of an internship consistent with NASP standards.
The NCSP credential is accepted in over 30 other states, which significantly increases mobility and employment opportunities for Iona students, explained Dr. Katherine Zaromatidis, School of Arts & Science director of Graduate Studies and School Psychology professor and program coordinator.
"We are thrilled to receive full accreditation from the National Association of School Psychologists, as this validates our belief that we provide an excellent training program for those seeking to become school psychologists," said Zaromatidis.
The School Psychology program at Iona University gives students opportunities to "Learn Outside the Lines" of the classroom, and therefore gives them practical experience as they enter the workforce.
For instance, the program combines traditional training techniques – classroom instruction, practicum experiences and fieldwork – with unique opportunities to train with other school-based practitioners such as nurses, social workers, speech pathologists and occupational therapists.
Iona's location in the Greater New York City area also gives students a variety of fieldwork experiences to observe other school psychologists as well as develop and improve their own skills.
"These interprofessional curriculum and fieldwork activities expose our students to multidisciplinary environments that are similar to the work settings where they will eventually be employed," said Zaromatidis. "Our students develop enhanced communication skills and an improved ability to work as part of teams that benefit the functioning of students and their families."
Mackenzie Boyle, a third-year student and president of Iona's Student Affiliates in School Psychology (SASP) organization, said the news was an excellent way to ring in the new school year.
"This accreditation means that within our school, we are meeting a high standard of educational quality through our course work and are receiving exceptional training techniques and fieldwork opportunities," she said. "Going into my third year in this program, I am certain my fellow classmates and I are well prepared for our futures as school psychologists."
Learn more about Iona University's Master of Arts in School Psychology.
ABOUT IONA
Founded in 1940, Iona University is a master's-granting private, Catholic, coeducational institution of learning in the tradition of the Edmund Rice Christian Brothers. Iona's 45-acre New Rochelle campus and 28-acre Bronxville campus are just 20 miles north of Midtown Manhattan. With a total enrollment of nearly 4,000 students and an alumni base of over 50,000 around the world, Iona is a diverse community of learners and scholars dedicated to academic excellence and the values of justice, peace and service. Iona is highly accredited, offering undergraduate degrees in liberal arts, science, and business administration, as well as Master of Arts, Master of Science and Master of Business Administration degrees and numerous advanced certificate programs. Iona's LaPenta School of Business is accredited by AACSB International, a prestigious recognition awarded to just five percent of business schools worldwide. The Princeton Review recognized Iona's on-campus MBA program as a "Best Business School for 2022." Iona University also recently launched a new, fully online MBA program for even greater flexibility. In July 2021, Iona University and NewYork-Presbyterian announced the establishment of the NewYork-Presbyterian Iona School of Health Sciences, to be principally located on the University's new campus in Bronxville, N.Y. Supported by a $20 million gift from NewYork-Presbyterian, the NewYork-Presbyterian Iona School of Health Sciences offers a new vision for collaborative health care education, modern workforce development, and community care. On July 1, 2022, Iona officially changed its status from College to University, reflecting the growth of its academic programs and the prestige of an Iona education.