Iona University Students Empowering People with Disabilities to Become Entrepreneurs
Iona's Hynes Institute for Entrepreneurship & Innovation is teaming up with The Viscardi Center to advance entrepreneurship in a traditionally underrepresented community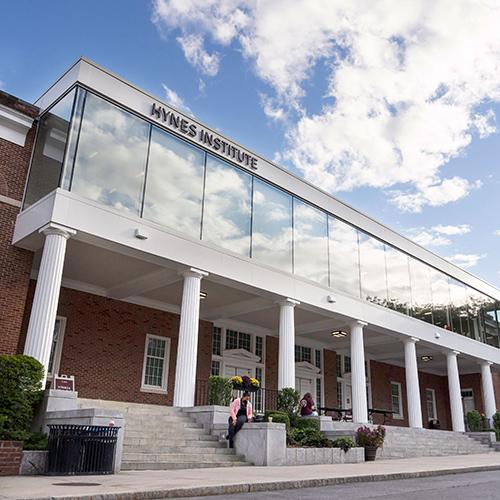 Too often, individuals with disabilities find themselves falling into entrepreneurship because a variety of barriers and biases prevent them from entering the workforce through a traditional career path. A new collaboration between Iona University and The Viscardi Center, however, aims to flip that narrative, empowering individuals with disabilities to actively embrace entrepreneurship as a viable, chosen career pathway.
This summer, up to 20 participants will be selected for the new IdeaSpark program, which will meet virtually two days a week and culminate with a Pitchfest. The Pitchfest will give participants the chance to showcase their business ideas to a panel of judges for a chance to win equity-free cash grants totaling $7,500. There is no charge to participate in the program. 
Running in collaboration with Iona's Hynes Institute for Entrepreneurship & Innovation, IdeaSpark will also give Iona students an opportunity to "Learn Outside the Lines" of the classroom in service of others as they engage as Peer Mentors. Iona students will participate in each session, offering support, guidance and feedback along the way.
In addition, the Pitchfest event on July 25 will take place both virtually and in person at the Hynes Institute on Iona's New Rochelle, N.Y., campus.
"For us, this program not only fits in with everything we do to support entrepreneurship education; it also aligns with Iona's foundational mission of being a resource to the community while promoting a more inclusive world that provides opportunities for all to thrive," said Dr. Christoph Winkler, program director of the Hynes Institute for Entrepreneurship & Innovation.  "It also provides a wonderful opportunity for our Iona students to engage with individuals with disabilities in an authentic and meaningful way."
Over the course of six weeks, Hynes adjunct instructor Holly Blondin along with Iona students will work with participants to:
Foster and apply an entrepreneurial mindset.
Develop an idea into a viable business model.
Enhance their presentation and pitching skills.
Learn and apply creative problem-solving skills.
Create a professional network with like-minded individuals.
Pitch to a panel of judges for a chance to win an equity-free cash grant.
"Entrepreneurship is on the rise in the U.S., with much of the new business development attributable to founders from communities that have historically been underrepresented among business owners," said Dr. Chris Rosa, president & CEO of The Viscardi Center. "Through IdeaSpark, people with disabilities are emboldened to ride this unprecedent, inclusive wave of business start-ups to help drive our nation's economic growth."
The Viscardi Center (TVC) is a network of non-profit organizations based in Albertson, N.Y., that provides a lifespan of services that educate, employ, and empower people with disabilities. It was founded in 1952 by Dr. Henry Viscardi Jr., who himself wore prosthetic legs, served as disability advisor to eight United States Presidents, and became one of the world's leading advocates for people with disabilities.
IdeaSpark builds on TVC's previous pilot program, which provided two cohorts of individuals with disabilities training, mentoring and resources to achieve self- employment success. Program sessions will be conducted on Tuesdays and Thursdays from 11 a.m. to 1 p.m. EST from June 6 through July 20, 2023. There will be no classes on July 4 or 6.
Visit ViscardiCenter.org/IdeaSpark to learn more and submit your application by May 19, 2023. Questions may be directed to entrepreneurship@viscardicenter.org.
ABOUT IONA
Founded in 1940, Iona University is a master's-granting private, Catholic, coeducational institution of learning in the tradition of the Edmund Rice Christian Brothers. Iona's 45-acre New Rochelle campus and 28-acre Bronxville campus are just 20 miles north of Midtown Manhattan. With a total enrollment of nearly 4,000 students and an alumni base of over 50,000 around the world, Iona is a diverse community of learners and scholars dedicated to academic excellence and the values of justice, peace and service. Iona is highly accredited, offering undergraduate degrees in liberal arts, science, and business administration, as well as Master of Arts, Master of Science and Master of Business Administration degrees and numerous advanced certificate programs. Iona's LaPenta School of Business is accredited by AACSB International, a prestigious recognition awarded to just five percent of business schools worldwide. The Princeton Review recognized Iona's on-campus MBA program as a "Best Business School for 2023." Iona University also recently launched a new, fully online MBA program for even greater flexibility. In July 2021, Iona University and NewYork-Presbyterian announced the establishment of the NewYork-Presbyterian Iona School of Health Sciences, to be principally located on the University's new campus in Bronxville, N.Y. Supported by a $20 million gift from NewYork-Presbyterian, the NewYork-Presbyterian Iona School of Health Sciences offers a new vision for collaborative health care education, modern workforce development, and community care. On July 1, 2022, Iona officially changed its status from College to University, reflecting the growth of its academic programs and the prestige of an Iona education.