Iona University Students "Learn Outside the Lines" and Deliver Report on How to Engage, Grow and Attract Businesses to New Rochelle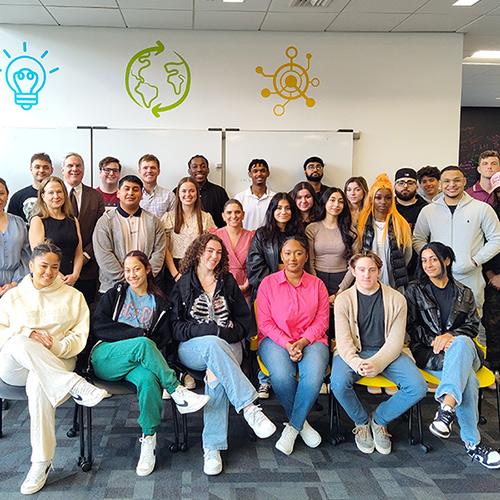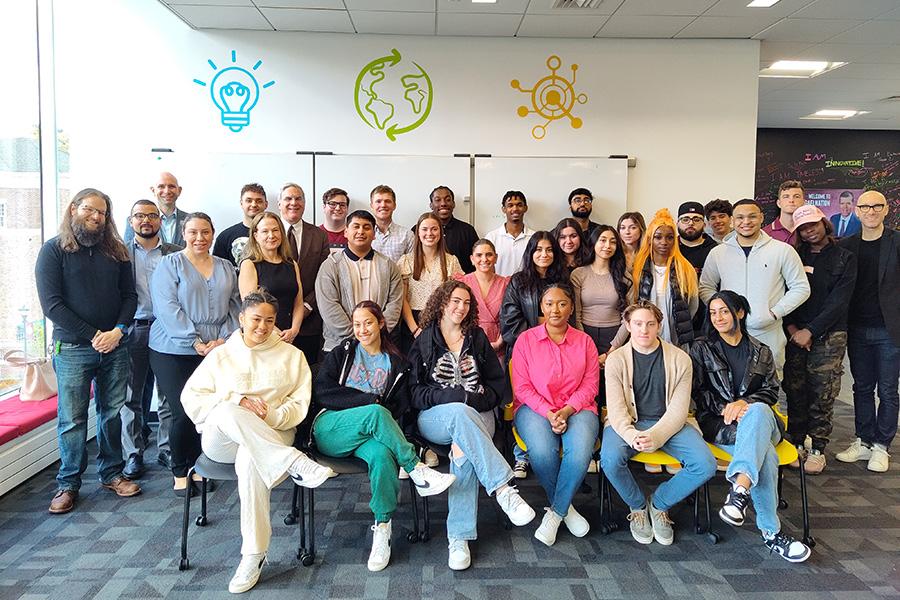 New Rochelle, N.Y. - Students from Iona University's Hynes Institute for Entrepreneurship & Innovation spent the past six weeks interacting with New Rochelle business owners, this week delivering recommendations to city officials on how to further engage, grow and attract businesses.
The project was the third within the past year facilitated by the Business Council of Westchester's Westchester Innovation Network (WIN) City Labs initiative, which focuses on making Westchester County more attractive to startups and new technology.
"The students have really outdone themselves," said Rob Kissner, Iona's GaelVentures program manager at the Hynes Institute, who guided the students. "The City Labs initiative enabled the students to see beyond their own world; get out in the community and engage with stakeholders; and understand real problems."
The students recommended that New Rochelle create:
A small business portal powered by artificial intelligence that can provide detailed answers to questions and direct business owners to resources.
A hyper-local online employment portal for job seekers and employers.
A microlending webpage that allows aspiring entrepreneurs to apply for small loans.
A retail incubator in the form of pop-ups in vacant retail space that allows New Rochelle vendors to build businesses that may eventually rent vacant storefronts.
Monthly or regular small-business networking events where New Rochelle's entrepreneurs can meet and exchange information.
Virtual reality simulations of the small-business incubator/pop-ups to enhance the concept's acceptance by local entrepreneurs.
"We are excited about the work that the Iona University students have done," said Business Council of Westchester Executive Vice President and COO John Ravitz, whose group launched the Westchester Innovation Network (WIN). "In Mount Vernon they helped create a web page on the city's website to help small businesses access programs. Then they went to Yonkers to help the city's housing authority deal with environmental and quality-of-life issues. Now we're in New Rochelle, working with the city, to talk about the future."
WIN matched the Iona students with New Rochelle as part of the BCW's focus on making Westchester County more attractive to startups and new technology.
Students in Iona's Introduction to Ideation and Design Thinking class study problem solving by prioritizing consumers'—or the public's—needs. The practice relies on building empathy by interviewing people and observing their interaction with environments.
Jorge Ventura, New Rochelle's director of economic development, asked if small business owners are open to becoming part of a business ecosystem.
Lauren Cleaver, an Iona junior, replied that yes, the business owners do not want to operate exclusively within their four walls. "They like that sense of working together and they want to get to know more people, it's just a question of how to get involved," said Cleaver.
The WIN program and Iona University will continue to work with a different Westchester municipality every semester and the program is currently seeking a new municipality to partner with for the fall semester. Municipalities interested in partnering with WIN should contact the Business Council of Westchester at 914-948-2110.
ABOUT IONA
Founded in 1940, Iona University is a master's-granting private, Catholic, coeducational institution of learning in the tradition of the Edmund Rice Christian Brothers. Iona's 45-acre New Rochelle campus and 28-acre Bronxville campus are just 20 miles north of Midtown Manhattan. With a total enrollment of nearly 4,000 students and an alumni base of more than 50,000 around the world, Iona is a diverse community of learners and scholars dedicated to academic excellence and the values of justice, peace and service. Iona is highly accredited, offering undergraduate degrees in liberal arts, science and business administration, as well as Master of Arts, Master of Science and Master of Business Administration degrees and numerous advanced certificate programs. Iona students enjoy small class sizes, engaged professors and a wide array of academic programs across the School of Arts & Science; LaPenta School of Business; NewYork-Presbyterian Iona School of Health Sciences; and Hynes Institute for Entrepreneurship & Innovation. Iona is widely recognized in prestigious rankings, including The Princeton Review's 2024 national list of "The Best 389 Colleges" and The Wall Street Journal/College Pulse's "2024 Best Colleges in America," which ranked Iona at #66 in the nation overall and #8 in the nation among Catholic schools. Iona's LaPenta School of Business is also accredited by AACSB International, a recognition awarded to just five percent of business schools worldwide. In addition, The Princeton Review recognized Iona's on-campus MBA program as a "Best Business School for 2023." Iona also offers a fully online MBA program for even greater flexibility. In July 2021, Iona announced the establishment of the NewYork-Presbyterian Iona School of Health Sciences, which is now principally located on Iona's Bronxville campus in collaboration with NewYork-Presbyterian. Connecting to its Irish heritage, the University also recently announced it is expanding abroad with a new campus in County Mayo, Ireland. A school on the rise, Iona officially changed its status from College to University on July 1, 2022, reflecting the growth of its academic programs and the prestige of an Iona education.