Iona University Students Win Top Recognition at National Model United Nations Conference
Iona University Team Wins Outstanding Delegation Award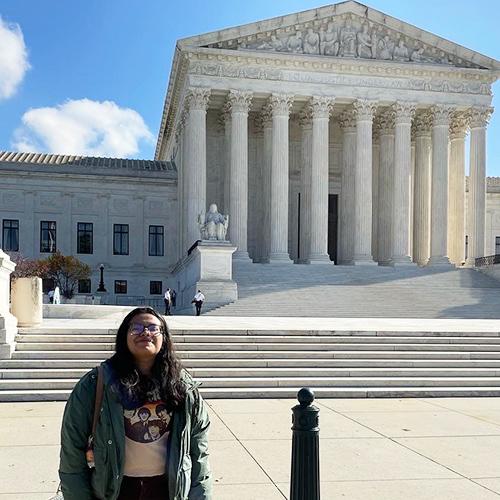 NEW ROCHELLE, N.Y. – Iona University's Model United Nations team took home the highest award at this year's National Model United Nations Conference in Washington, D.C. Representing Honduras, the team won the distinction of Outstanding Delegation, reflecting their top overall performance.
In addition, club president Devon Gabriel '24 also took home Outstanding Delegation within the World Health Assembly committee. Gabriel led the delegation without a partner, unlike any other group, and his dedication did not go unnoticed.
"When we won, we all launched out of our seats and could not believe it!" Gabriel said. "To win overall Outstanding Delegation, everyone on the team had to work cooperatively. The stars just aligned to give us this winning opportunity!"
He added that competing in Model UN conferences has bolstered his confidence for public speaking, as well as sharpened his problem-solving skills and expanded his appreciation for the subtlety of different world cultures. Plus, it's a lot of fun!
"I enjoy the comradery that comes with attending conferences," said Gabriel, a psychology and criminal justice major. "On top of the team already being extremely close-knit, being able to network and make friendships with people both internationally and domestically is something very few clubs and organizations can do."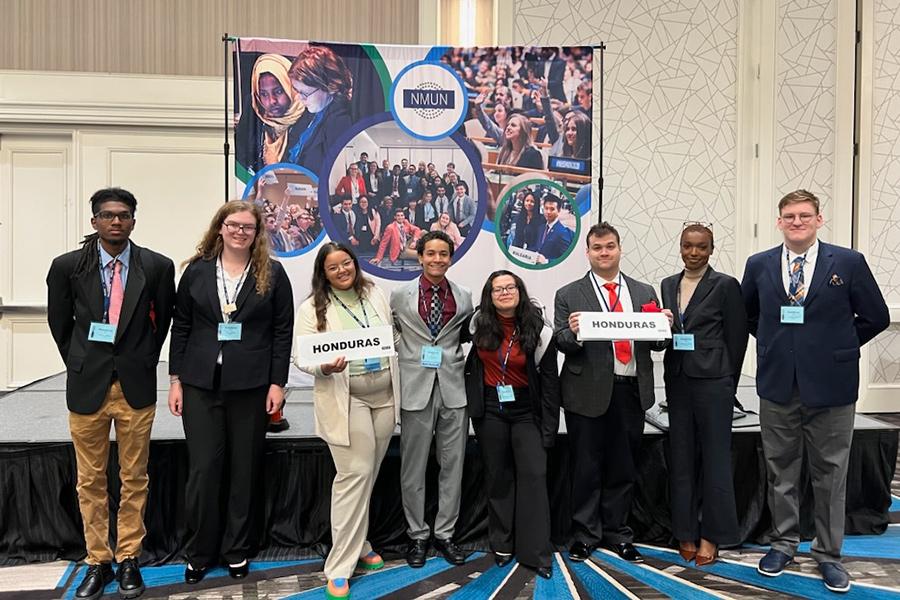 Jocelyn Ariza-Arroyo '24, the team's social media chair and event coordinator, said Model UN has opened many doors and allowed her to walk the path of her idols. In addition to competing at the conference, she said the highlight of her trip was visiting the Supreme Court. The team also got to visit the Lincoln Memorial, Washington Memorial and Capitol Hill while in D.C.
"Justice Sonia Sotomayor is an alumnus from my high school," said Ariza-Arroyo, a political science and public policy major with an English minor who attended Cardinal Spellman High School in the Bronx. "She has been one of my biggest role models. I was so happy walking up the steps I could hardly believe it. I felt so proud just standing, wondering what I could accomplish."
What does she enjoy most about participating in Model UN?
"You never know what is going to happen," Ariza-Arroyo said. "Model UN always keeps me on my toes. Although you study and prepare what you are going to say, Model UN always throws you a curveball."
In February, the team is set to travel to Harvard University, where they will participate in their next National Model United Nations conference. Go Gaels!
ABOUT IONA
Founded in 1940, Iona University is a master's-granting private, Catholic, coeducational institution of learning in the tradition of the Edmund Rice Christian Brothers. Iona's 45-acre New Rochelle campus and 28-acre Bronxville campus are just 20 miles north of Midtown Manhattan. With a total enrollment of nearly 4,000 students and an alumni base of over 50,000 around the world, Iona is a diverse community of learners and scholars dedicated to academic excellence and the values of justice, peace and service. Iona is highly accredited, offering undergraduate degrees in liberal arts, science, and business administration, as well as Master of Arts, Master of Science and Master of Business Administration degrees and numerous advanced certificate programs. Iona's LaPenta School of Business is accredited by AACSB International, a prestigious recognition awarded to just five percent of business schools worldwide. The Princeton Review recognized Iona's on-campus MBA program as a "Best Business School for 2022." Iona University also recently launched a new, fully online MBA program for even greater flexibility. In July 2021, Iona University and NewYork-Presbyterian announced the establishment of the NewYork-Presbyterian Iona School of Health Sciences, to be principally located on the University's new campus in Bronxville, N.Y. Supported by a $20 million gift from NewYork-Presbyterian, the NewYork-Presbyterian Iona School of Health Sciences offers a new vision for collaborative health care education, modern workforce development, and community care. On July 1, 2022, Iona officially changed its status from College to University, reflecting the growth of its academic programs and the prestige of an Iona education.