Iona University Wins Best in Class Energy Program Award After Reducing Energy Usage by 30 Percent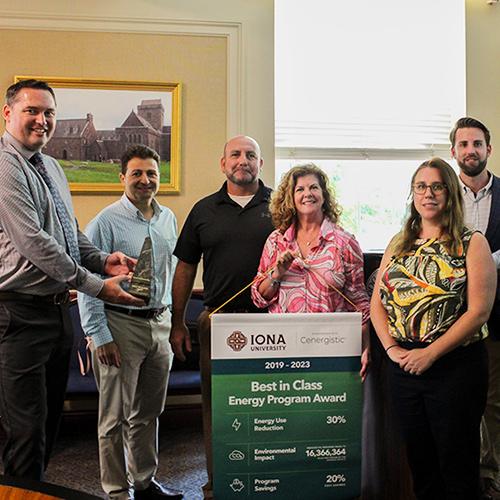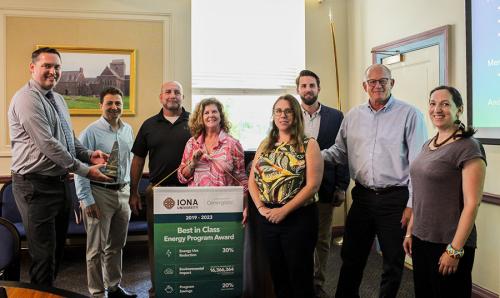 Iona University prevented 6,593 metric tons of carbon dioxide from being emitted into the environment since June 2019 – conserving enough energy to power 831 homes for an entire year.
Overall, the University reduced its energy usage by 30 percent from June 2019 to May 2023, surpassing the rates of other colleges in the area, according to Cenergistic, an energy conservation company headquartered in Dallas, Texas, that partnered with Iona during that time.
In recognition of the work that Iona and its students, faculty and staff have done to conserve energy on campus, Cenergistic presented Iona with the Best in Class Energy Program Award on August 31.
"The students here are the future; they're taking care of the planet," said Mary Ellen Leder, Cenergistic regional vice president. "The work that you all do here is very important."
Cenergistic also presented Iona's Committee on Environmental Sustainability with a $2,500 award in recognition of its achievements.
Iona biology professor Dr. Christina Andruk and psychology professor Dr. Nilofer Naqvi serve as co-chairs of the committee, helping to promote conservation efforts across campus.
Thomas Van Wert, Cenergistic's campus energy specialist, also works closely with the committee, monitoring energy usage and implementing improvements across campus.
In accepting the award, Andruk said that while she and Naqvi help to steer the community in the right direction, ultimately it is thanks to the effort of all students, faculty and staff that the University has achieved such impressive results. She looks forward to building upon this success in the years ahead.
"This award will allow Iona to continue to support environmental initiatives on campus such as energy reduction, composting, sustainable landscaping and recycling," Andruk said. "Through academic programs, research initiatives, co-curricular activities, campus greening, committee work and community partnerships, the University strives to cultivate a culture of stewardship that embraces environmental consciousness, social justice and inclusivity."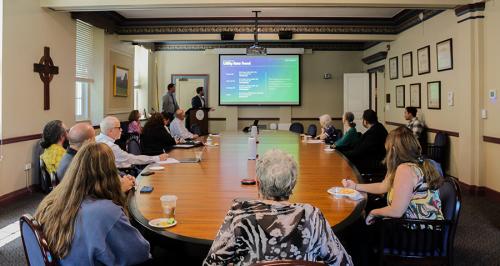 ABOUT IONA
Founded in 1940, Iona University is a master's-granting private, Catholic, coeducational institution of learning in the tradition of the Edmund Rice Christian Brothers. Iona's 45-acre New Rochelle campus and 28-acre Bronxville campus are just 20 miles north of Midtown Manhattan. With a total enrollment of nearly 4,000 students and an alumni base of more than 50,000 around the world, Iona is a diverse community of learners and scholars dedicated to academic excellence and the values of justice, peace and service. Iona is highly accredited, offering undergraduate degrees in liberal arts, science and business administration, as well as Master of Arts, Master of Science and Master of Business Administration degrees and numerous advanced certificate programs. Iona students enjoy small class sizes, engaged professors and a wide array of academic programs across the School of Arts & Science; LaPenta School of Business; NewYork-Presbyterian Iona School of Health Sciences; and Hynes Institute for Entrepreneurship & Innovation. Iona is widely recognized in prestigious rankings, including The Princeton Review's 2024 national list of "The Best 389 Colleges" and The Wall Street Journal/College Pulse's "2024 Best Colleges in America," which ranked Iona at #66 in the nation overall and #8 in the nation among Catholic schools. Iona's LaPenta School of Business is also accredited by AACSB International, a recognition awarded to just five percent of business schools worldwide. In addition, The Princeton Review recognized Iona's on-campus MBA program as a "Best Business School for 2023." Iona also offers a fully online MBA program for even greater flexibility. In July 2021, Iona announced the establishment of the NewYork-Presbyterian Iona School of Health Sciences, which is now principally located on Iona's Bronxville campus in collaboration with NewYork-Presbyterian. Connecting to its Irish heritage, the University also recently announced it is expanding abroad with a new campus in County Mayo, Ireland. A school on the rise, Iona officially changed its status from College to University on July 1, 2022, reflecting the growth of its academic programs and the prestige of an Iona education.