A New, Modern Home for Iona's Flourishing Hynes Institute for Entrepreneurship & Innovation
On Thursday, September 12, Iona cut the ribbon on a spectacular, glass-enclosed space, which was added to Spellman Hall to accommodate the thriving Hynes Institute.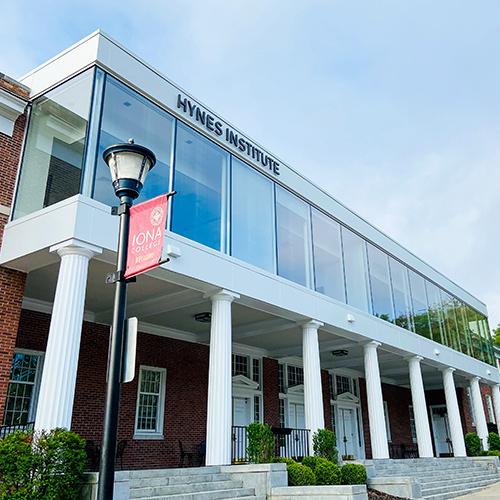 NEW ROCHELLE, N.Y. - As the Hynes Institute for Entrepreneurship & Innovation at Iona College celebrates the second anniversary of its founding, its new, modern space in the center of the campus reflects its transformational impact. On Thursday, September 12, Iona cut the ribbon on a spectacular, glass-enclosed space, which was added to Spellman Hall to accommodate the thriving Hynes Institute. 
"The Hynes Institute is bringing limitless opportunities to our campus," said Lisbeth Baez '20, president of the Entrepreneurship Club, who is majoring in management with a minor in entrepreneurship. "I firmly believe that our new space will inspire, motivate and challenge my peers and me to develop sustainable, innovative and entrepreneurial solutions to continue to impact our surrounding communities and the world."
Noting that students are always at the heart of the College's programs, Christoph Winkler, Ph.D., founding program director and endowed professor, pointed out, "Our students are the center of everything we do at the Hynes Institute. Our new home at the center of campus will allow us to engage with even more students across campus as they set out to translate their Iona experiences into a successful future."
Anne Marie Hynes shared, "Being part of the design team that toured the country to look at and to learn from entrepreneurship programs and innovation spaces was an amazing experience. This process positively impacted the state-of-the-art design that is so integral to the new home of the Hynes Institute, as well as assisted the development of myriad academic offerings for Iona students. To recognize the culmination of our efforts with a ribbon-cutting ceremony officially opening the space is a very special moment."
Said Iona College Board of Trustees Chairman, James P. Hynes '69, '01H, "This team has made incredible progress in such a short time. It is wonderful to see what our students are accomplishing when they have the opportunity to explore subject areas they are passionate about and then link that with innovative, critical-thinking skillsets they learn at the Hynes Institute. The future will bring with it a very different economy, and this type of approach gives our students a leg up."
The Hynes Institute for Entrepreneurship & Innovation was founded in 2017 with a $15 million gift to Iona from James '69, '01H and Anne Marie Hynes. The Institute ensures that students develop the knowledge, skills and experience required to create, innovate and lead in a global economy. Students from all disciplines are engaged with hands-on learning experiences to support them in identifying, approaching and solving problems in all aspects of life.
The Hynes Institute offers:
A new academic minor and graduate certificate in entrepreneurship and innovation;
Co-curricular programming including student clubs, internships, community engagement, competitions, mentoring, a speaker series, co-working and networking opportunities;
Access to start-up funding, mentorship and support, and a community incubator;
Opportunities to work with Hynes Faculty Fellows, Entrepreneurs-in-Residence, alumni and visiting entrepreneurs.
The ribbon-cutting ceremony took place on Thursday, September 12, followed by a reception and tours of the new home of the Hynes Institute.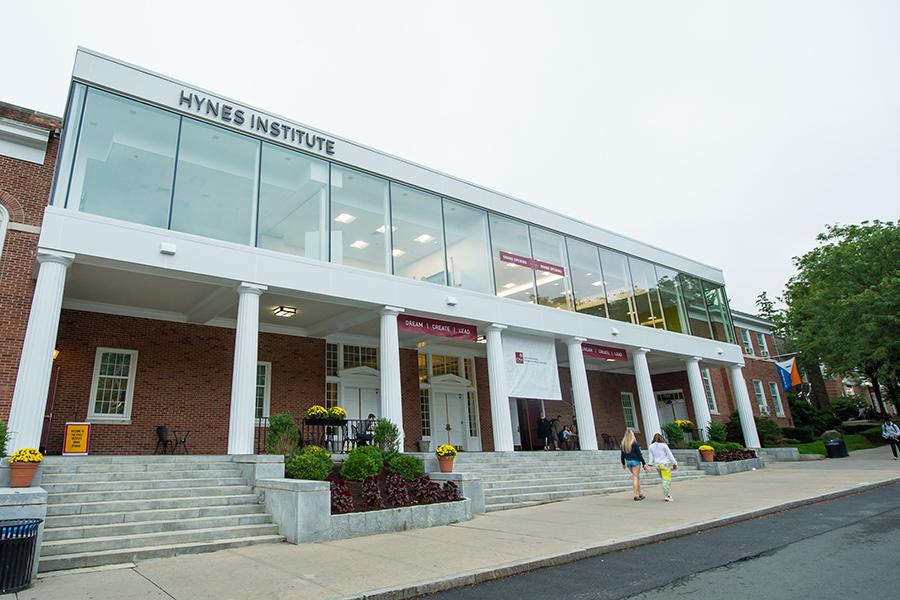 ABOUT IONA
Founded in 1940, Iona College is a master's-granting private, Catholic, coeducational institution of learning in the tradition of the Edmund Rice Christian Brothers. Iona's 45-acre campus is just 20 miles north of Midtown Manhattan. With a total enrollment of nearly 4,000 students and an alumni base of over 50,000 around the world, Iona is a diverse community of learners and scholars dedicated to academic excellence and the values of justice, peace and service. Iona is highly accredited, offering undergraduate degrees in liberal arts, science, and business administration, as well as Master of Arts, Master of Science and Master of Business Administration degrees and numerous advanced certificate programs. Iona's LaPenta School of Business is accredited by AACSB International, a prestigious recognition awarded to just five percent of business schools worldwide. The Princeton Review recognized Iona's on-campus MBA program as a "Best Business School for 2021." Iona College also recently launched a new, fully online MBA program for even greater flexibility.