Over 400 Leaders Unite at Iona University for Annual AJC Thanksgiving Diversity Breakfast
During the Week of the Peacemaker at Iona, religious leaders and representatives from various backgrounds gathered in honor of unity and appreciation for plurality of faiths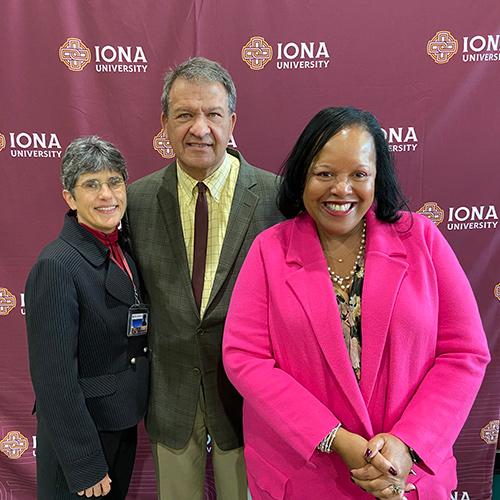 New Rochelle, N.Y. – Over 400 community leaders came together at Iona University for the annual Thanksgiving Diversity Breakfast hosted by the American Jewish Committee (AJC) on Thursday, Nov. 16. The theme was "Standing Together: Hate Will Not Divide Us."
The breakfast, a tradition that began in 2002 as a response to the September 11 attacks, took place during the Week of the Peacemaker at Iona, which is dedicated to building a community of faith and compassion through dynamic events and activities on campus.
Ahead of Thanksgiving, the event also offered an opportunity to practice listening and understanding during facilitated table discussions. 
The keynote speaker was Westchester County Executive George Latimer. He recounted watching the movie "Schindler's List" at Larchmont Playhouse 30 years ago and posed an important question for the audience members: "Would you have the strength and bravery to stand up for others when it's a moral necessity?" 
Congressman Michael Lawler, U.S. representative for New York's 17th congressional district, also addressed the audience, sharing harrowing accounts from his recent visit to Israel, where he met with prime minister Benjamin Netanyahu and the family members of hostages.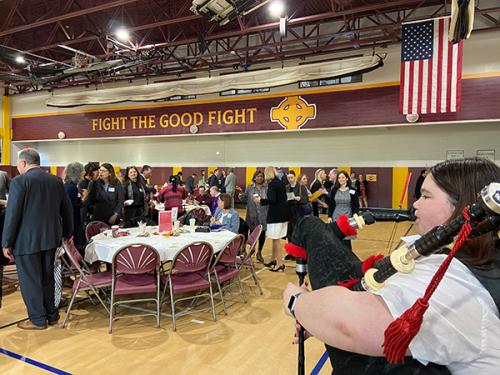 "We all have a responsibility to show grace, compassion and understanding," he said. "We have a responsibility to choose love over hate, to engage in robust conversations and to respect diversity of thought."
Sheryl Sachs, co-chair of Interfaith and Intergroup Outreach and Community of Conscience for AJC Westchester/Fairfield, kicked off the event with welcoming remarks.
"Once again, our community's spirit has been contested by world events. But we know that we are united by the ideas of equality, dignity and opportunity for all," Sachs said.
Dr. Tricia Mulligan, provost and senior vice president for Academic Affairs at Iona University, also delivered remarks underscoring Iona's commitment to the Christian Brothers' values of presence, solidarity and liberation especially during these challenging times.
The event emphasized the need for building bridges of unity and understanding to work toward compassion, solidarity and liberation worldwide.
Senate Majority Leader Andrea Stewart-Cousins reminded everyone of the program's core message, saying, "We come together to reaffirm our love, humanity and our integrity for a better today and a better tomorrow. That's what's happening here."
The Iona Singers performed the opening and closing songs "America the Beautiful" and "Stand by Me," respectively. Iona University Pipers commenced the event with bagpipe music as well.
View coverage of the event on News12 and lohud.com -- including a front-page story in The Journal News.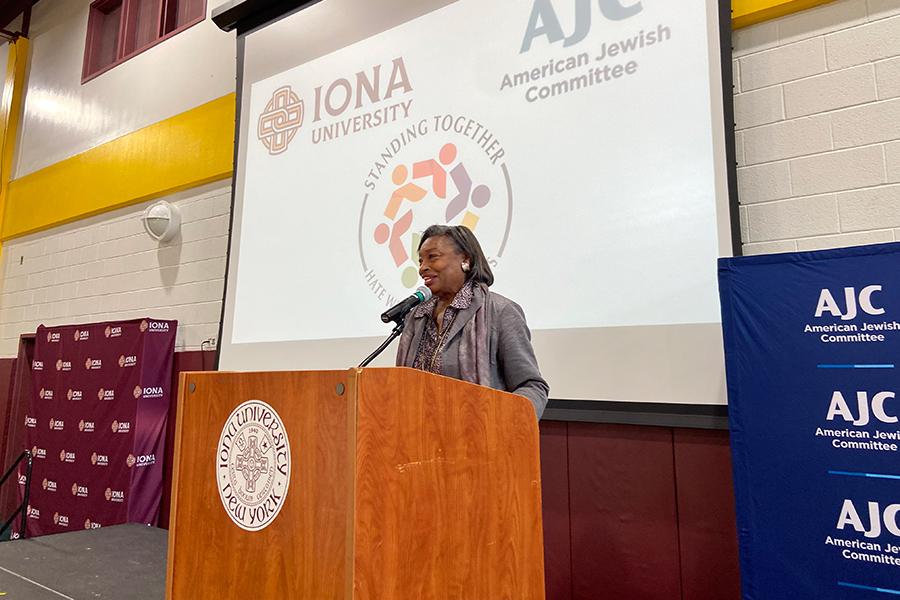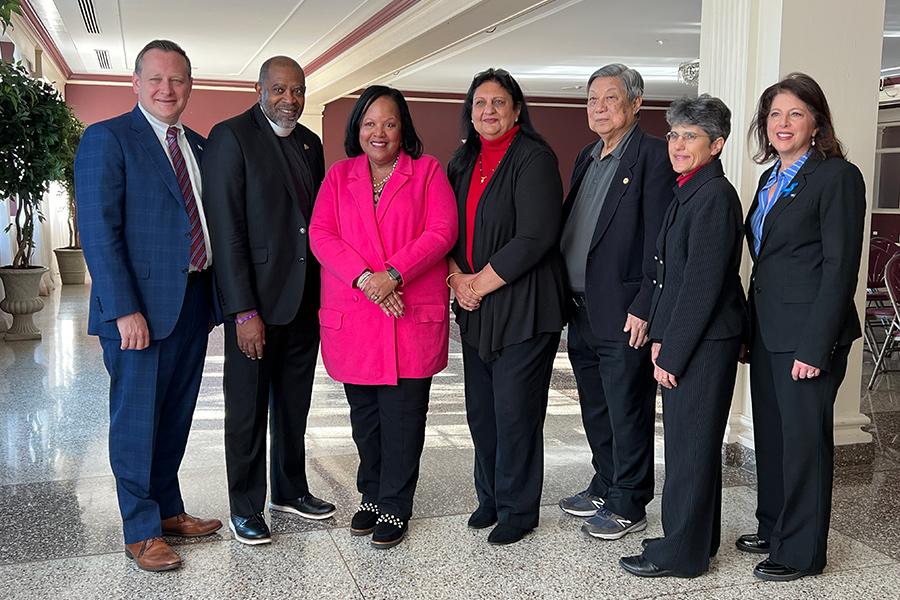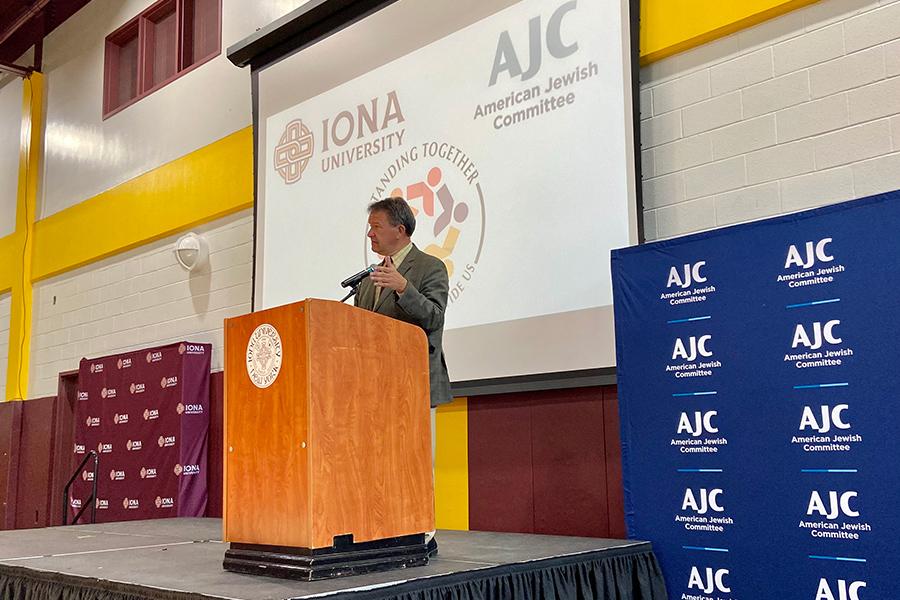 ABOUT IONA
Founded in 1940, Iona University is a master's-granting private, Catholic, coeducational institution of learning in the tradition of the Edmund Rice Christian Brothers. Iona's 45-acre New Rochelle campus and 28-acre Bronxville campus are just 20 miles north of Midtown Manhattan. With a total enrollment of nearly 4,000 students and an alumni base of more than 50,000 around the world, Iona is a diverse community of learners and scholars dedicated to academic excellence and the values of justice, peace and service. Iona is highly accredited, offering undergraduate degrees in liberal arts, science and business administration, as well as Master of Arts, Master of Science and Master of Business Administration degrees and numerous advanced certificate programs. Iona students enjoy small class sizes, engaged professors and a wide array of academic programs across the School of Arts & Science; LaPenta School of Business; NewYork-Presbyterian Iona School of Health Sciences; and Hynes Institute for Entrepreneurship & Innovation. Iona is widely recognized in prestigious rankings, including The Princeton Review's 2024 national list of "The Best 389 Colleges" and The Wall Street Journal/College Pulse's "2024 Best Colleges in America," which ranked Iona at #66 in the nation overall and #8 in the nation among Catholic schools. Iona's LaPenta School of Business is also accredited by AACSB International, a recognition awarded to just five percent of business schools worldwide. In addition, The Princeton Review recognized Iona's on-campus MBA program as a "Best Business School for 2023." Iona also offers a fully online MBA program for even greater flexibility. In July 2021, Iona announced the establishment of the NewYork-Presbyterian Iona School of Health Sciences, which is now principally located on Iona's Bronxville campus in collaboration with NewYork-Presbyterian. Connecting to its Irish heritage, the University also recently announced it is expanding abroad with a new campus in County Mayo, Ireland. A school on the rise, Iona officially changed its status from College to University on July 1, 2022, reflecting the growth of its academic programs and the prestige of an Iona education.